Photos of Wigan
Photos of Wigan
Album Contents
Album Contents
Wigan Album
All Saints School
8 Comments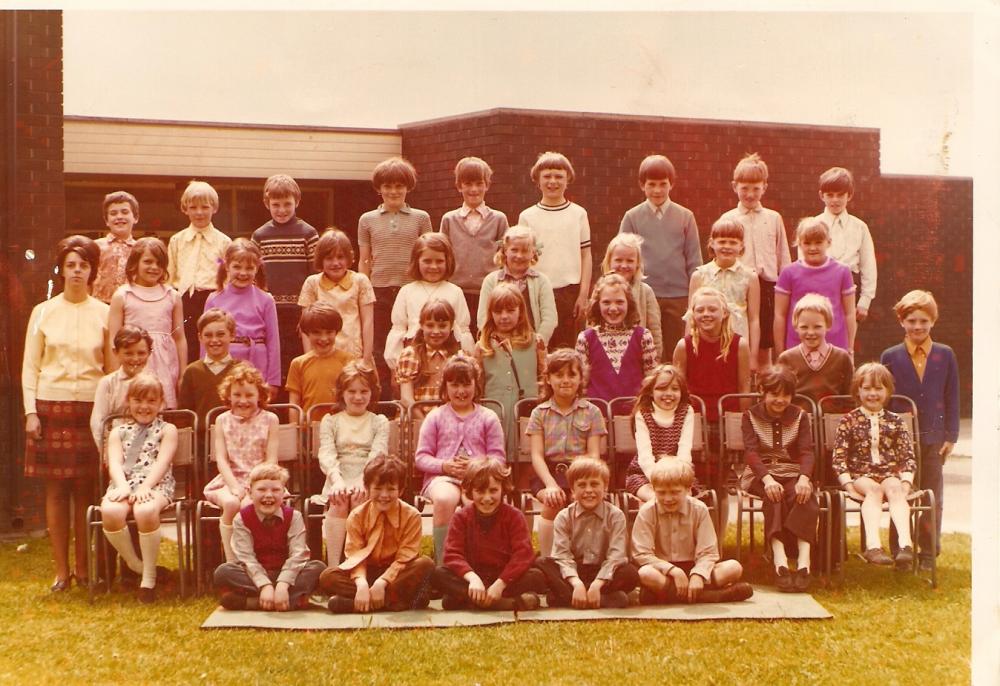 All Saints School
Photo: Francis Mooney
Views: 10,328
Item #: 6200
Back Row: Derek Evans, Ian Buckley, Robert Edwardson, Steven Jackson, Michael Ashton, Francis Mooney, Gary Ward, Thomas Wright, Mark Neary.
4th Row Teacher: Mrs Hilton, Dianne Cocklin,?, Sandra Hall,?,?, Barbara Taylor, Julie Beardsworth, Deborah Fillingham.
3rd Row: Christopher Fairhurst, Steven Varey, Paul Gregory, Julie Brookfield, Phylis Morris, Jane Douglas, Susan Dyke, David Wilcox, Dean Bithel.
2nd Row: ?,?, Julie Skett, Louise Grimshaw, Aileen Hill,?,?, Anne Baines.
Front Row: Nicholas Clews, Paul Edwardson, Andrew Knowles, Micheal James, Steven Gregory.

Date, Early seventies.
Comment by: Ackky on 22nd May 2008 at 19:47
Francis.
I presume this is All Saints Hindley, is that correct, and I also presume you are Harry's son.
Comment by: francis mooney on 23rd May 2008 at 20:14
Comment by: Dave Willcox on 25th July 2008 at 16:23
Now that takes me back a bit...
amazing how many faces I can still recognise.
Comment by: Anne Wade (nee Baines) on 10th February 2009 at 16:24
absolutely fantastic anybody anymore pics to post? cant believe its so long ago!!
A few names on here are familiar,Thomas wright is my cousin,Barbera taylor's brothers Alan and David also went to all saints as did Paul neary,Gordon skett,David baines,Mellanie knowles,Karren bithel and countless Fillingham sisters.I'll post a pic' of the class off the mid 70's soon.
Comment by: dean on 27th June 2009 at 16:44
hi francis,it is the same photo that jane douglas emailed to me. here are a few missing names,4th row karen pilkington, next to karen is sandra taylor, sandra hall is on 2nd row,also 2nd row julie corfield,karen harrison.great photo nice haircuts hehe, cheers dean
2nd row Left. Tracy Pilkington, Caroline Bellis
2nd row, Sorry the two on the left are not Tracy Pilkington & Caroline Bellis, wrong class.