Photos of Wigan
Photos of Wigan
Album Contents
Album Contents
Wigan Album
H. J. Heinz, Kitt Green
14 Comments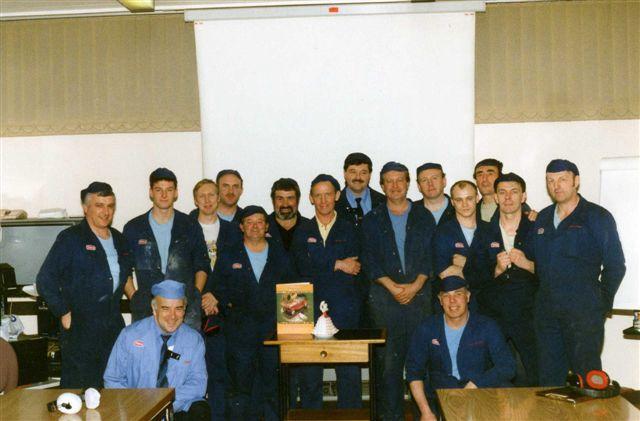 Heinz retirement photo, 1991.
Photo: Maurice Tyrer
Views: 15,598
Item #: 573
Heinz retirement photo, 1991.
Comment by: an old heinz worker (not that old ) on 29th April 2008 at 09:10
looking for people from sausage depo 1973-1974 lynn carter wynn shields christine johnson linda robinson christine slonker alan barnes graham nelson and lots more
Comment by: christine gardener (johnston) on 21st September 2008 at 18:02
hi old heinz worker whats your name im one of the sausage dept team, working with everyone you mentioned was the best time i had wish i could go back to that time
Comment by: Lesley on 22nd January 2009 at 15:49
Can't get them all but recognise Mick Ryan, Brian Dummett, Denis Halsall, Tommy Marsh, Maurice Tyrer, John Swann, Lawrence McTigue, Dave O'Neill, Roy huxley, Frank Gavaghan.
Comment by: maurice tyrer on 23rd January 2009 at 18:22
Hi Lesley,I can only help you a little,because I can't remember all the names,on my right is Cyril,I still see him but can't think of his surname,on my left is John Stevens.How do you know so many of us Lesley?
Comment by: Roy Huxley on 8th February 2009 at 12:28
A couple more names Maurice, 2nd left David Whiteley, 4th left Frank McCabe,5th right Roy ?, plumber lives on Springs Rd. Are you sure about 'Cyril' Maurice?
Comment by: maurice tyrer on 9th February 2009 at 14:34
I remember the names now Roy,also the plumbers name is Roy Welsby,it is Cyril on my right side Roy,I did'nt mean Tommy Marsh,who is on the right but behind me.Its a long time since.
Comment by: Roy Huxley on 10th February 2009 at 10:44
Come back on to tell you its Roy Welsby,but you already know.I know its Tommy Marsh behind you,but still not convinced about 'Cyril',did he work on soup filling and was he from Hindley?
Comment by: maurice tyrer on 10th February 2009 at 15:30
Positive,its little Cyril,and he is from Hindley and worked on soup filling.Do you remember the great long photo he brought in,and Cyril and me were both on it.
Comment by: Linda Parkinson on 24th March 2009 at 20:22
I worked in sausage dep 1973-77 remember all those mentioned and many more,lots of good memories
Comment by: linda robinson on 22nd June 2009 at 20:33
hi evryone mentioned i remember you all & many more met some
brill people including bessie r redband even tho she gave me a dogs life happy times. x
worked with brian dummit at kitt green in bean labeling 1964 before emigrating
to australia
Yes it is me Cyril Dilworth from hindley next to morris
Comment by: old heinz worker on 12th July 2015 at 10:43
remember all the girls in saus dept good times be good to know how they all are specially christine johnson linda robinson lynn carter wynn shields
hi old heinz colleague spoke to wynn shields linda robinson recently were all doing fine whats your name would like to know who you are ?