Photos of Wigan
Photos of Wigan
Album Contents
Album Contents
Wigan Album
GUS
7 Comments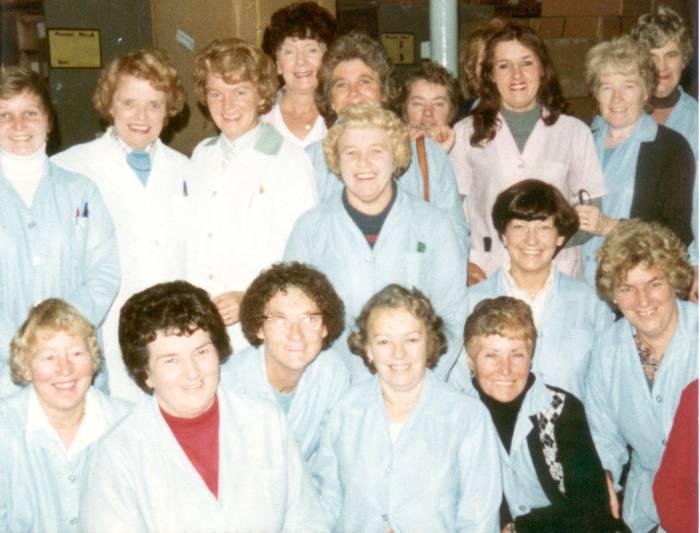 Staff at GUS, Rylands Mill, c1973.
Photo: Brian Elsey
Views: 16,483
Item #: 570
Staff at Great Universal Stores (GUS) when it was based in Rylands Mill, next to Mesnes Park. c1973.
My Mum, Marion Arnold, worked at GUS in late 60s early 70s in the office on commissions.
Comment by: Vivian Halsall nee Grange on 14th December 2008 at 08:10
My mum worked there in the packing and issuing dept. her name Florrie Grange she was always singing. A group of the girls went to Ireland for a holiday She really enjoyed working there. i worked there in the office then in packing and post. i got a good send off when I got married. I have been in W Australia since 1983. But i do recogise some of the people in this photo, but not the names. Thanks for the memories. Cheers Viv
Comment by: lisa on 23rd April 2011 at 15:33
my gran lillian weston on back row
Comment by: graham sykes on 15th October 2013 at 14:14
My lovely wife Gladys sykes(NEE LEIGH) in the pink overall
Comment by: Jimmy Edwards on 25th December 2013 at 01:25
3rd from left front row my Aunty Mary Radclife lovely Lady
Comment by: Angela on 19th February 2016 at 13:53
My LOVELY MUM Joyce Woodcock 6th from left bottom row worked at John Englands and then GUS.I know she made some good friends there and had some well deserved nights out...
Comment by: Mrs Julie Teasdale on 2nd February 2019 at 15:11
Loved working at Gus, spent 20yrs there and 3yrs at John England's near Wigan park xx