Photos of Wigan
Photos of Wigan
Album Contents
Album Contents
Wigan Album
Winstanley family
3 Comments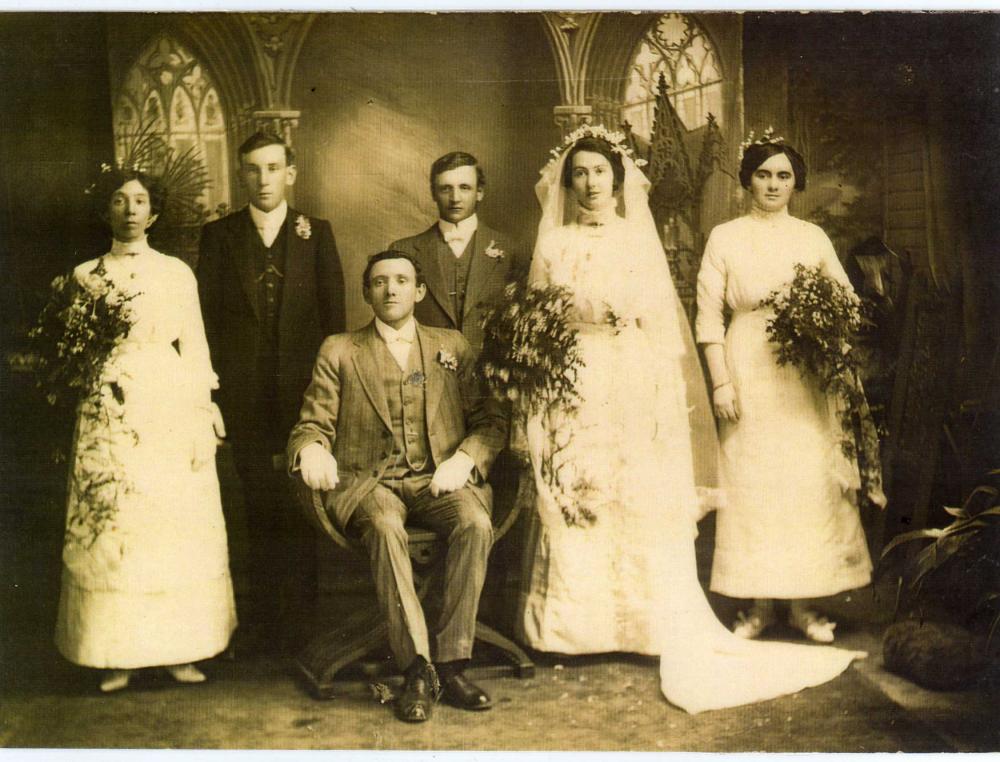 wedding party
Photo: carole king
Views: 1,694
Item #: 26254
Sarah jane winstanley nee abrahams aged about 21-22yrs to the far right of the picture ,at her sister elizabeths wedding about 1920 st nathaniels platt bridge.
The ceremony was indeed at St Nat's (see below), but the pic was taken in a studio.
Marriage: 9 Oct 1920 St Nathaniel, Platt Bridge, Hindley, Lancs.
John Trafford - 31 Collier Bachelor of 60 Preston St, Coppull
Elizabeth Abrahams - 32 Spinster of 67 Sydney St
Groom's Father: John Trafford, (deceased), Collier
Bride's Father: Edward Abrahams, Collier
Witness: Henry Bannister; Sarah Jane Abrahams
Married by Banns by: P. D. Maddock
Register: Marriages 1917 - 1925, Page 46, Entry 91
Source: Original register at Wigan Archives
Comment by: Bradshaws Girl on 25th March 2015 at 10:30
Why is the bride standing and the groom sitting? Isn't it normally the other way round?
Comment by: irene roberts on 25th March 2015 at 13:35
I thought that too, Bradshaw's girl. Perhaps it was to show her dress to its best advantage.