Photos of Wigan
Photos of Wigan
Album Contents
Album Contents
Wigan Album
Mesnes Park
12 Comments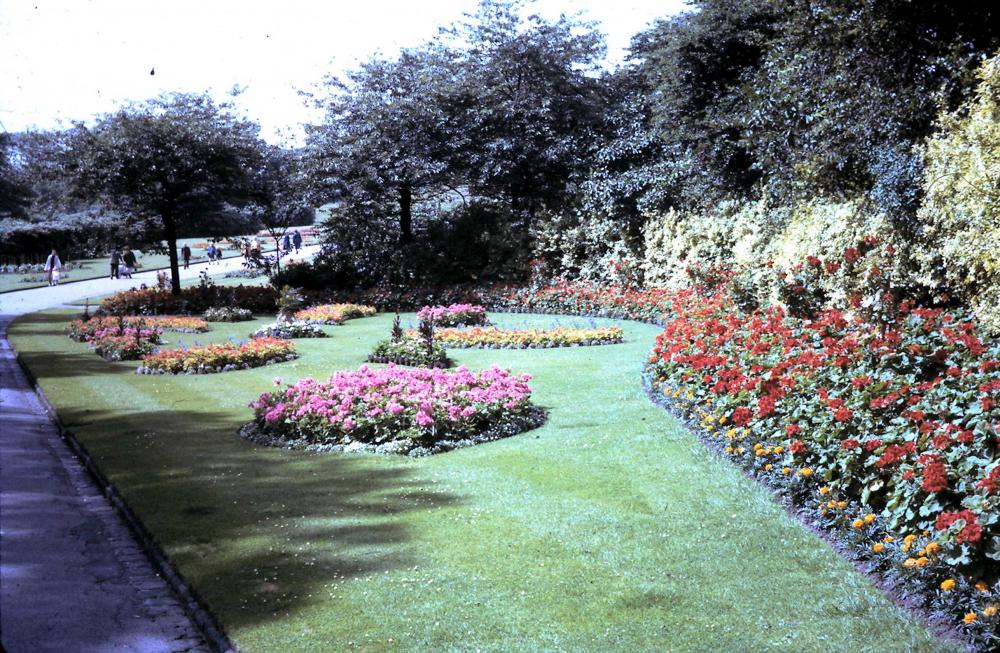 Mesnes Park
Photo: Rob Wilkinson
Views: 1,711
Item #: 12657
Summer 1966 Mesnes Park looking good in full bloom. Photo taken looking towards cafe from Mesnes Park Terrace entrance.
Comment by: janet on 26th November 2009 at 22:46
Wasn't Mesnes park just lovely, back in the days when it was safe to walk through, back when it was something to enjoy and something to be proud of. Back when Wigan Council cared...
Comment by: Paul Hope on 26th November 2009 at 23:16
Was Dave Clarke looking after the grass in those days?
Comment by: James on 27th November 2009 at 00:31
I remember winning a prize at the summer show they used to have. I think it was for making a lamp!
Comment by: irene roberts nee griffiths on 27th November 2009 at 09:48
I remember when you could sit upstairs in the cafe, which had a 1920s atmosphere, even in the 50s and 60s.....why do children always want to sit upstairs? I remember rolling over and over down the grassy slopes next to the cafe steps, and my Dad lifting me up to rub Sir Francis Sharp-Powell's shoe for luck. On bitter Winter nights (no central heating!) my Dad used to say, "Owd Mon! A'hm cowder than 'im i't t'park!", and I used to imagine Sir Fracis, sitting in the icy darkness; it made me feel so lucky,sitting cosy by the fire.
Comment by: ALAN LAD on 27th November 2009 at 11:02
I REMEMBER GOING TO WIGAN PARK WAS A REAL TREAT FOR US BUS RIDE TO WIGAN AND A FULL DAYS PIC NICK THEN AN ICECREAM AT THE END WHAT JOY IT WAS
Comment by: Bluesfan on 27th November 2009 at 13:35
If the council had there way they'd probably build houses on it.
Comment by: Darren H on 27th November 2009 at 14:03
I rene - what a beautiful post - so much of what makes us Wiganers packed into such a small paragraph - I rolled down the same hill as a boy - plucked buttercups and hunted for hours for a clover with 4 leaves - and then had a big cup of orange juice from the cafe
Comment by: Peter Mason on 27th November 2009 at 16:19
Sunday afternoons in the park - watching the girls go by.
Then, after a coffee in the cafe, listen to the band.
Oh, happy days - I've chatted up many a girl in Mesnes Park
Comment by: Helen on 28th November 2009 at 15:32
I can see we all loved Mesnes Park, this is how I remember it, fight for it.
Comment by: Bob A on 29th November 2009 at 20:01
Naughty boy Pete, no wonder I couldn't get a girl in the park...you'd nicked them all
Comment by: Catherine on 30th November 2009 at 14:51
My Grandad worked in the park for years when I was little. I used to think it was great when I was taken in there to see him. He used to take me into the greenhouses at the back of the park sometimes. The park shows were always a great treat too. A lovely photo and great memories.
Comment by: maggie K on 23rd August 2014 at 09:31
It does not look like that now - two flower beds only and they are the best in the park - the flower beds are planted far too late when the plants are not at their best so they don't spread out and look 'mean'. The volunteers in Shevington do a better job.