Photos of Wigan
Photos of Wigan
Album Contents
Album Contents
Wigan Album
85 Ince Green Lane
11 Comments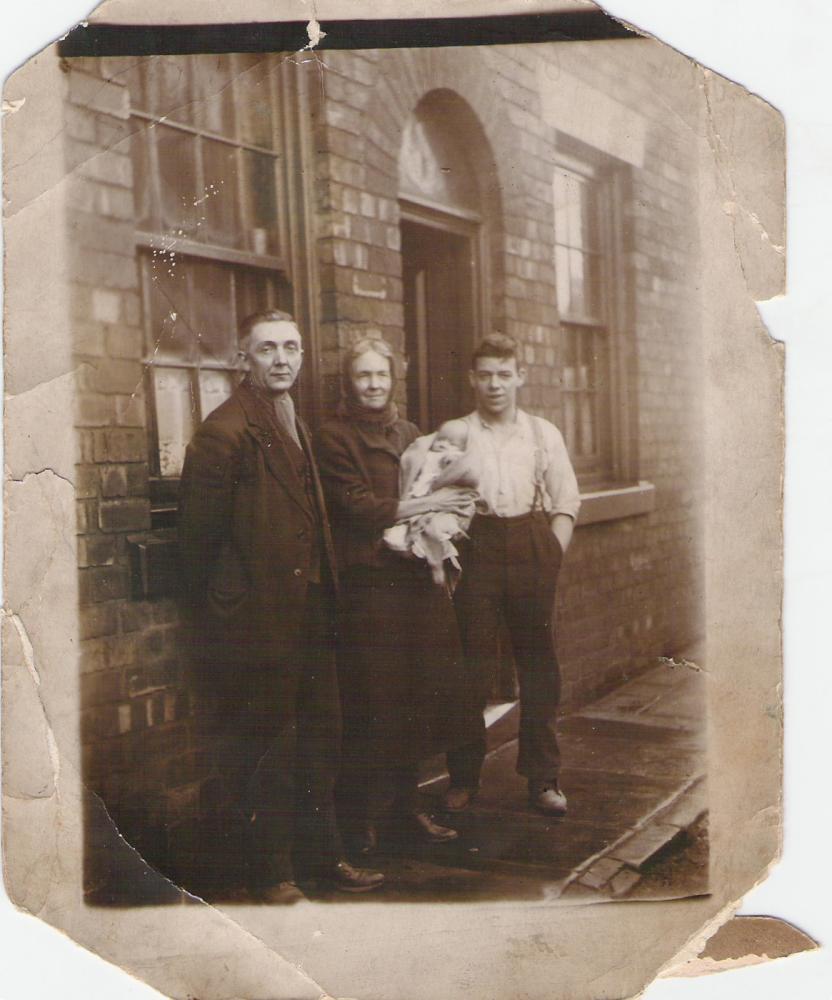 85, Ince Green Lane@1933
Photo: irene roberts nee griffiths
Views: 3,661
Item #: 12565
My Uncle Billy Aspey, my Grandma Lizzie Aspey and my Dad Bob Griffiths as young man in his 20s about 1933. The baby would be my eldest brother.....he was 19 and my Dad 44 when I was born in 1952! My brothers called Grandma "Mother" rather than Grandma; sadly I never knew her as she died when I was 10 months old, but I'm glad she knew ME!
Comment by: marie on 21st November 2009 at 18:07
love old photos and i called my grandma mother too
Comment by: Dennis Miller on 21st November 2009 at 19:46
My lord Irene... you can't half tell that is your dad. A true gemtleman in the making.
Comment by: lorraine on 21st November 2009 at 23:45
nice to see old photos of ince green lane, you would know mr & mrs shaw had a son called joe, he had 3 children mary barry and pauleen
Comment by: irene roberts nee griffiths on 22nd November 2009 at 14:23
Hello Marie,Lorraine and my old mate Dennis and thanks for your kind comments.Lorraine..... Mary, Barry and Pauline Shaw lived at the other end of our row of 6 houses behind St. Williams' Presbytery wall, at no. 75. Mary and I married two brothers so we are now sisters-in-law and Auntie to each others' children. I recently saw them all at a family wedding.
Comment by: maureen bennettneepennington on 6th March 2010 at 17:53
i also called my granma mother as iwas alwaystheremany happy memeors.
is this Billy Aspey, born Willie? And is Grandma's maiden name "Griffiths"? My ggrandma is Alice Aspey and she has a brother called Willie, Jane, George, Mathilda and Martha.

Ince Green Lane is where most of my Seal/Aspey ancestors lived.
Comment by: irene roberts on 12th April 2012 at 14:15
No, my uncle was always known as Billy. and my Grandma's maiden name was Battersby. Uncle Billy had two brothers, Harry and Jimmy Aspey, and two sisters, Lizzie, (known as Tizzie), who was my Mam, and Mary. My Mam only became Griffiths when she married my Dad. The Aspeys you mention are a different family, I imagine.
Comment by: Mary Roberts nee Shaw on 26th April 2012 at 22:00
this is is a brill photo,think i got some old pic's must find em out i knew that was your dad right away Do you recall our pol coming into your hse singing for your mum an dad ?
Comment by: pauline shaw on 26th April 2012 at 22:12
hi irene what a lovely photo of ur dad he was a really nice man and ur mum was luvly to i used to love coming in your house many happy memories for me.
Comment by: irene roberts on 1st June 2012 at 12:14
Have only just seen the comments, Mary and Pauline. Thankyou.
Comment by: TD, on 8th November 2017 at 23:30