Blog
Wrightington (Interesting Old News)
Published by Brian on Friday 5th August 2022
Lots of news including death from hydrophobia and the opening of Wrightington Hospital in 1933 for treatment of non-pulmonary tuberculosis.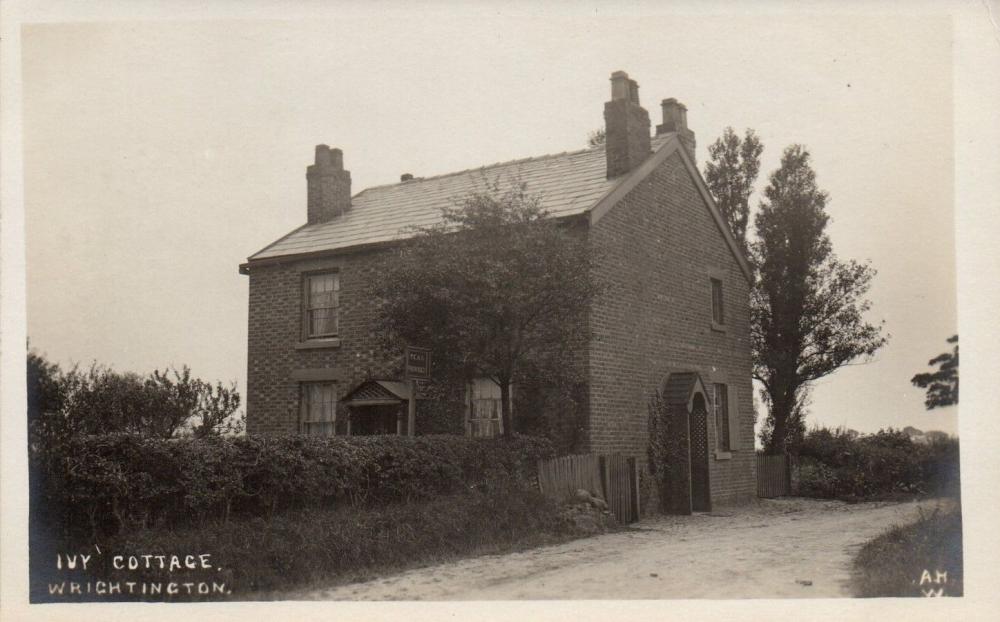 Ivy Cottage, Wrightington
Blackburn Standard 09 April 1851
DEATH FROM HYDROPHOBIA.

A little boy named James Mawdesley, about twelve years of age, who resided with hid grandfather, at Dangerous-corner, Wrightington, Wigan, died on Monday week of hydrophobia. It appears that while the lad was engaged in yoking a horse to a cart, close to the house of his grandfather, who is a wheelwright, on the 18th of February last, a furious dog, supposed to have been used in drawing a gingerbread and nut cart, came running up the lane where he was, flew at him, and bit him in two places in the right hand; between the first and second fingers the teeth of the rabid brute met. The boy was immediately taken to the residence of Mr. Price, surgeon, Standish, but that gentleman was from home, and did not see the patient until three or four hours after the infliction of the injury, when he cauterised the wound, and applied other remedies. The wound healed up, and it was hoped that no bad consequence would result, but on Sunday last he was attacked by symptoms which soon assumed, unmistakeably, the character of hydrophobia, and he died on Monday morning, after suffering great agony.
---
The Ipswich Journal 12 May 1860
THREE MEN COMMITTED FOR MURDER.

On Friday last an inquest was held on the body of Hugh Ainscough, a farmer, of Wrightington, near Wigan, who was found dead on Wednesday morning in a field. Deceased having gone to pay his rent, had been cruelly murdered on his way home, the body being discovered nearly covered with earth. Mr. Price, surgeon, Standish, who examined the body, said in his opinion death had resulted from "suffocation or impeded respiration." The weight of the clods on the body might have caused this. The jury returned a verdict of "Wilful Murder" against three men named Cubbin, Hart, and Benson, who are in custody.
---
Newcastle Guardian and Tyne Mercury 14 February 1863
BOILER EXPLOSION NEAR WIGAN.

On Saturday, a terrific boiler explosion occurred on the farm in the occupation of Mr. John Wright, at Wrightington, near Wigan. The boiler was a small one, used to work an engine employed in the ordinary work of the farm. It was in the open air, only a short distance from the farmhouse, and resting against the stables and barn, the engine being in an upper storey of the last-mentioned building. On Saturday, Mr. Wright's son, Richard, was oiling the engine, when the boiler exploded, with a loud report. The boiler was divided into several pieces, the heaviest of which were blown against the barn, shattering the walls, bringing down the greater portion of the roof, and doing minor damage in every direction. Richard Wright received injuries in the back and bruises on all parts of the body from the falling bricks and slates. It is hoped he will recover.
---
Blackburn Standard 31 March 1894
THE WOUNDING OF A HUSBAND AT WIGAN.

At Liverpool Assizes, on Monday, Mary Halliwell (40), a publican's wife, who pleaded guilty to having, on the 10th February, at Wrightington, near Wigan, unlawfully wounded her husband, Thomas Halliwell, by cutting his throat with a razor, was again placed in the dock. - The judge said that the prisoner had pleaded guilty to the above offence, and the other more serious charge of attempted murder was kindly abandoned by the prosecution. It was fortunate for her that she was not being tried for the actual murder of her husband, for the wounds she inflicted was sufficient to take life. This was one of the most aggravated cases with which he had ever had to deal, and he could not do otherwise than inflict the maximum penalty allowed for such an offence. - Prisoner must go to penal servitude for five years. - On hearing her sentence prisoner screamed and fell down in a faint. She was removed below by the warders.
---
Huddersfield Chronicle 03 April 1896
MYSTERIOUS DEATH AT WIGAN.

On Wednesday afternoon, Mr. Parker, coroner for the Preston district, held an inquiry at Wrightington, near Wigan, relative to the death of Elizabeth Knowles, aged 75, who died, it was alleged, from injuries inflicted by her husband, Daniel Knowles, who had been arrested on a charge of causing her death. The evidence showed that on the 12th ult. the wife remonstrated with prisoner for not going to his work, whereupon he kicked her on the left leg and fractured it. Medical testimony was to the effect that the woman was in a weak state of health from bronchitis, and probably would not have lived long, but Dr. Wilson gave it his opinion that the fracture accelerated death. The Coroner said that, although the woman had been a martyr to bronchitis, if prisoner's conduct accelerated her death even by five minutes, Knowles would be guilty of manslaughter. The jury, however, returned a verdict of "Death from natural causes."
---
Evesham Standard & West Midland Observer 28 February 1903
COUNTRY COURTSHIP.

At Liverpool Assizes, on Wednesday, Alice Tomlinson, of Southport, was awarded £90 damages against George Norris, a farmer, of Wrightington, near Wigan, for breach of promise of marriage. Plaintiff, a farmer's daughter, 23 years of age, was a cousin of the defendant's deceased wife. Her counsel (Mr. Shee) said that after his wife's death defendant told his client he needed someone to look after himself and his three children. On subsequent occasions he expressed the hope that plaintiff would become his wife, but she did not definitely accept him until they went blackberrying together. The courtship continued until May last, when Miss Tomlinson saw defendant at Rufford Show arm in arm with another young lady, whom he had since married. Correspondence of an amusing character, relating to mushrooms, blackberrying, pigs, etc., was read in court. Defendant denied having promised marriage, and his counsel contrasted the case with that of Bardell v. Pickwick, the difference, he said, being that whereas Serjeant Buzfuz gained a verdict by dilating upon chops and tomato sauce, Mr. Shee sought to captivate the jury by referring to blackberries and mushrooms.
---
Yarmouth Independent 09 March 1907
FATAL IMPATIENCE.

Miss Jane Ellen Bentley walked into the Leeds and Liverpool Canal and was drowned on Sunday night while reading a postcard by lamplight at Appley Lock, Wrightington, near Wigan.
---
Shields Daily News 16 May 1921
OLD COLLIERY RELIC
"Liverpool Halfpenny" Found in Forgotten Workings.

Stroke miners who are getting coal at an outcrop seam on the Wrightington estate, near Wigan, have discovered some old-time colliery workings which penetrate long distances underground.
The workings date back further than living memory, but the grandfather of the present agent for the Wrightington estate, who died some 15 years ago at the age of 90, had recollections of the seam being worked in the days of his childhood over a hundred years ago.
This is borne our by an interesting relic in the shape of a "Liverpool halfpenny," which has just been found in the workings. The coin which bears the date 1791, indicates that this early Lancashire colliery was being worked 130 years ago. Traces of a wagon line which ran from the site of the forgotten coal mine to the Leeds and Liverpool canal nearby, were formerly to be seen, so that it would appear that prior to the days of railways the coal was water borne.
The coin bears the representation of a sailing ship in full sail, and is in a good state of preservation.
---
Dundee Evening Telegraph 21 May 1923
BOYS' DISCOVERY WHILE BIRD NESTING.

Two boys while bird nesting in Wrightington Wood, near Wigan, came upon an unknown man's body almost reduced to a skeleton. The police are trying to solve the mystery.
The following description of deceased is given:- Age between 35 and 40; height five feet five inches; six upper and five lower teeth missing; deceased was wearing a double-breasted blue nap overcoat, dark striped suit, grey woollen cardigan, army grey socks, and lace-up boots.
---
Shields Daily News 03 February 1933
BOY FALLS IN THE ICE
Drowned in Ten Feet of Water
HEROIC COMPANION

Frank Tate (7), Moss Lane, Wrightington, near Wigan, his brother, and another lad were returning from school when Frank went on the ice of a lodge at Tunley. The ice, which was very thin owing to the thaw, broker and Tate disappeared in about ten feet of water and was drowned.
Lambert Clementson (10), the third boy, who lives at Sharples Farm, Wrightington, made a plucky rescue attempt, going under the water in his effort to reach Tate.
Mrs. Horridge, who lives close by, hearing the alarm, called Mr. Albert Wilson, and both of them hurried to the lodge. Mrs. Horridge tied a clothes line around her waist and fastened the other end to Mr. Wilson, the latter then plunging into the water.
He soon found Tate and brought him to the side, and then went into the water a second time to try to find Clementson. After a short search he found him in the water unconscious. He brought him to the side.
Mr. Wilson, who is an ambulance worker, immediately tried artificial respiration on Clementson, while others attended to Tate. Tate, however, was found to be dead, but after a quarter of an hour Clementson revived and recovered.
Mr. Wilson said Clementson must have been under the water for several minutes and he was, to all appearances, dead when brought out of the water.
The dead boy is a son of a woodcutter at Wrightington, and is one of eight children.
---
Nelson Leader 16 June 1933
Alderman E. Boothman.

Alderman E. Boothman, of Nelson, who is vice-chairman of the Lancashire County Council Tuberculosis Committee, is to take part in the formal opening of the new Wrightington Hospital, near Wigan, to-day. The hospital is for the treatment of non-pulmonary tuberculosis, and provides accommodation for 226 patients. Sir George Newman, Chief Medical Officer of the Ministry of Health, will perform the opening ceremony, which will be presided over by the Chairman of the County Council, Alderman J. T. Travis Clegg, D.L., J.P. Alderman Boothman will propose a vote of thanks to the Chairman.
Hi Brian,
Great blog - congratulations - wonderful reading. Have you done any similar research on Appley Bridge? I have found a few interesting entries for Appley Bridge if you are interested.
Thanks Stephen, I've got some old news for Appley Bridge which I'll publish soon.
I heard several times that my father in law and his brother found a dead man in a wood in Wrightington. I am now wondering if this could be the same incident.
Interesting !