Blog
Swinley (Interesting Old News)
Published by Brian on Tuesday 2nd August 2022
Not sure how common deaths were to domestic servants, but we have two separate reports of these, both occurring on Swinley Lane.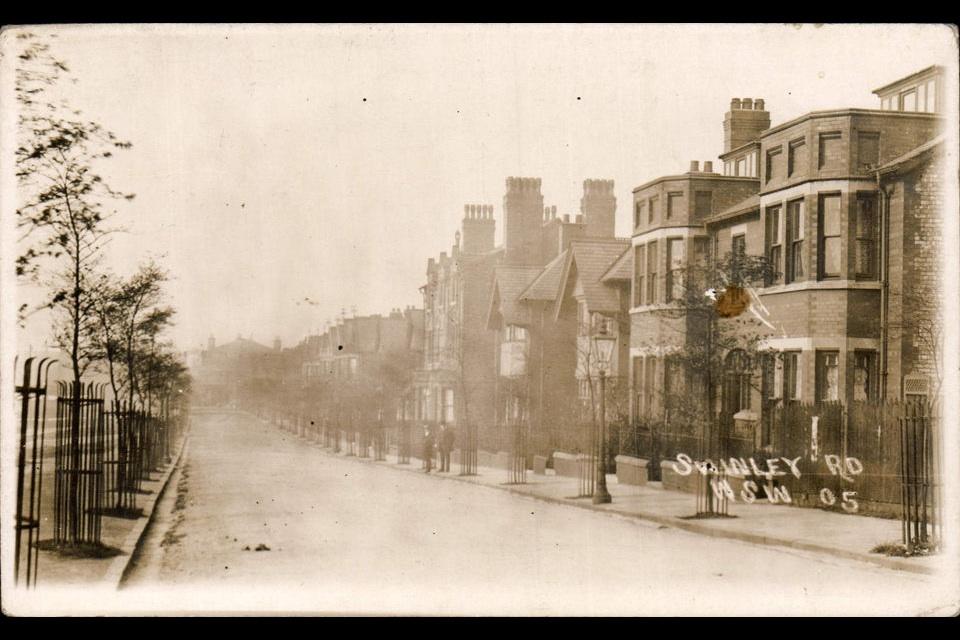 Swinley Road (Photo: SJB)
Lancaster Gazette 09 January 1864
FATAL COLLIERY ACCIDENTS AT WIGAN.

On Wednesday evening, an inquest was held at Wigan on the body of James Talbot, who was killed the same morning at Mr. Rumner's pit, Swinley Lane, Wigan. The pit is worked by a horse, and on Wednesday morning the deceased was lowered in a basket with other men. By some mistake they were dropped into the "sumph hole" at the bottom. The deceased either fell or jumped out of the basket, but his companions clung to the winding rope, up which they climbed until they could make themselves heard at the top, when they were wound safely to the surface. Subsequently the deceased was found lying in the "sumph hole" with his head shockingly disfigured. - On Thursday an inquest was held on the body of Richard Calland, a collier employed at the Trencherbone pit, belonging to Messrs. Pearson and Knowles. On the 30th, as an underlooker named Ackers was examining the spot where Calland worked, preparatory to the removal of some props, an explosion took place, by which Calland was hurt so seriously that he died on Wednesday.
---
Wigan Observer and District Advertiser 22 January 1881
BOILER EXPLOSION IN WIGAN.

We are sorry to have to report that an explosion of a serious character and likely to be attended with fatal consequences occurred on Wednesday at the residence of Mr. John McClure, 14, Swinley-lane, Wigan. It appears that owing to the freezing of the pipes in consequence of the severe frost Mr. McClure had no fire in his kitchen for two or three days, but on Wednesday it was decided to light it. The fire heats a small iron boiler which is placed behind the kitchen grate, and at three o'clock in the afternoon the boiler burst with a loud report, doing a large amount of damage to the house and causing serious injury to Eliza Morris, Mr. McClure's servant. The chimney flue is placed against the outside wall, the force of the explosion was so great as to drive it clean through the wall, and portions of the debris landed in an adjoining yard. The girl, it is thought, was struck by portions of the ironwork of the boiler, and when found she was covered with soot and bricks. Assistance was promptly at hand, and she was soon extracted from her dangerous position, Mr. Wm. M. Roocroft, surgeon, was passing at the time, and rendered the requisite medical aid, and suggested her removal to the Infirmary. She was there attended to by Dr. Roocroft, but her injuries terminated fatally yesterday.
---
Blackburn Standard 10 March 1894
MYSTERIOUS OUTRAGES IN WIGAN.

There have recently been reported to the Wigan police a series of mysterious outrages on unoffending passers by, one of which has just terminated fatally. The other evening, while Mr. Richard Blaylock, ex-councillor for Swinley Ward, Wigan, was taking his accustomed evening walk, he was struck on the head by a man who was hiding beyond a hoarding in Greenough-street. The blow stunned Mr. Blaylock for a moment, and his assailant was able to make his escape. The injured gentleman was able to walk home, but he subsequently became dangerously ill, and it was found that he had been shockingly injured in the head, and although Dr. Jones, of Manchester, performed an operation, he died at seven o'clock on Thursday without having become sufficiently conscious to allow his deposition being taken. The police were promptly informed of the terrible affair, and they are actively engaged in searching for the miscreant wanted, although up to the present no tangible clue is reported to have been found.
---
Wigan Observer and District Advertiser 15 April 1916
A DOMESTIC SERVANT'S DEATH.
COMPENSATION CLAIM IN WIGAN COUNTY COURT.

Before his Honour Judge Spencer Hogg, at the Wigan County Court, on Tuesday, a claim was made under the Workmen's Compensation Act by Fanny Ibbetson, of 71, Bolton-road, Aspull, for compensation following the death of her daughter, Nellie Sanderson, who died on 28th October last, following injuries received by being burned while following her occupation as domestic at 88, Swinley-lane, Wigan. Mr. J. C. Gibson appeared for the applicant, the respondent being represented by Mr. A. E. Baucher.
Mr. Gibson stated the facts of the case, and said that £25, the amount claimed by the applicant, had been paid into court.
His Honour made an award for £25 in favour of the applicant.
---
Wigan Observer and District Advertiser 26 May 1917
GRAMMAR SCHOOL OLD BOY KILLED.

Information has reached the parents of the death in action at the Front of Pte. Thomas Armstrong, of the Manchester Regiment. He was the only son of Mr. Thomas Armstrong, of 68, Swinley-lane, Wigan, and was a little over nineteen years of age. He was employed by Messrs. Turner, accountants. His school life was at the Wigan Grammar School, where he was popular among his fellow students. After leaving school he played football as one of the "Old Boys," and he was also a member of the Whitley Golf Club. Quite recently Mr. Armstrong was the recipient of many condolences by reason of the distressing death of his wife, and now he has to mourn the loss of his only son, which event tragically enough, as dates show, occurred one day before his mother passed away in Wigan.
---
Dundee Evening Telegraph 04 February 1927
WOMAN'S ALLEGED PLOT AGAINST CHILDREN.
Committed On Inciting To Kidnap Charge.

Minnie Gilbert (39) was at Manchester committed for trial on three charges of inciting men to kidnap children.
When the hearing was resumed Mr. F. Webster, prosecuting, put into the witness-box Detective-Inspector Butler, who said he arrested the prisoner on January 3, and charged her in the first instance with inciting two men, defendants in another Manchester case, to kidnap the two children of a widow named Bateman, of Colne, Lancashire.
Witness said he found a number of type written letters at a house in Swinley Road, Wigan, where the prisoner was then lodging. One of the letters was anonymous, and it was in an envelope addressed to one of the men alleged to have been incited in the first case.
Mr Webster read the following passages of this letter:-
"Mrs Gilbert has lately tried to kidnap our two children at a boarding school, and we are all very much upset and afraid."
"Naturally we are alarmed, and have decided to ask you to kidnap one of these boys and then send an anonymous letter to our solicitors at Wigan, and say that a full settlement must be arrived at with Mrs. Gilbert before the child is returned."
"We know Mrs. Bateman would pay heavily, and would pay you £100 each ransom if you got the boy."
Defendant said excitedly that that letter was not in her possession, and she denied any knowledge of it.
Two typewriting experts gave evidence to the effect that two typewritten documents, one prepared by the defendant in the presence of a Southport police inspector, and the other sent to Mr. Browner as an alleged incitement to him to kidnap children, were identical.
---
Liverpool Echo 09 July 1935
WIGAN ROAD TRAGEDY
VERDICT AT INQUEST ON GIRL CYCLIST

A collision in which a girl cyclist was fatally injured was described at the inquest, at Wigan, to-day, on Doris White, aged 16, a domestic servand, of Beech Hill-lane, Wigan.
The girl, it was stated, rode out of Swinley-road, Wigan, into Kenyon-road, and although the driver of a motor-coach swerved across the road he was unable to avoid her. The girl was taking her wages to her mother who was waiting a little distance up the road.
A verdict of "Accidental death" was returned.
---
Lancashire Evening Post 11 December 1935
WIDOW AND SON SUE INSURANCE CO.
£1,000 JUDGEMENT
Solicitor's Fall From Train "Accidental"

Mrs. Anne Walsh, of Swinley-road, Wigan, widow of Mr. Stephen Walsh, the Minister for War in a former Labour Government, and her son, Mr. Leslie Walsh, a barrister, were awarded £1,000 and costs by Mr. Justice Hilbery, at Manchester Assizes, to-day, in a case arising out of the death of Mr. Leonard Walsh, another son. A stay of execution was refused.
Mrs. and Mr. Walsh claimed £1,000 from the Legal and General Insurance Society, London, as being due under a life insurance policy taken out by Mr. Leonard Walsh on October 31st. 1934.
Mr. Leonard Walsh, who was a solicitor at Wigan, was found dying on the railway line between Wigan and Manchester, on December 14th, 1934, and at the inquest a verdict of "Suicide while of unsound mind" was returned. A condition of the policy was that any money should be forfeited if the holder committed suicide within one year of the date of issue.
It was urged on behalf of the claimants that Mr. Leonard Walsh had never shown any signs of insanity, and it was suggested on their behalf that what had happened was that Mr. Leonard Walsh, while alone in the railway carriage, was taken ill, and that after pulling the communication cord he went to the window to be sick; the door opened and he was thrown upon the line.
---
Liverpool Evening Express 13 February 1942
WIGAN SERGEANT'S HONOUR

Sergeant Harry H. Hampson, R.T.R., Swinley-road, Wigan, has been awarded the D.C.M. for bravery in the rescue of a wounded comrade on the battlefield in the Middle East. Sergeant Hampson is also well-known in Widnes where his father, Mr. Fred Hampson, an international Rugby footballer, played for many years for Widnes R.F.C.
---
Manchester Evening News 25 February 1943
DIED ON WAY HOME TO REST

Mrs. Green, of Swinley Lane, Wigan, has been notified that her husband, Mr. James B. Green, died at sea last November, when the ship on which he was returning home from India was torpedoed. Mr. Green, who was 64, had been working in Bombay since 1912, and was coming home to retire. His son, James, is a Flight-Lieut. in the R.A.F.V.R.