Blog
Standish (Interesting Old News)
Published by Brian on Monday 1st August 2022
Read the strange story about how a Canadian woodcutter ending up in a Standish wood where he lay for ten days... Plus other interesting articles.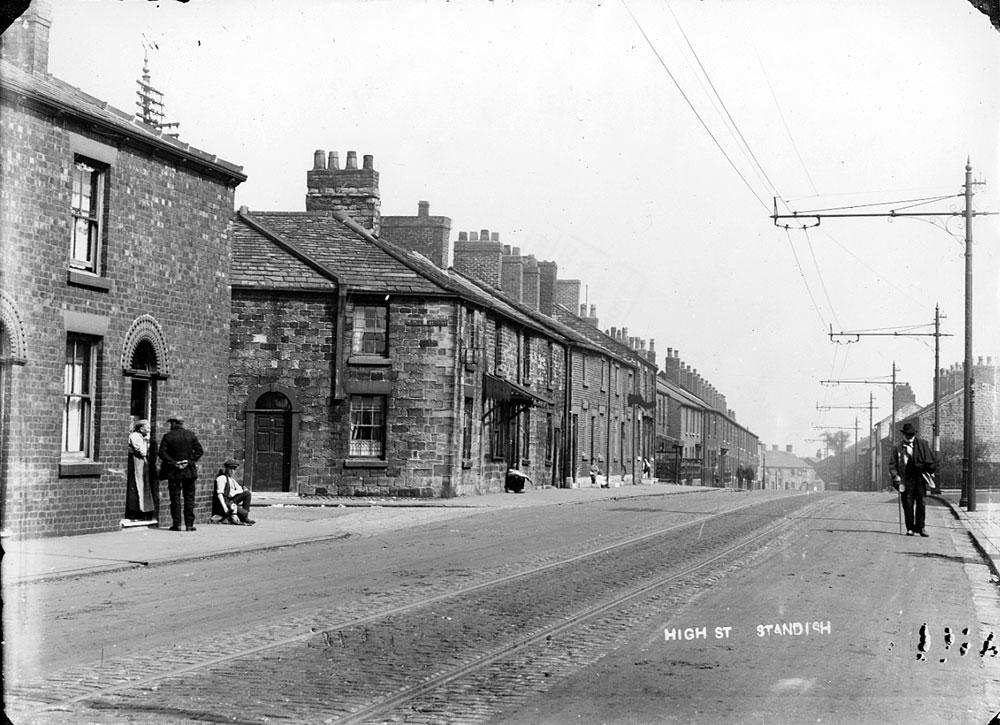 Southern Times and Dorset County Herald 03 September 1853
A STATIONMASTER KILLED.

On Friday night a fatal accident happened at Standish, near Wigan, on the London and North-Western Railway. The stationmaster, Meredith by name, was crossing the line when an engine came up unobserved. One of the buffers struck the unfortunate man, and inflicted such serious injuries as to cause death shortly afterwards.
---
Hull Advertiser 05 November 1862
ELOPEMENT AND ROBBERY AY STANDISH

On Saturday last, a man named James Peters, twenty-two years of age, a native of Worksop, was taken before E. Sylvester, Esq., at North Hall, Standish, charged with eloping with the wife of William Mason, engine tenter, of Standish, and stealing £50 on gold, 11s. in copper, some rare coins, and wearing apparel, to the value of £20, all the property of Wm. Mason. The prisoner first made his appearance at Standish about nine months ago, when he obtained work at a colliery in the neighbourhood, and took lodgings with the prosecutor. Mason appears to have had no suspicion of his wife's infidelity till the 20th of October, on the morning of which day he went to his work as usual, leaving his wife at home with the prisoner. At noon Peters took Mason his dinner, and he returned home again. Shortly afterwards Mrs. Mason was seen apparently on her way to Wigan, and Peters was noticed to remove a large clothes chest from the prosecutor's house and place it on a barrow, which was then wheeled away by a man the prisoner had with him. It was subsequently discovered that Peters and Mrs. Mason made their way to the banks of the Lancaster canal, where the box also arrived soon after. They then proceeded by boat to Wigan, and immediately proceeded to the Lancashire and Yorkshire Railway station. All traces of the pair were lost at this point, and no clue was obtained till Wednesday last, when Sergeant Barker, of Standish, learning that Peters had some relatives at Worksop, went there in company with the deserted husband. Here they obtained information which caused them to proceed to Wailes, near Rotherham, where they found the man and the woman, of whom they were in search, and who had taken lodgings as a married couple. The prisoner had a sixpence and some copper upon him, and one or two coins which the prosecutor identified. The clothes box, with the greater portion of the wearing apparel, was recovered, but of the money there were no traces. The sergeant asked Peters who brought the box away from Mason's, when he replied that he did. Mrs. Mason immediately exclaimed, "You fool! I brought it away; he had nothing to do with it." The prisoner was brought to Standish by the officer, the fair one, faithful to him, at all events, accompanying. The magistrates committed Peters for trial.
---
Mansfield Reporter 03 October 1884
STARVING IN A LANCASHIRE WOOD.
STRANGE STORY.

An incident has happened at Standish, near Wigan, which goes to show that truth is really stranger than fiction. A few days ago a Canadian woodcutter was found lying helpless and emaciated in the wood adjoining Jotley Mill, Standish, and, according to the man's own statement, he had been lying there without food or drink for ten days. He states that he was visiting England for the good of his health, and on his arrival in Liverpool on the 9th Sept., he went with two of his fellow passengers to a coffee house, and after the men had left him he found that all his money, to the amount of £35, had gone. He had no friends in England, and not knowing where to go, or what to do, and having in addition lost every farthing of his hard-earned savings, he became distracted, and wandered about aimlessly he knew not whither, until he found himself at Standish. Being weary and footsore, and attacked with fever, he flung himself down in the wood to rest, or to die. After a while he found that he was too weak to move from the spot, and consequently he lay quite helpless just where he had fallen. In a state of semi-stupor he remained there for four days without seeing a single human being and without tasting food. On the fourth day, however, a man passed and asked him what he was doing there. He told him how long he had been there and that he could not move, beseeching him to fetch a drink of water in his hat from the stream that run close by. Strange to say the man took no more notice of the poor fellow but walked on. Five days more he lay there with no food and without seeing any one, until some time in the afternoon, a woman passed and took compassion on him. On hearing the tale he had to tell she went back into the village and brought the dying man some tea. Ultimately some of the neighbours appeared on the scene, but it was not until into the evening that a police-constable arrived, and, on the advice of Dr. Price, had the man conveyed to Wigan Workhouse. The man gives his name as Henry Kent, says he is 56 years of age, is a woodcutter, and lived in a settlement west of London, Canada. When admitted to the above institution he was very weak and emaciated, and quite unable to walk, but he is now progressing favourably towards recovery, and has written a letter to his friends in Canada asking for help.
---
Henley Advertiser 04 January 1896
TRAGEDY NEAR WIGAN.

A tragic affair is reported from Standish, near Wigan. On Sunday morning a colliery labourer, named Michael Bourke, who lodged with Joseph Jones, stableman to the rector of Standish, was found dead in the house with a muffler tightly drawn round his throat, and a serious wound on the forehead, apparently caused by a poker which was lying near. Jones and Bourke were together on the previous evening, and had some drink. On Bourke returning to the house towards midnight he found the door locked by Jones, who had returned earlier, but he managed to effect an entrance. On Sunday morning Jones, the members of whose family are away, left for the rectory, and a short time afterwards Bourke was seen by a neighbour lying on the floor. The police, on braking into the house, found his dead body. Jones afterwards gave himself up to the police, saying he had heard what they had found in his house. He seemed to be but little concerned.
---
Wigan Observer and District Advertiser 02 November 1909
DAMAGES AGAINST A STANDISH DOCTOR.

John Sutton, a canal boat proprietor, of Tarleton, Preston, was awarded £25 damages at the Wigan County Court, on Tuesday, against Dr. G. H. Wilson, of Standish, Wigan. Defendant's car was proceeding along the canal bank when plaintiff's horse, which was feeding from a tin bucket, fell into the canal, and was drowned.
---
Henley & South Oxford Standard 01 March 1912
FATAL SHOOTING ACCIDENT.

A shooting accident at Standish, near Wigan, by which Christopher Turner, aged eighteen, was killed, was on Tuesday reported to the Preston coroner. Turner and John and Richard Lythgoe were playing a game known as "Peggie in the field." John Lythgoe placed a loaded gun against a wire fence, while his brother and Turner sat upon the fence. Suddenly a staple gave way, the wire slipped down throwing the youth backwards, and the gun went off, the charge entering Turner's head.
---
Daily Citizen (Manchester) 07 November 1913
ROBBED HIS BLIND FATHER.
LARGE SUMS WITHDRAWN FROM BANK.

Suicide during temporary insanity was the verdict returned at an inquest held at Wigan yesterday on Thomas Jones (35), of 2, Cudworth street, Wigan, employed as an assistant to a chemist in Standish, near Wigan, whose body was found in a culvert on the Earl of Crawford's estate (The Plantations), Wigan, after having been missing from Friday to Tuesday.
A postman named John Atherton gave evidence of identification in place of Jones's father who, he said, was blind. Jones's father kept a joint banking account with his wife until she died, and then he took in the dead man, but the latter, who was fond of enjoyment, had withdrawn several sums, amounting to over £100, without the knowledge of his father who, on account of his blindness, was not aware of the state of the bank-book. The father had been made aware of the fact since the money was drawn out.
Evidence as to the finding of the body in The Plantations, Wigan, fully dressed and bearing no marks of violence, was given, and the police surgeon, having made a post-mortem, stated that prussic acid was found in the stomach.
---
Liverpool Echo 30 November 1929
TRAGIC HOMECOMING.
WIDOW'S DEATH AFTER RETURN FROM AMERICA.

Mrs. Mary Garrison, aged eighty-three, a widow, who brought her son's body from America this week for burial at Standish, Wigan, died two days later, burial taking place in the same grave to-day.
Mrs Garrison went from Wigan to America fifty years ago, and this was her first return to England. Her son served in the American Air Force during the war.
---
Aberdeen Press and Journal 17 August 1937
GOSSIP KILLED HER LOVER
GIRL'S TRAGIC STORY AT INQUEST

A pretty hospital maid, weeping as she gave her evidence, told at a Standish, Wigan, inquest yesterday, how gossip had led to her sweetheart's suicide.
The dead man was Edward Kenyon (29), a silk works employee, Pepper Lane, Shevington, near Wigan. His headless body was found on the Wigan to Southport railway line near Wigan on Sunday.
Miss Emily William, Failkner Street, Liverpool, a maid employed at the Wrightington Hospital, near Wigan, told the coroner that she had been keeping company with Kenyon for two years.
"Last Thursday night we went for a walk," said Miss Williams. "He began to fall out with me."
:His quarrel seemed to be that people had been telling him things about me. I told him that if he believed other people before me we had better part."
The Coroner (Col. H. Parker) - What did he do then? - He handed me his watch and cigarette case and a 10/- note.
The Coroner - What did he tell you to do with them?
The girl, bursting into tears, "I can't answer that question."
The Coroner - He told you to do something with them? - Yes.
Miss Williams added - "I said to him. 'Are you going to commit suicide?' and he said: 'You will hear about it to-morrow.' I said 'If it is as bad as that I don't want to lose you.'
"He seemed all right then and I gave him his things back. I arranged to meet him on Sunday afternoon, but when I went to our meeting place his brother told me he had been found dead on the railway."
P.C. Sharpe, of Appley Bridge, said from the position of the body he did not think Kenyon could have accidentally slipped.
A verdict of suicide while of unsound mind was returned.
---
Bradford Observer 01 June 1938
Brothers Meet After Forty Years.

Two brothers met for the first time on 40 years at Wigan railway station yesterday. The were Mr. John Silcock, a New Zealand farmer, who left Wigan as a young man of 24 to go dairy farming at Auckland, and Mr. Thomas Silcock, of Standish, Wigan, a retired colliery bricklayer. John is prosperous and retired, but Thomas lives on an old-age pension.