Blog
Shevington (Interesting Old News)
Published by Brian on Sunday 31st July 2022
Assault, theft, attempted murder, infanticide, shooting etc. And you thought Shevington was a sleepy village.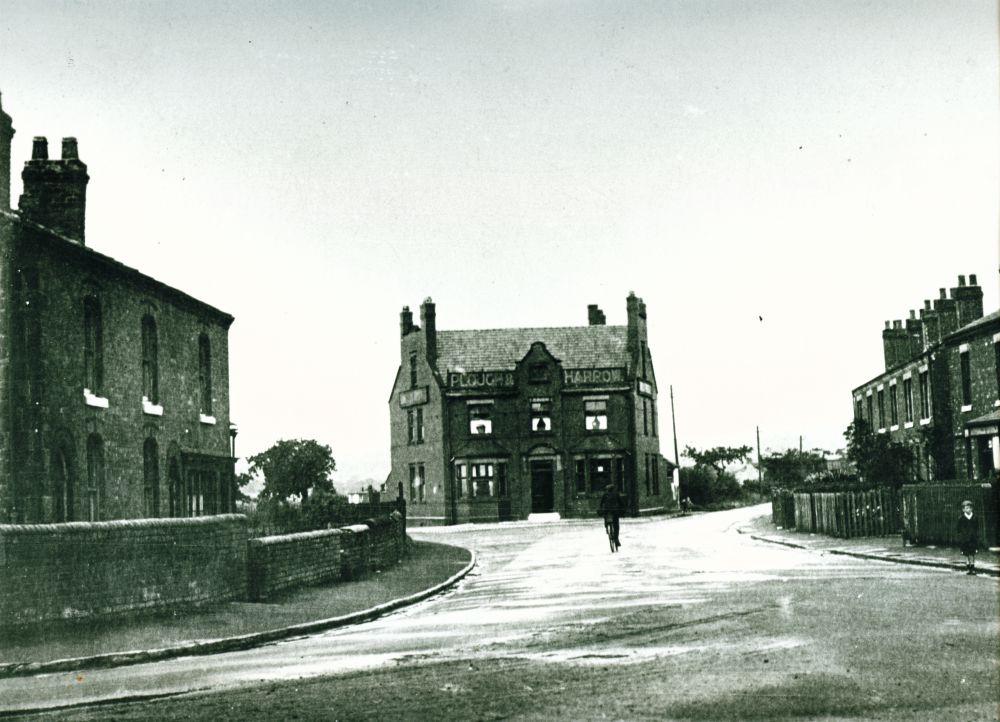 Plough and Harrow, Broad-oth Lane
Wigan Observer and District Advertiser 25 January 1868
DEATH FROM SCALDING.

On Saturday, an inquest was held at Shevington, before Mr. Myles Myres, coroner, touching the death of Catherine Underwood, one year old, daughter of Richard Underwood, collier. The mother of the deceased deposed that on the 30th ult. her daughter was scalded. Witness had been taking some broth out of a pan, and had put it on the table. The deceased was standing beside a chair at the time. After putting the broth on the table, witness went to the pan to get more broth out, and whilst she was in the act of doing so, the deceased got hold og the tablecloth, and pulled the broth on to her. She was scalded on her chest, down her face, and on her forehead. Witness applied linseed oil and meal poultices to the parts injured. On the following day, Dr. Fisher, of Wigan, was sent for, and he continued to attend the deceased until her death, which took place on the previous Wednesday morning. There was no one in the house when the accident happened but two young children, witness, and deceased. - Ellen, wife of James Lowther, labourer, gave corroborative evidence, and the jury returned a verdict in accordance with the above facts.
---
Wigan Observer and District Advertiser 12 March 1870
GIRL DROWNED IN THE CANAL.

Last week an inquest was held before Mr. M. Myres, coroner, at the Navigation Inn, Shevington, on the body of Esther Rothwell, a girl nine years of age, who was drowned in the Leeds and Liverpool Canal, on Monday, whilst assisting her father, a boatman, in the discharge of his duties. - The following evidence was given: - Frank Rothwell, boatman, of Newburgh, deposed that the deceased, Esther Rothwell, was his daughter, and was nine years of age. She went with him on the boat on the Leeds and Liverpool Canal. She was accustomed to steering for him, and had done so for nearly twelve months. She was drowned last Monday, about one o'clock in the afternoon. He was at the locks, and was coming out, when he desired deceased to loosen the rudder, which had been fastened to the side. She went to do so, and in a short time he shouted to her, but she did not answer, and he then went to look for her. He could see nothing of her, and he got a rib, and a man named Robert Rimmer got a boathook. After searching in the water for a short time, they found deceased in the lock, and got her out. She was not quite dead when got out. They tried every means to restore her, but could not do so. She died almost immediately after they got her out. There was nobody with her went she went to loose the rudder. She had loosed it many times previously. There was no difficulty in loosing it. There was no wind, and it was a perfectly calm day. He was sat with the horse at the time, driving it round a house that is there, and as soon as he got round the house he missed her. - Robert Rimmer, boatman, of Lathom, spoke to helping the father of the deceased to get her out of the water. - Robert Chadwick, of Preston, assistant to Messrs. Hall and Robinson, deposed to seeing the deceased stripped, and to there being no marks of violence upon her. - The jury returned a verdict of "Accidentally drowned."
---
Wigan Observer and District Advertiser 08 August 1873
NARROW ESCAPE TO AN EXCURSION TRAIN.

On Tuesday morning a number of cattle belonging to a farmer named Wilcocks were observed straying on the Southport and Wigan Railway in Shevington. Before they could be removed an excursion train consisting of twenty carriages moving in the direction of Southport came down the line, and as there is a sharp curve in the line near the canal bridge, the engine driver was unable to see them before he was nearly upon them. As soon as he observed them he whistled, and the stoker and guard applied their brakes as quickly as possible, but the train was not stopped before one cow was killed after being pushed some sixty yards by the engine.
---
Wigan Observer and District Advertiser 10 November 1877
ASSAULTING A WIFE.

At Chorley, on Tuesday, Jno. Bullen, of Shevington, was brought up under a warrant charged with assaulting his wife. - Prosecutrix stated that on the 14th ult. defendant went home had put her out of the house, after striking her several times about the head. He then went away, but returned at night drunk, and used threatening language towards her. Defendant had previously assaulted her several times. - Defendant denied the assault, and asserted his wife was the aggressor. - The Rev. J. Sparling said if he had the power to administer punishment in such a case, he would order the defendant to be tied to a cart tail and whipped through the town. - Defendant was committed to prison for three months with hard labour.
---
Wigan Observer and District Advertiser 18 July 1879
THEFT FROM THE PERSON.

At the Chorley Petty Sessions, on Tuesday, Thomas Daley was charged with stealing a watch and guard, the property of F. Ryan, at Shevington. - Prisoner got permission of a farmer, named Fairclough, at Shevington, to sleep in his barn, and during the night prosecutor went in for a "nap," and when he awoke he missed his watch and guard. Prisoner afterwards tried to pawn it at Walton, near Liverpool, but his contradictory statements caused him to be given into custody. - Prisoner admitted the offence, and was sentenced to three months' imprisonment.
---
Wigan Observer and District Advertiser 19 August 1881
NEGLIGENT DRIVERS.

At the Chorley Petty Sessions, on Monday, Michael Maloney, of Wigan, was fined 2s. 6d. and costs for being asleep in his cart on the highway at Shevington. - At the same court, Henry Cheetham was fined 5s. and costs for being drunk while in charge of four horses at Shevington.
---
Wigan Observer and District Advertiser 02 March 1883
SUSPECTED INFANTICIDE AT SHEVINGTON.

Jane Langton, a half-witted looking creature, was charged at the Chorley Petty Sessions, on Monday, on suspicion of murdering her infant child. - Superintendent Beetham stated that prisoner left Wigan workhouse with an illegitimate child, twelve days' old, the the 10th February, and on the evening of the 12th she was seen near to Appley Bridge, at six o'clock, with the child and to go down by the side of the river Douglas. At eight o'clock, the same evening, she turned up at her sister's, Mrs. Heyes, at Shevington Nook, without the child. When asked by her sister where the child was, she replied that it was in the Wigan Cemetery quite happy. Her sister was unable to find her lodgings, and she went with a Mrs. Wilcocks home for the night. In the morning she told Mrs. Wilcocks that she had left the child with a person named Owens or Scholefield, on Douglas-bank. That was found not to be true. After she left Wilcocks she was seen to go in the direction of Paradise Farm, Shevington, and there some articles of baby's clothing have been found in a sewer, and have been identified by the Wigan workhouse authorities as clothes which had been taken from the house either by the prisoner or another woman who left on the same day. - Jas. Fletcher, collier, Shevington deposed to meeting the prisoner at six o'clock on the evening of 12th Feb. She was carrying something in her arms which appeared like a child, and he heard the noise of a child. He spoke to the prisoner who went on to the canal bridge, looked over, and then went forward to the Douglas bridge, looked over, then went along the footpath. He watched her about 200 yards. - Elizabeth Wilcocks stated that she was in Mrs. Heyes's house on the night of the 12th inst. when prisoner came in. Mr. Heyes, prisoner's sister, said "Where is thy child?" Prisoner asked to be shown the closet. Subsequently Mrs. Heyes again asked her where her child was. She replied "Dead and buried in Wigan Cemetery, and happy enough." She was asked where she had been confined, and she said to Mrs. Owen's ("Nanny go fines") on Douglas bank. Her sister, knowing that was not so, thought something was wrong, and asked prisoner to tell the truth. Prisoner, "I'm not telling a lie. Owd thi din, or thou'l drive me lunatic." Prisoner went home to stay the night with witness, and next morning she said "I'll tell thee what wench, I'll tell eawr Nan (meaning her sister) nowt, I left th'child with Mrs. Owen to weaned, and I've come here to get strung." Prisoner said the night preceding that her child was a girl, and she told witness it was a boy. On the application of Superintendent Beetham prisoner was remanded.
---
Manchester Courier and Lancashire General Advertiser 11 June 1892
EXTRAORDINARY SHOOTING AFFAIR.

On Friday morning a shocking affair happened at Shevington, near Chorley. A party of gamekeepers were out in a tent watching for poachers when William Naylor, collier, and Henry Thompson began larking with a gun, which exploded. Thompson was shot through the head, and is dead. Naylor is in custody.
---
Manchester Courier 07 May 1907
SHEVINGTON FARM OUTRAGE.
SEVEN YEARS' PENAL SERVITUDE.

The hearing was concluded yesterday, at Liverpool Assizes, of the case in which Joseph Archer, a widower with three children, was charged with having last month attempted to murder Miss Emily Speak, of Venice Farm, Shevington, Wigan. The case had been adjourned from Saturday in order that evidence could be offered as to Archer's mental condition.
The mother of the young woman said that she had never known Archer, who lodged at the farm, to have been queer in his head. He had never told her that he had any love for her daughter.
Miss Speak swore that before the attack on her Archer had never professed love for her.
Dr. Price, of Walton Gaol, said he considered Archer to be of quite sound mind at the present time, but highly emotional. He complained of an old wound in the head and of having been subjected to giddy attacks and periods of insensibility. Witness could conceive if these periods existed Archer might have done some act without being of sound mind, but he could not immediately afterwards give a rational account of the matter.
Archer was found guilty, and Mr. Justice Pickford, in sentencing him to seven years' penal servitude, said he thought the jury had come to a perfectly right conclusion. It had not been made out that the accused was not responsible for his action. If it had not been for the courage and presence of mind of the poor girl Archer would have murdered her.
---
Lancashire Evening Post 14 April 1924
FATAL ACCIDENT TO A SHEVINGTON BOY.

An inquest was held on Saturday, by Lieut.-Col. H. Parker, Deputy Coroner, at Hesketh Arms, Shevington, concerning the death of Ernest Wilding (four), son of James Wilding, collier, 55, The Moor, Shevington.
Whilst crossing the road at Shevington Moor at three o'clock on Friday afternoon the boy, in trying to avoid a motor lurry, ran in front of a motor car and was knocked down. He was taken to a neighbour's house, and died a fre minutes later. The car was driven by Thomas Peters, chauffeur, who was driving Sir James and Lady Flitcroft to Southport from Bolton.
A verdict of "Accidental death" was returned, with the rider that no blame could be attached to the driver.
Hi Brian,

Once again many thanks for this blog - once more very interesting.
Steve, Brisbane, Australia