Blog
Pemberton (Interesting Old News)
Published by Brian on Friday 29th July 2022
Interesting news for Pemberton - from a suicide in 1837, a railway accident in 1854, someone poisoned because of a surgeon's mistake and many other stories...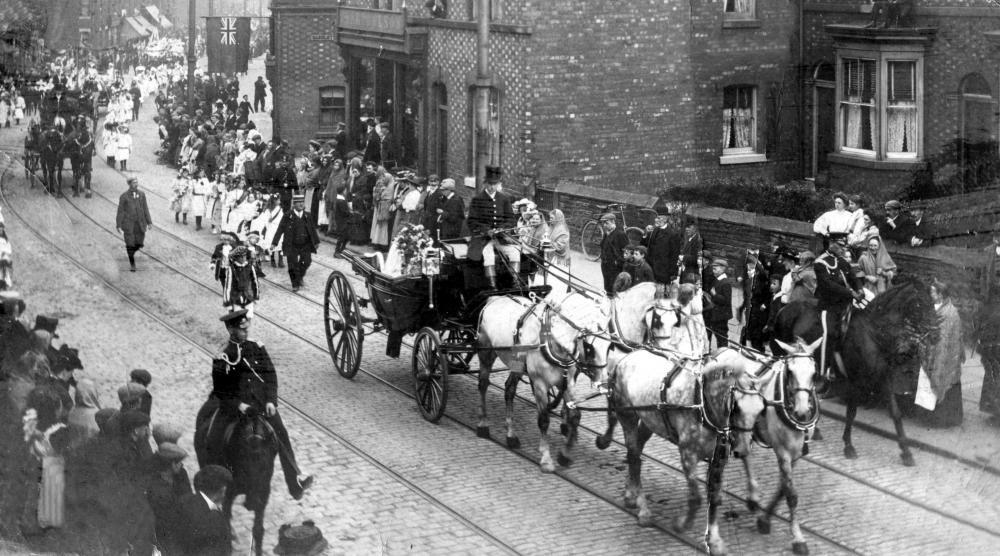 Carnival / Parade, Ormskirk Road c.1900. (Photo: Fred Foster)
Manchester Times 27 May 1837
SUICIDE.

On Friday night last a young man of the name Wadsworth put an end to his life at Pemberton, near Wigan, by swallowing a quantity of arsenic. No reason can be assigned for the committal of this rash act. An inquest was held upon the body on Monday, when the jury returned a verdict of "Temporary insanity."
---
Liverpool Standard and General Commercial Advertiser 13 February 1844
FATAL ACCIDENT ON THE ICE.

Yesterday week, about one o'clock in the afternoon, as a boy named Thos. Gaskell, 17 years of age, was sliding on a piece of water called Smith's Lodge, at Pemberton, near Wigan, the ice broke, and he fell into the water. Assistance was promptly rendered, but the boy could not be got out of the water until life was extinct.
---
Liverpool Albion 23 December 1844
RAPE.

George Birchall was charged with committing rape on Ann Sherrington, at Pemberton, near Wigan. It appeared, from the statement of the counsel for prosecution, that the prosecutor was a young woman of the age of seventeen, having formerly worked in a coal-pit, and, on the day in question, the 2nd September, she was in search of employment, and walking along Goose green, in Wigan, the prisoner, with whom was an old man, accosted her and offered to procure her a situation with his father at Ashton, which she acceded to, and, after some conversation between the parties, it was agreed that the prisoner should call in a short time and take her to the place. The prisoner accordingly waited upon her, and took her in the direction of Lord's plantation, where they sat down in some fields, and where he eventually succeeded in effecting his purpose. The jury retired, and, after an absence of about a quarter of an hour, returned, finding the prisoner guilty. Sentence, transportation for life.
---
Morning Post 14 December 1854
FATAL RAILWAY ACCIDENT AT PEMBERTON.

The passenger train which leaves Liverpool for Manchester at ten minutes past ten a.m. came into collision, yesterday morning, at Pemberton, with a coal train which was coming off a siding. The shock was so violent that the engine of the passenger train was thrown upon its side, and the first two carriages shattered to pieces. Fortunately, they had no occupants. No passengers were inured, but the stoker of the passenger train was killed, and the engineer, Ashcroft, very much hurt. The passengers walked on to Wigan, and were taken forward by another train. The accident is attributed to some delay or neglect in signalling, but we could not ascertain exactly yesterday upon whom the fault rests. An inquest is to be held to-day.
---
Manchester Courier and Lancashire General Advertiser 18 June 1859
A FACTORY BURNED AT PEMBERTON.

At an early hour on Monday morning a fire occurred at the mill of Messrs. Wildes and Co., Pemberton. The Wigan fire brigade was soon on the spot, but their engine was of no use for want of water. Nothing, therefore, could be done effectually to stay the progress of the destroying element; and the efforts of the brigade, police, and others, were directed solely to save such of the stock as could be reached. In this hazardous operation the men heartily engaged, saving many bales of good, until indications of the falling in of the roof rendered it imprudent to continue. About five o'clock the roof fell in with a tremendous crash, and, ultimately, the entire building was destroyed. Had there been a supply of water in the neighbourhood, probably the building might have been saved. It now lies in a heap of ruins.
---
Liverpool Courier and Commercial Advertiser 31 March 1870
POISONED BY A SURGEON'S MISTAKE.

An inquest was held at Pemberton, near Wigan, yesterday, on view of the body of William Richardson, collier, aged 27 years, who had died on the previous Sunday immediately after taking a powder which he had obtained at the surgery of Messrs. Johnstone and Beaman, surgeons, Up-holland. Mr. Peace, solicitor appeared on behalf of Mr. Johnstone, who had dispensed the medicines, and stated that by an unfortunate mistake strychnia had been administered to the deceased instead of santomine. Mr. Johnstone had only recently entered upon the practice, and was not aware that any strychnia in a crystal state was in the surgery. The bottle was not labelled, and was in a cupboard in which the santomine was kept. The inquiry was adjourned. Richardson has left a widow and four children entirely unprovided for.
---
St. Neots Chronicle and Advertiser 05 August 1871
MURDER NEAR WIGAN.

On Monday night a brutal murder was perpetrated at Worsley Mesnes, Pemberton, near Wigan. The victim is an old man named Robert Aspinall, a collier, 60 years of age, and the man who is in custody charged with causing his death is named William Litherland, also a collier, about 26 years of age. Litherland, who is known as "Setter," has been convicted at the Liverpool Assizes of highway robbery and sentenced to 12 months' imprisonment, the term expiring last October, and Thursday last he left gaol, after serving a month for poaching. The house he occupied was next door to that of Aspinall, and on Sunday night the two men had an altercation in the yard, during which Aspinall referred to Litherland's conviction for highway robbery. On Monday night Litherland went into Aspinall's house and asked him what he meant by calling him a highway robber. The old man said, "Come when you are sober and I will talk to you." Prisoner rejoined, "Come outside and I'll purr thee." The old man rose and endeavoured to put Litherland out of the house and close the door, but Litherland seized him, and taking him into the back yard felled him with a blow which is described as one that would have staggered an ox. Aspinall dropped into a crouching position, and Litherland then began to kick him violently about the head. Mrs. Aspinall and her daughter were standing in the yard at the time, but they were unable to render and assistance, and Police-constable Kitchen was sent for. The old man in the meantime had been lifted upon a sofa, and he died in a moment or two after the arrival of the officer. Litherland was at once taken into custody. Mr Jackson, surgeon, and his assistant, were promptly in attendance, and they found that the head and neck of the deceased had been severely bruised, and a frightful blow had evidently been inflicted by the left ear, which there could be little doubt had cased death.
---
Faringdon Advertiser and Vale of the White Horse Gazette 19 December 1903
FAITHLESS LOVER MUST PAY.

At Liverpool Assizes Ellen Taberner, a young woman who has been almost blind all her life, and who lives at Pemberton, Wigan, was awarded £80 damages for breach of promise of marriage against a waggonette proprietor and coal dealer named Benjamin Hamilton. He was a neighbour, and had been acquainted with her for many years. Her story was that he, although knowing of her affliction, paid court to her, and in April last gave her a ring, saying that the next one would be a wedding ring. The engagement was generally known, and eventually, under the pretext of approaching marriage, it was alleged that the defendant took advantage of her. The defence was a total denial of any promise of marriage or that Hamilton had ever kept company with the girl.
---
Monmouthshire Beacon 30 September 1910
PAPERHANGER AS MILLIONAIRE.

A man named James Henry Smith, who is said to have posed at St. Helens for eighteen months as a Colorado millionaire, has been charged before the local Bench with obtaining goods to the value of £250 from a draper. It was stated that Smith had been a paperhanger, and was a native of Pemberton, Wigan. He was remanded.
---
Westminster Gazette 12 January 1926
DAZZLED MAN'S FALL.

Hearing shouts of help at night from a disused quarry at Pemberton, Wigan, the son and nephew of Peter Gaskell, age 61, an unemployed rope splicer, found him lying at the bottom of the quarry 30 feet deep. Gaskell, who has died, said he was dazzled by the headlights of a motor-car, missed his way, and fell into the quarry.
---
Sheffield Independent 12 January 1938
Stricken Family To Stick Together

For eighteen months tragedy has dogged the steps of a Pemberton (Wigan) family. First a son was killed in a motor accident. Shortly afterwards two other sons died within three days of each other.
Then the father, stricken with grief, committed suicide.
On New Year's Day his widow, Mrs. Harriett Shufflebottom, aged 44, was found lying in the garden path outside her home in Ridyard Street, Pemberton. She had fallen from her bedroom window and died in hospital.
The Deputy Coroner, Mr. J. Bolton, who recorded an open verdict at the inquest yesterday, heard this story and was told there were six children left. He gave them £5 from the poor box.
The children are Thomas (19), John (15), Gladys (14), Violet (11), Irene (8) and Derek (2). Gladys left school only last Christmas.
Thomas told a "Daily Independent" reporter last night that they had not yet decided what they were going to do.
"We hope to stick together as a family," he said. "Gladys is going to look after us, She is out now shopping for tea."
Thomas added that only John and himself were working. "I earn 34s. a week as a colliery haulage hand and John works for a builder and earns 17s. We pay 10s. a week rent, so there will be nothing spare."