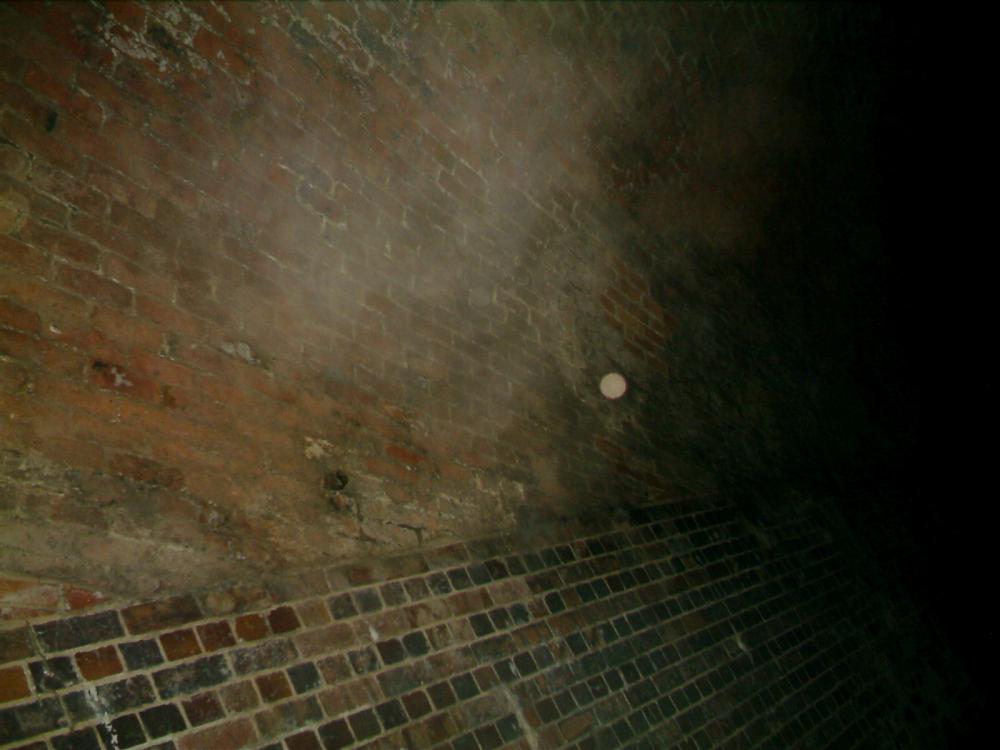 | | | |
| --- | --- | --- |
| | Image scaled down from 1000px to 750px wide | Click here, or click the photo to view original |
Comments by Fred Bamber, 6th April 2010
Interesting! We have one in our back yard. A wall I mean. Where's the wood?
Comments by Curly, 30th April 2010
Now if you were a ghost - why would you want to be locked away in Borsdane Wood - in a stinking owd tunnel.
These nutters really crack me up.
Comments by pat worthington, 13th July 2010
Borsdane wood is a beautiful place , so why show such a photograph of the woods ugliest aspect ?
Comments by Curly, 16th July 2010
Good point Pat. You know there has never been a 100% nailed on picture of a ghost in the history of photography which goes back over 100 years.
It always make me laugh why some folks think that you if you were the spirit of a dead person you want to hang about in a dirty old house or tunnel.
Surely, if you were interested in the physical world you would do what you like doing before you popped your cloggs.
So you would be more likely to see a ghost on the beach in Barbados rather than a stinky old tunnel in Boorsdane Wood. And if you were a ghost why bob about as a single blob of light. Why not appear in all your favourite duds.
"Oh look - I regonise that blob of light - its my dead aunt".
I have lived for a considerable time in a so called haunted house and apart from the local yobs outside I never even heard a suspicious noise. The loft lid used to move - I discovered that it was caused by the draft due to the outside door being opened and closed. I slept many times at my aunt's isolated house in Rivington. It had a reputation of being haunted. Never a thing.
Comments by Hugh Jarse, 29th July 2010
I think its a double exposure of the moon and some clouds then another of the brickwork
Comments by Shamus O'Holding, 3rd August 2010
I think its some sad geek who has nowt better to do.
Comments by hell, 12th August 2010
curly i think you have just bin very lucky or maybe somewhat ignorant to whats going on all around you .
Comments by Peadar Barny O'Dowdall, 19th August 2010
What a load of silly nonsense. To all readers - please dont take notice of this supernatural nonsense. It doesn't exist and only misleads the weaker of minds.
Comments by Rod Simpson, 1st November 2010
This is the tunnels. The railway crosses at the top and Borsdane Brook at the bottom. These arches are in the middle. We used to jump them as kids and you Mam were always trying to scare the shit out of you talking about some kid who was killed jumping the tunnels and how horribly he died impaled on some of the rubbish that was dumped in Borsdane Brook. Never did work. We still jumped them.
Comments by chapel green, 16th November 2010
yes a young boy did die jumping the landings in the tunnel.His name was David Gibson who lived on Chapel Green could this be David trying to tell of the dangers of jumping the landings?.
Comments by richard, 10th August 2014
look just left of the blob of light and you can clearly make out a face,the blob of light is just covering his left jaw.
Comments by Jill brown set, 24th March 2016
Yes he did die here he didn't no me n I didn't get to no him but he was my uncle David my mum's brother