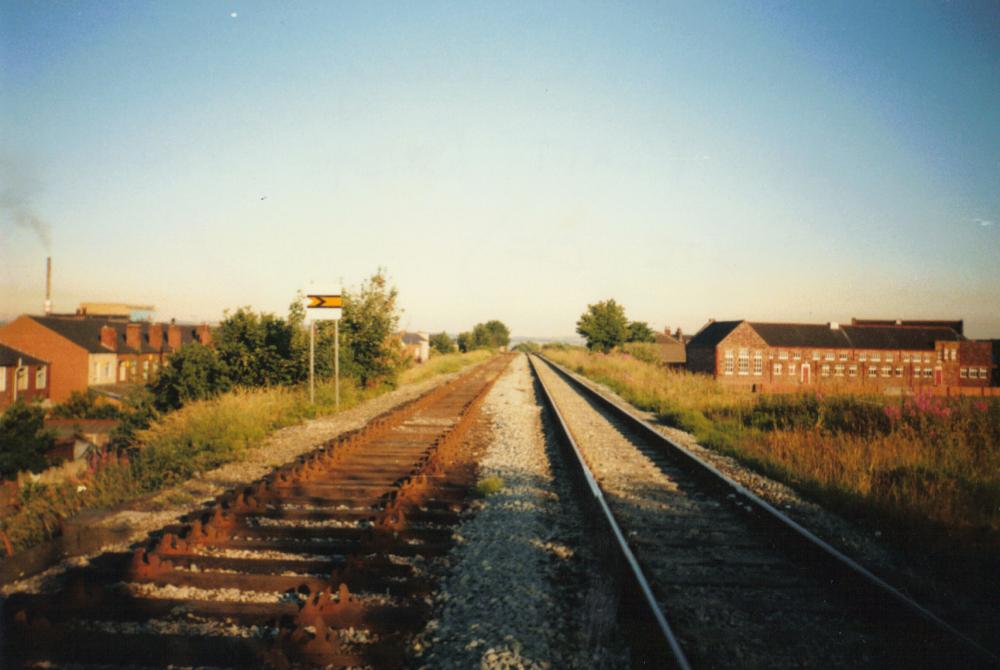 | | | |
| --- | --- | --- |
| | Image scaled down from 1000px to 670px wide | Click here, or click the photo to view original |
A photo taken on the line that towards the end of its life only served Bickershaw colliery & once was part of the ex LNWR route from wigan to manchester via tyldesley,(closed as a through passenger route in 1969),I was a signalman on BR when i took this shot looking towards springs branch in June 1988.
The last portion of this line closed in 1992 when bickershaw pit shut & has since been lifted at this point.

The old CWS glass works (in the distance on the left)was still open then,
Low hall primary school is on the right
Comments by Albert Eckersley, 21st April 2010
I was a relief Signalman and Bickershaw was one of my boxes in 1945
Comments by Harry Gardner, 6th May 2010
Hi Albert,you were a bit before my time as i only became a signalman in the 1980s,but you may know a signalman called peter hampson (who used to work scowcrofts junction at one time many years ago)??.
If so,then the last thing i heard was that pete had retired after being a signalman in the crewe area & was enjoying his retirement.

Last thing i heard was that pete had retired from the railway a few years ago after being promoted to the crewe area.
Comments by Keith Smith 'butch', 28th October 2010
I tink you'll find that Peter Hampson retired from Arpley Junction. He was a bit of a pest in the Crewe area because he always insisted on working 'straight up'.
You beggar !!
Comments by harry barrow, 12th April 2011
I went into the signal box in Bickershaw when I was a young lad.Jack Bramhall was the signal man and a friend of my Grandfather.Jack would let me work the signal then close the gates across the road by turning the big wheel,great fun wen your a boy.
Comments by paul howarth, 27th January 2012
my dads childhood home to the left 75 neville st his school to the right moss lane and were he worked 25 yrs glass works to the left
Comments by alan ashurst, 23rd March 2017
jack bramhall the signal box at bickershaw was my granddad I remember going to the signal box with my mother.he died when I was very young.lived in Stanley road platt bridge