Jack Watson Cycles
Jack Watson

Photo: Darren Atherton Item #: 242

Views: 6303

Comments: 14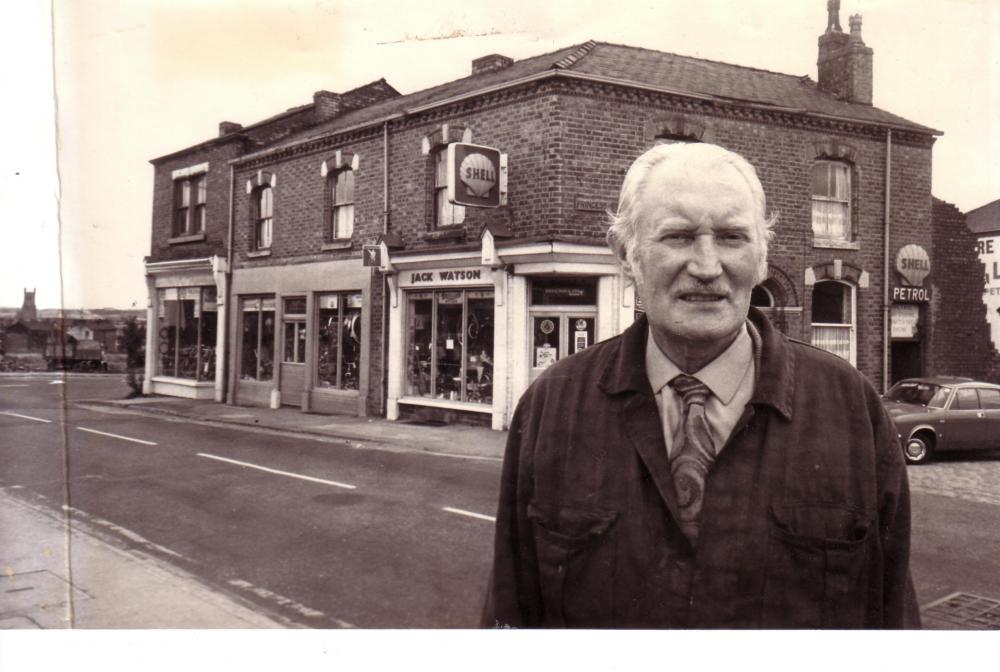 | | | |
| --- | --- | --- |
| | Image scaled down from 1000px to 672px wide | Click here, or click the photo to view original |
| | | |
| --- | --- | --- |
| | Photo take on Princess Street,Wigan. | |
Comments by Darren Atherton, 13th August 2009
Wigan Observer Photo
1976
Comments by jm, 7th September 2009
Grand photo of a grand fellow!
Comments by joe berry, 1st October 2009
great memoiry got my first bike off jack and many more???you could buy parafin and petoral as wella682p
Comments by james watson, 8th November 2009
I was born in the upper room to right in feb. 1950. My dad built up the cycle shop after taking over from his father and continued into his 70s until road widening in 1985 of chapel lane. the property was compulsary purchased and demolished in order to move the traffic jams on a further two hundred yards.
Comments by dave owens, 28th November 2009
Ok james do you have anymore pics of the shop some of my mates grew up around poolstock and had happy memories of jack and his tales ?
Comments by eric, 5th December 2009
good pic of jack.i used to get all my cycle parts of him tyres inartubes evarything thanks james
Comments by JOHN, 27th February 2010
Fantastic! if I had a pound for everytime I went through those doors with my dad in the seventies,the best bike shop Ive ever known, Jack was a special man when I was a boy.
Comments by kevin snalam, 14th March 2010
thanx for showin that pic, i remember jack very well
Comments by julie prescott nee watson, 1st May 2010
this is my grandad and sorry kevin snalam i have no photo of your house but my dad john watson has fond memories of your house he said it had a big wide front door and you had to step down into it ? he also remembers your george and doreen
Comments by Arthur Hubbard, 11th May 2010
I too visited Jack's shop many times from the 70's. Jack died on i5/04/1996. I had the privilge of speaking the 'tribute' at his funeral in St. Paul's , Goose Green, and then interring his ashes in the churchyard there. Jack had musical talents, playing the banjo and ukulele, perhaps inspired bny George Formby who frequented the shop.It was said that george actually rode through the shop door on his motor bike to hide from the police who were pursuing him.
Comments by Arthur Hubbard, 11th May 2010
Sorry! Jack's funeral was at Wigan Crematorium, not at St,Paul's church. Please forgive my error. His ashes are in the churchyard though. Please correct my previous comment before adding to the entries.
Comments by Michael McDonough, 3rd May 2013
I remember walking in the shop, the floorboards at the front step were just quite worn out. Nothing was ever too much trouble for Jack and this is pure memories.
Comments by chadwick58, 16th July 2013
get my first big bike from Watsons. Real gent. I loved my Hopper
Comments by Joan Whitaker, 11th December 2015
Got my first bike from Jack Watsons, it was a Hopper and the year would be about 1945 at a guess.