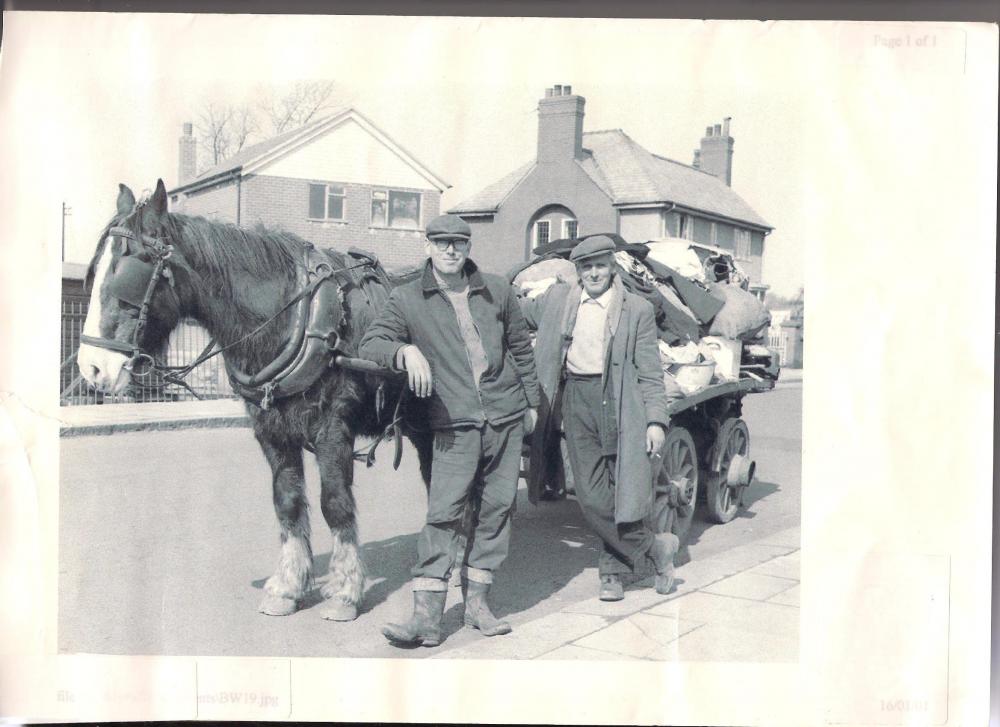 | | | |
| --- | --- | --- |
| | Image scaled down from 1000px to 727px wide | Click here, or click the photo to view original |
Richard Atherton
( dickie ) and partner Jack Cunniff. Steptoe and son , were amateurs. RICHARD worked for P.M.ROBERTS . D.I.Y HINDLEY GREEN .later in life .Both now sadly gone . think the horse was called DOBBIN





Comments by steve sargent, 12th June 2009
dobbin . then jack then dickie
Comments by Andy Haselden, 26th July 2009
I remember Jack,he used to come into our pub The Farmyard Hotel on Leigh Road Hindley Green.
Comments by ste sargent, 28th July 2009
very.probable andy .they both liked a pint or ten. dicky was always .in the spinners at hindley green.jacks family still in hindley.
Comments by Andy Haselden, 10th August 2009
I think he lived in the street to the right of St.Johns Hindley Green Junior School.
Comments by ste sargent, 14th August 2009
he did . west street, i,m richards eldest grandson ,did you know him?
Comments by Mandy O'Keefe, 16th August 2009
Is this Jackie O'malley
Comments by Ali Burrows, 19th August 2009
Were the 2 families close & do they keep in touch still? It may be something we see again now there is a credit crunch!
Comments by jean cunniff, 30th January 2011
i remember that photo being taken in leigh when jack came home he told me all about it
Comments by alan wink, 22nd August 2012
jean do you live in thomas st and have you any daughterw
Comments by Kevin, 30th November 2013
Did these gentlemen work in Pemberton too? I remember seeing the horse and workers, etc. I don't remember exactly what they did. I saw them when visiting my grandparents. Can anyone help me with this?
Comments by Alan Jones, 21st January 2015
Dickie Atherton was my grandad, we have an original copy of the photo taken the year i was born, we used to live on Atherton Road facing Ruths shop and Gradad Dickie lived next to St Johns in West Street, my old school the good old days eh -