| | | |
| --- | --- | --- |
| 307 Squadron,Royal Air Force | | Views: 1390 |
| Wedding | | Comments: 12 |
| Photo: Ray Item #: 29401 | | |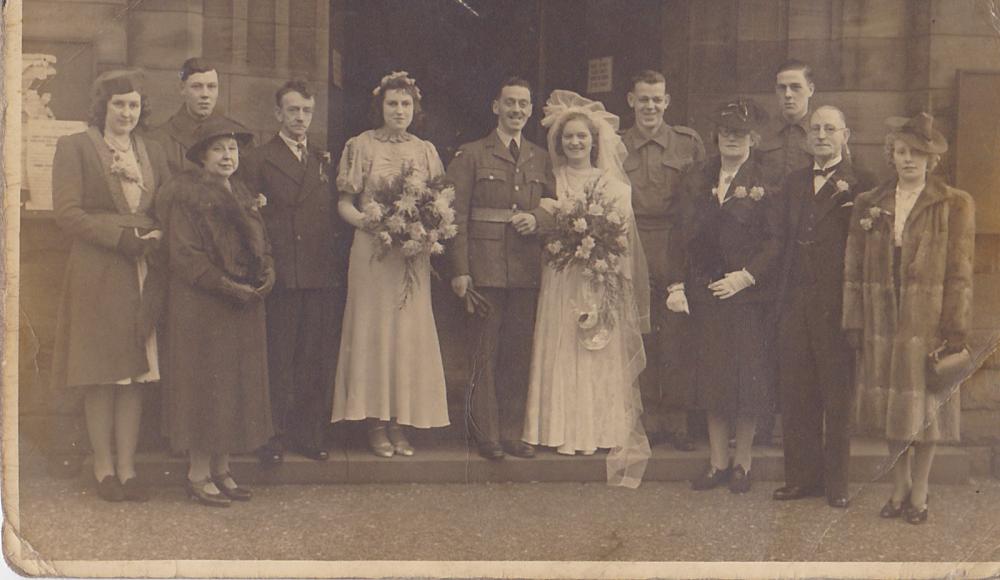 | | | |
| --- | --- | --- |
| | Image scaled down from 1000px to 580px wide | Click here, or click the photo to view original |
Mum and Dads Wedding, January 10th 1942 at
St John The Evangelist, Rice Lane,Walton.
Comments by Veronica, 1st June 2017
I wonder if your dad managed to get a couple of parachutes to make the wedding dress. I've been told the silk used for the parachutes was beautiful and also made lovely lingerie. With respect Ray that's what a lot of girls used as clothing was rationed - it was a world of make-do-and mend. It looked a lovely wedding.
Comments by Maureen, 1st June 2017
Veronica..it was only this afternoon that I was telling my friend that I remember when I was young of my Mam going to Lowes to buy some parachute silk..I remember how fine it was,but I don't remember what she made with it.
Comments by Veronica, 1st June 2017
I love pure silk Maureen.....it's a luxury fabric!
Comments by Helen of Troy, 2nd June 2017
The hem of the bridesmaids dress suggests it was made of crepe. Today it is difficult to imagine how a wedding like this one could be put together & paid for, yet it was done, on a shoestring
Comments by Rev David Long, 2nd June 2017
I used to pass this church every day on my way to Alsop High School - which was on Queens Drive, just south of its junction with Rice Lane.
Comments by DAVE, 2nd June 2017
My cousin used to pack the parachutes in the Air Force,when the blokes came in for them he said the standard response was will it work? to witch he would reply if it doesn't bring it back and il'l give you another.
Comments by irene roberts, 2nd June 2017
It was very much make-do-and-mend. The photo is fabulous! I have just made myself a lady's 1940s hat out of an man's trilby. I LOVE dressing in the forties' fashions, as Helen. Maureen and Veronica are well aware. Brighouse 1940s tomorrow, ladies!
Comments by Colin Barnes, 4th June 2017
And you and Peter look wonderful Irene,really look the part
Comments by Veronica, 4th June 2017
I bet you get most of your ideas from these kind of photos eh Irene. Hope you had a good time and found another bargain in one of the tents!!!
Comments by AB, 4th June 2017
Carrington and Dewhurst produced parachute material at Grove Mill Eccleston into the seventies . they had a parachute Department
Comments by irene roberts, 4th June 2017
Thankyou, Colin and Veronica. We had a fabulous time at Brighouse. x.