| | | |
| --- | --- | --- |
| CORONATION PROOCESSIONS | | Views: 1252 |
| SPRINGFIELD CORONATION PROCESSION -1953 | | Comments: 10 |
| Photo: Frank Healy Item #: 29374 | | |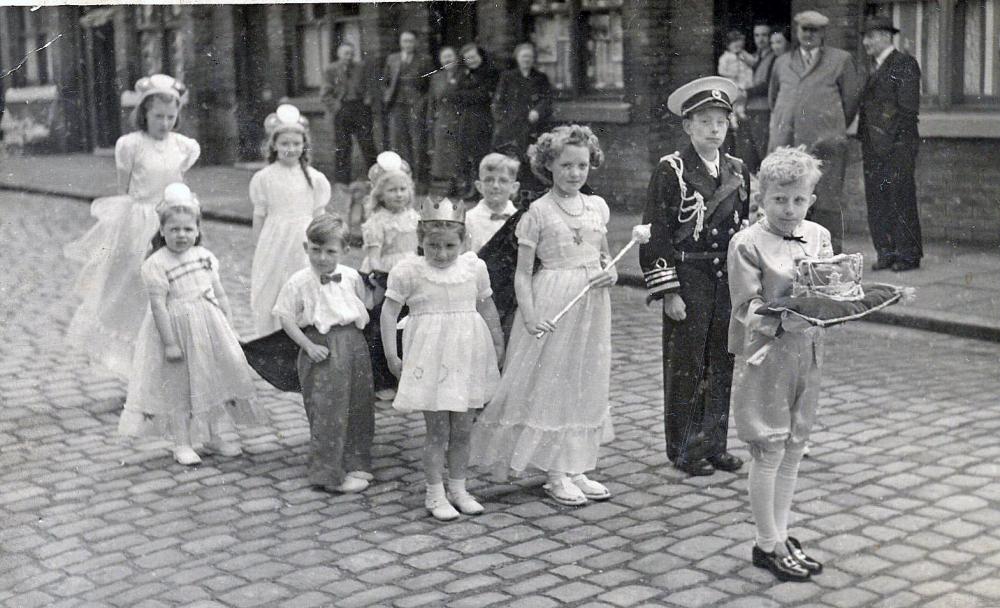 | | | |
| --- | --- | --- |
| | Image scaled down from 1000px to 608px wide | Click here, or click the photo to view original |
| | | |
| --- | --- | --- |
| | Procession standing at the Latics end of SECOND AVENUE prior to the "off". | |
Comments by Albert., 22nd May 2017
It is certainly a very nice, well preserved, souvenir photograph, for those involved to keep.
Comments by John G, 22nd May 2017
The little lad in long pants, I wonder if it's Simon Cowels dad.
Comments by Frank Healy, 22nd May 2017
Hi John,

Possibly, although his name is Jeff Pedder :o) Unfortunately, he died a few months ago aged 68.
Comments by John G, 22nd May 2017
Hi Frank:I'am very sorry to hear that, sixty eight is to young in this day & age.
Comments by wiganer, 23rd May 2017
The excitement these kids would have felt, up to, and on the day, can't even be imagined by kids of today. How proud would they and their parents have been.
Comments by Frank Healy, 23rd May 2017
R to L looking across the picture:

Moi (Crown Bearer), John Holgarth (Duke of Ed), Christine Oakes (Queen), Ian Philpotts, ? , Bernadette Holgarth, Jeff Pedder, Nadine Lowe, ? , Elsie Atherton.
Comments by Veronica, 24th May 2017
I just can't imagine children of today dressing up when the next in line is crowned. Nearly every street had a 'crowning' group' of children in 1953. I remember it well - and the red and white striped frock I wore with white 'peep-toes'!
Comments by Philip Gormley., 24th May 2017
Oh yes! ... 'peep-toes' - another half-forgotten gem.
Comments by Stuart, 24th May 2017
A little before my time but as a former resident of Second Avenue I am thrilled to see these photos. Very sorry to hear about the passing of Jeff Pedder. I knew him and his mother on my younger days.
Comments by Al, 24th May 2017
Imagine this today? no chance. Do we even have a community coming together like this today? nope. In a way I'm glad they don't go all silly over events like this now, street parties, etc. Enough with those scrounging, parasitic royal family.