| | | |
| --- | --- | --- |
| Bands | | Views: 1681 |
| New Embassy Dance Band | | Comments: 8 |
| Photo: Roy Crabtree Item #: 17356 | | |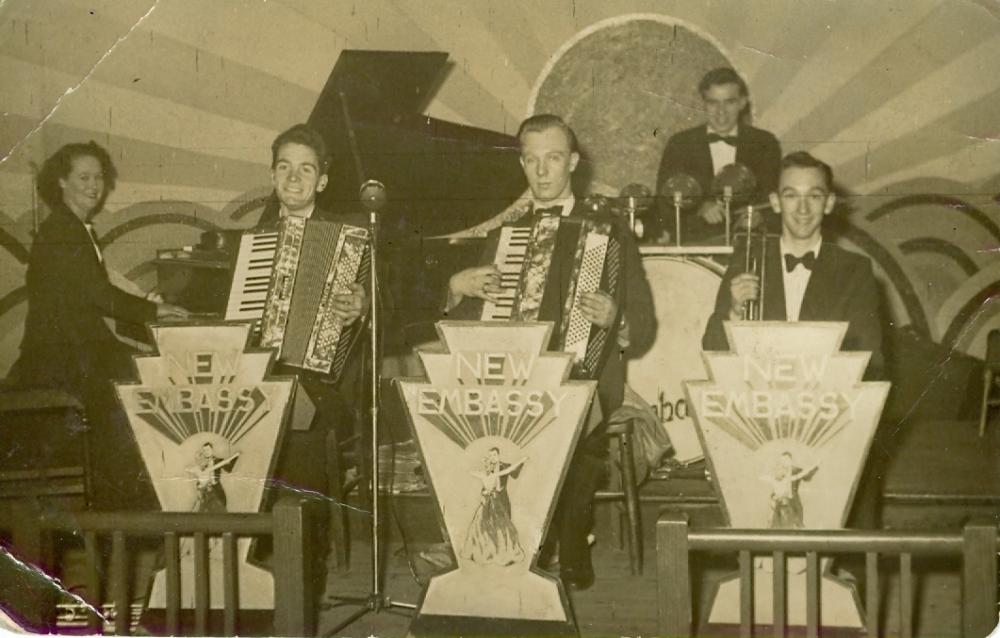 | | | |
| --- | --- | --- |
| | Image scaled down from 1000px to 638px wide | Click here, or click the photo to view original |
Taken at Court Hall Wigan 1951
L to R Milly Miller (Roy's sister)
Brian Shaw
Roy Crabtree
Ken Robinson (back)
Maurice Houghton

Comments by kenee, 17th March 2011
Wow - two accordians and a piano! I can't tell what kind of instrument Maurice has. I wonder how much it cost to have those fabulous music stands made.
Comments by Margaret, 18th March 2011
The instrument is a trumpet
Comments by Kenee, 18th March 2011
I thought it probably was a trumpet but I couldn't see the valves.
Comments by SgtPepper, 18th March 2011
That's because it's not an electric trumpet.
Comments by Debbie Roberts(nee Crabtree), 19th March 2011
Dad tells me those music stands wre knocked together in someones garage on the cheap!!!
Comments by Kenee, 19th March 2011
When I was in a band my Dad made our music stands, they were plain wooden triangles painted blue with a sloping top. The band name was spelt using number plate letters, nothing as fancy as those. Music stands are very important - you need somewhere to keep your beer.
Comments by Roy, 20th March 2011
Hi Kenee thanks for your interest, it was Roy Maggs from Bird St.who painted them and perhaps made them. They were great days with late nights when ballroom dancing was held most nights of the week. Between 1947 and 1967 we layed at several dance halls in and around Wigan.Ince public hall was our popular venue with places like Haigh hall,the old Wigan Baths Wigan court hall Paais de Dance,until we tok up Resident band at the then new Hotel the Brocket Arms 1960 to 1966
Comments by Kenee, 21st March 2011
You must have some wonderful memories of those times Roy. It sounds as though you deserve a rest.