| | | |
| --- | --- | --- |
| Millers Motor Cycles | | Views: 3512 |
| millers at saddle junction | | Comments: 9 |
| Photo: roy Item #: 13221 | | |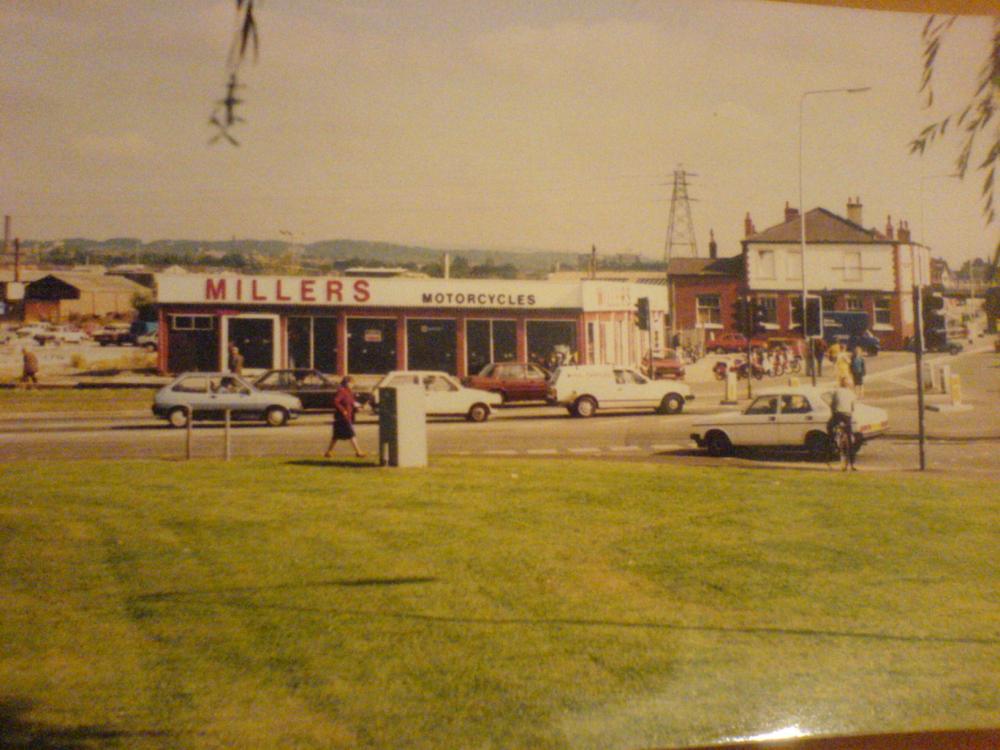 | | | |
| --- | --- | --- |
| | Image scaled down from 1000px to 750px wide | Click here, or click the photo to view original |
| | | |
| --- | --- | --- |
| | millers motorcycles at the saddle were scs is now.. | |
Comments by colin butcher, 17th January 2010
Great photo roy,,, i remember millers very well... Would i be right in saying it was round about the early 80s when it closed..?
Comments by roy, 17th January 2010
colin i worked there from 1975 to 1986 i think it closed in 1987....
Comments by John, 18th January 2010
Smashing pic Roy
Comments by Tony, 18th January 2010
Are the power lines (pylons) still there?
Comments by Catherine, 18th January 2010
Blimey that brought some memories back. Great photo.
Comments by al, 19th January 2010
power lines long gone, they used to run up robin park road through to scott lane and beyond.
Comments by Alan Baldwin, 19th January 2010
Should have been well left alone and that round about doesn't help in any ways!? Great photo remember it well walking to work with colin in 80's.
Comments by tony mcdonough, 28th May 2010
great picture bought my first bike from them in 1978 a suzuki 50 ped .......still remember the reg yed890t £300 on the road great people who worked there...
Comments by Derek Rudd, 29th January 2014
I believe Millers of Wigan closed down in the mid 80's after the proprietors son was involved in an accident on a motorcycle and sustained life changing injures that led to its demise. I remember my dad buying a new Honda CD 200 Bently in 1981 from there and i had to run along side him when he went to pick it up He had to ride it slowly because i don't think that he had ridden a motorcycle before or had much experience with them and so i had run as fast as i could to keep up. You could get up 200cc on L plates at the time an it was my dads first and only motorcycle i can remember and its registration number, MBV 589X and i wish i had it now. My brother wanted a bike then so he bought him a Suzuki 50 X1, NCK 452X, for him when he was sixteen, he spent more times on the tarmac than on the seat and was often coming off it as well as my dads bike. Anyhow because my brother was always in millers, 'probably for repairs; he used to hang around with his biker mates including Miller's son. They used to visit us when we lived in Kendal Street, and although i don't remember him much they were all good lads. My brother, sadly gone now, told us this and from what i can gather because he was involved in an accident on a motorcycle they sort of lost interest in the business and not long after it closed down. It's sad when people lives are changed in these circumstances and i will always remember the times of my first memories of motorcycles and the people who were associated with them.