| | | |
| --- | --- | --- |
| Wigan Schoolboys FC | | Views: 2077 |
| Wigan Schoolboys Under 15's 1963-1964 | | Comments: 13 |
| Photo: Peter Birkett Item #: 30528 | | |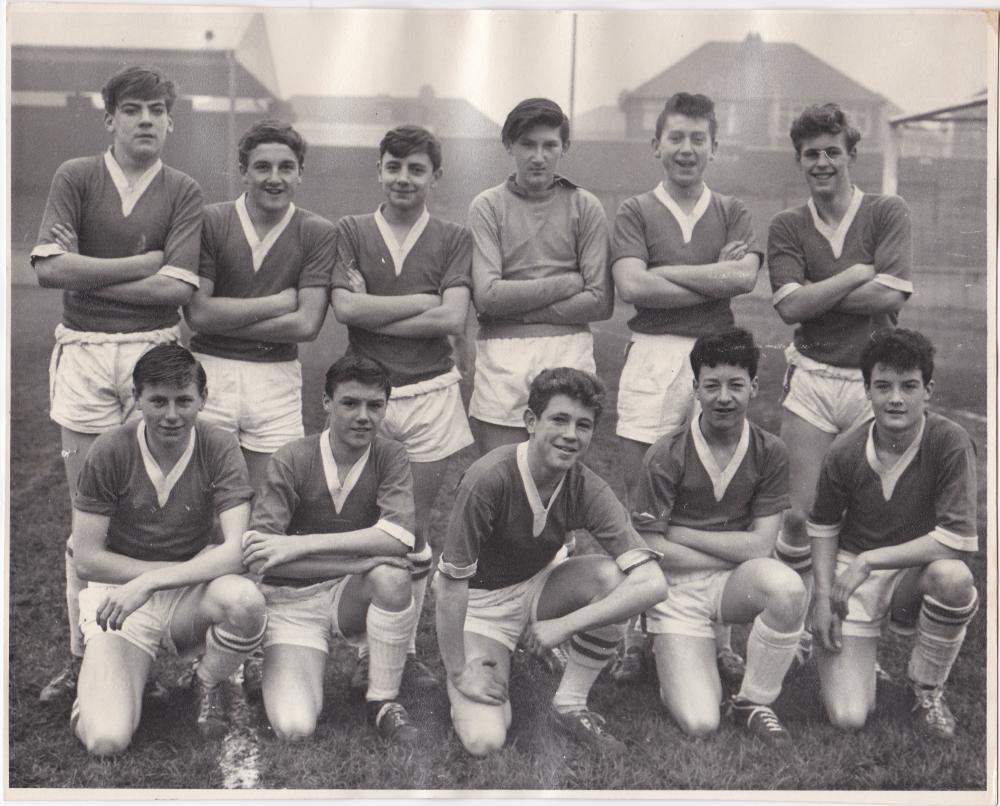 | | | |
| --- | --- | --- |
| | Image scaled down from 1000px to 806px wide | Click here, or click the photo to view original |
Back Row L-R: Bill Ashurst, Trevor Lowe, Stuart Taylor, Peter Birkett, Graham Hankey, Johnny Evans,

Fron Row L-R: John Picton, Ken Dumican, Morris Whittle, Geoff Frodsham, Alan Addison
Comments by RON HUNT, 20th May 2018
I grew up with Maurice Whittle. He signed for Blackburn Rovers after leaving school. He then went to Oldham Athletic and ended his career at Wigan Athletic. I think he also went to play in the USA? I've seen a photograph of Maurice and Pele and George Best all sat around a swimming pool in Fl;orida
Comments by Roy, 20th May 2018
Good pic Peter, you've put a bit of weight on since then.
Comments by Geoff, 20th May 2018
Ken Dumican also went on to play for Wigan Athletic. If I remember right ( Not always guaranteed! ) he played on the right wing for the Latics. A very good footballer in my opinion.
Comments by John Banks, 20th May 2018
Went to Scot Lane school with Peter great lad then.
Comments by A.W., 21st May 2018
Can't help but notice how they look a lot happier than some under 15 nowadays.
Comments by Pw, 21st May 2018
Is that the Trevor Lowe who had Beech electrical contractors?It does look like him
Comments by Dave Thomas, 21st May 2018
Played with Kenny Dumican and Bill Ashurst at Rose bridge school both excellent football and rugby players Kenny signed for Bolton Wanderers straight from school and Bill played for Wigan rugby.
Comments by Jinksi, 21st May 2018
Played Football a few times against Billy Ashurst when he played for Ince Parish Church I played for St Mary's Boys Club Lower Ince.He was a very good player.I also played Rugby for Spring View School against Bill who played for Rose Bridge School.What a player class wrote all over him.We were 14 or 15 years old 5 ft tall Bill was 6ft and still growing.When he tackled you it was like being hit by a Steam Train ,but he always said sorry.What a World class Rugby League player he was.enjoyed watching him playing for Wigan.186 games for Wigan .Then he took Australia by storm playing for Penrith.We are both 70 now Bill but still remember playing against you.If you were playing now Bill you would be classed as a Superstar and be earning mega money,not £20 for a win nought for a loss.Anyone wants to read Bill's Book it's called Tries& Prayers ARugby League Journey. Well worth reading.
Comments by g p, 22nd May 2018
I think Trevor Lowe ran an haulage company for a few years running out of Trafford Park
Comments by AH, 26th May 2018
RON;Maurice played for fort Lauderdale with George best,gordon banks & tefillo cubillas [peru] . his opponents included pele & beckenbauer
Comments by Neil Rigby, 25th August 2018
I remember Peter being a star player in the Traveller's Rest Pub Football Team.
Comments by dave whittle, 26th January 2019
hi, jinski if u played for spring view and are 70 you must have played in same team as me, whats your name?
Comments by john hankey, 16th March 2019
i play for wigan schoolboys in 1993-1994 i live in hindley