| | | |
| --- | --- | --- |
| Wigan Rugby Team | | Views: 796 |
| Wigan N.U. 1920's | | Comments: 14 |
| Photo: RON HUNT Item #: 30255 | | |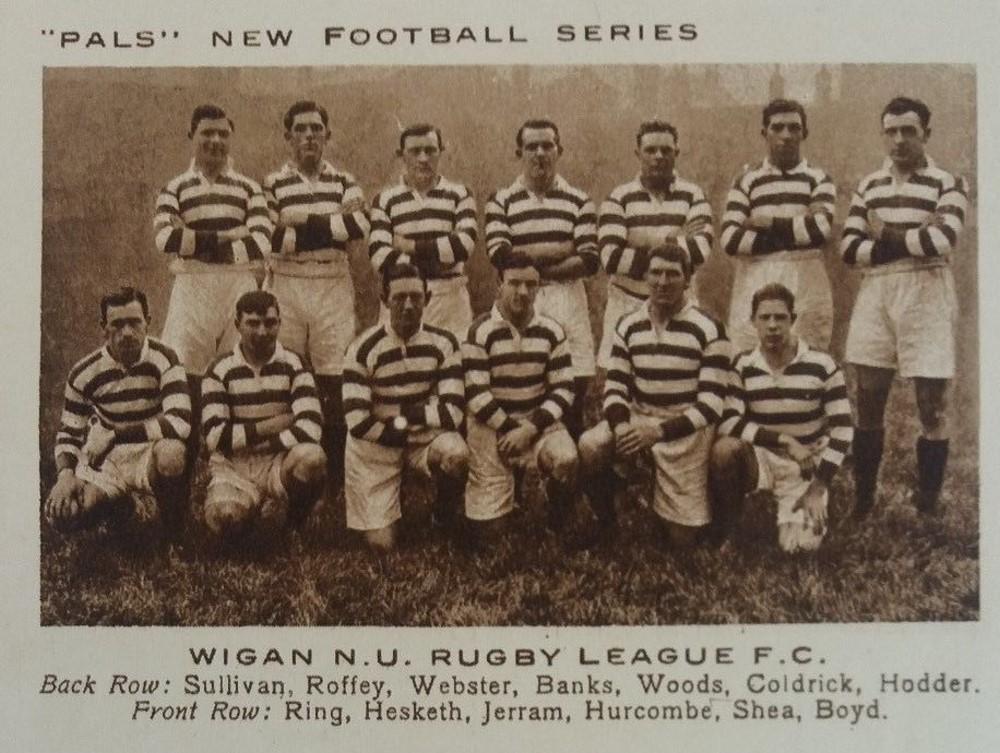 | | | |
| --- | --- | --- |
| | Image scaled down from 1000px to 753px wide | Click here, or click the photo to view original |
| | | |
| --- | --- | --- |
| | Trade postcard given with the PALS comic? showing the Wigan N.U. Rugby team 1920's | |
Comments by John, 4th March 2018
This photo of Wigan was probably taken before the first match of the 1922-23 season. The name "Northern Union" for the sport was officialy changed to "rugby league" in 1922, but people carried on using the expression "Northern Union" for many years - "t' best (whatever) i' t' Northerm Union"
Comments by Ben, 10th March 2018
The background doesn't remind me of Central Park, this same team played Wigan Highfield away on September 2nd 1922. They won with Jim Sullivan kicking 8 goals. It was also only the second appearance for Wigan of the legendary Johnny Ring.
Comments by John, 11th March 2018
Ben, on a closer look at the background I think you're right.
Comments by John, 12th March 2018
By the way Ben, just a thought, but you wouldn't by any chance be the Ben who lived in Pool Street and who I went to school and to Wigan matches with in the 1950s ?
Comments by Ben, 13th March 2018
Hi John, I did attend Wigan matches in the late 50's and early 60's but I'm "another" Ben who attended WGS.
Comments by Keith, 13th March 2018
A sign of the times in the 1920's and 30's was the numerous signings of Welshmen by the Wigan club. There are at least 9 Welshmen in this side, perhaps 10. There would have been one more if Jerram had his old RU partner George ("Dodger") Owens playing alongside him (Hesketh took his place that day) - they had been inseparable on the field of play when playing for Swansea. It caused a sensation at the time when they signed for Wigan in September 1913 at the Bush Hotel, Swansea - both received £180 each - paid in gold. Owens was noted for his famous ankle tap whilst Jerram could "sell a dummy" with astonishing cunning, apparently.
Comments by John, 13th March 2018
Thanks Ben, you're obviously a bit younger than me and the other Ben!
Comments by Keith, 13th March 2018
Younger? Well I'm a '41 baby so you tell me - my first ever viewing of a Wigan match was '47 when we played the NZ Tourists but since I was only 5 at the time I can't remember much about it, except that my father Jack Bowen, played loose forward for Wigan.
Comments by Ben, 13th March 2018
Just in case you're confused John, I have 3 names, Ben(jamin), John and Keith - I blame my parents!
Comments by tom, 13th March 2018
I know danny hurcombe lived in bolton st scholes and he came from kent.
Comments by John, 14th March 2018
Ben/Keith, you did confuse me for a moment, and I misread your previous post thinking it said you were at school in the 60s. Apologies, you are my senior by 2 years!
Comments by Keith, 14th March 2018
Hi tom, your info' that Danny lived in Bolton Street, Scholes is in line with his home in 1939 which was Ellis Street not too far away. However he was a Welshman, born in Abersychan, Monmouthshire (2 miles north of Pontypool) which is close to Talywain the first club he played for.
Comments by tom, 15th March 2018
Hi keith danny hurcombe and his family in bolton st,we lived across across the road he was married at st catherines 14/2/1931.and it says he was from orpington kent, i also knew david and ann his children .
Comments by Keith, 25th March 2018
You first posted this Ron in 2009, it was/is a better photo.