| | | |
| --- | --- | --- |
| Wigan Rugby Team | | Views: 927 |
| Chalenge Cup Winners 1965-66 | | Comments: 6 |
| Photo: RON HUNT Item #: 30254 | | |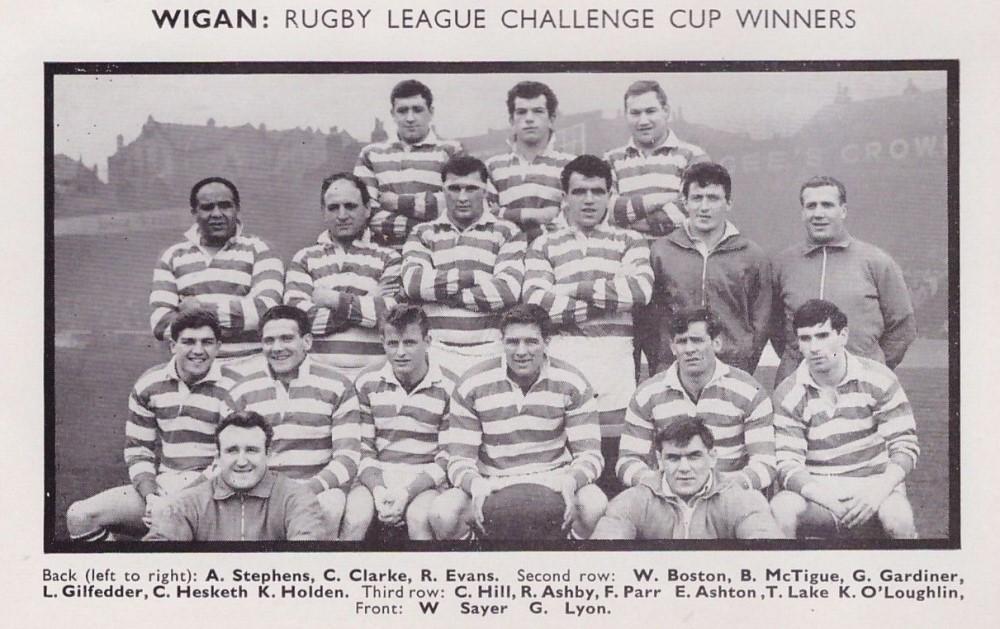 | | | |
| --- | --- | --- |
| | Image scaled down from 1000px to 629px wide | Click here, or click the photo to view original |
| | | |
| --- | --- | --- |
| | Wigan Rugby Team 1965-66 Challenge Cup Winners | |
Comments by A Wright, 4th March 2018
Great photo of a great team! By the way, Ron, it should read 1964-65 Challenge Cup winners. In 1965-66 season, we lost to Saints at Wembley!
Comments by irene roberts, 4th March 2018
I used to go to the rugby with my friend June and her Dad at this time and I remember all those names. June and I knitted ourselves cherry-and-white striped scarves which grew with every wash until they were trailing the floor!
Comments by Maureen, 4th March 2018
Brian Mctigues parents garden was back to back with my in laws,and his Mum was a lovely lady..Keith Holden used to come pea picking with us in the Summer holidays,he was a rum 'un..they were all a great set of players.
Comments by AH, 5th March 2018
ST Helens won 21pts to 2pts 1966 B Sayer was saints hooker
Comments by Owd viewer, 8th March 2018
21-2 has as much to do with this photo as 27-0.
Comments by AH, 9th March 2018
OWD VIEWER 27 0 WAS 1989 NOT 1966