| | | |
| --- | --- | --- |
| GIDLOW ATHLETIC | | Views: 1492 |
| Gidlow Athletic | | Comments: 6 |
| Photo: RON HUNT Item #: 29957 | | |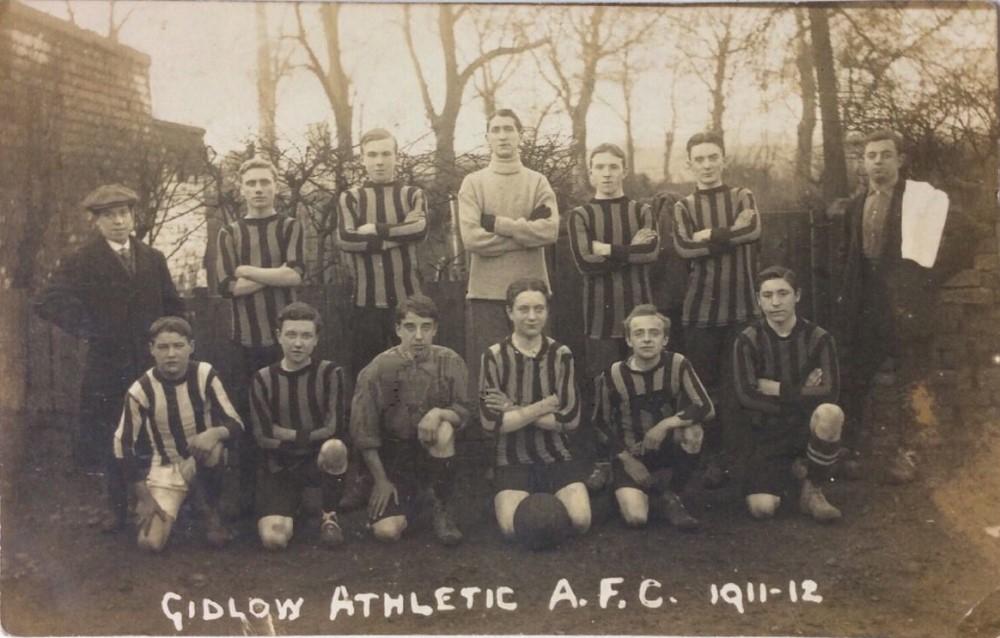 | | | |
| --- | --- | --- |
| | Image scaled down from 1000px to 638px wide | Click here, or click the photo to view original |
| | | |
| --- | --- | --- |
| | Gidlow Athletic A.F.C. 1911-12 | |
Comments by Poet, 4th December 2017
Looking at the date and the ages of these young lads is heart breaking is it not?
Comments by Ed, 5th December 2017
Sad to think that these boys would have had to enlist in the first world war 1914-18.
Comments by John G, 5th December 2017
Like all young lads at that age I bet they couldn't wait to get the uniform on, eager to get at the Hun, but unaware of the carnage that would await them. And even of you could go back in time to warn them, they still wouldn't listen to you. To them duty for King and country would come first.
Comments by Philip Gormley., 5th December 2017
The towel slung proudly over the gentleman's shoulder leaves no doubt as to his important roll in the team. Sadly a tracksuit-with-badges was not for him nor, apparently, were correct fitting boots for some of the lads. Let's hope 'the pals' had some success, together.
Comments by Veronica, 6th December 2017
I suppose going 'abroad' to Belgium and France would also have been a big draw and adventure. We forget these days that they didn't travel very far then. The ones who didn't come back,it would have been highly unlikely their relatives would have even been able to visit where the were laid to rest.
Comments by Poet, 6th December 2017
I wonder if any of them played in the match on Christmas Eve during the famous truce.