| | | |
| --- | --- | --- |
| Wigan and District Sunday Schools AFL | | Views: 1283 |
| Bispham A.F.C. - Junior Cup Winners' 1965-66. | | Comments: 14 |
| Photo: Philip Gormley. Item #: 29431 | | |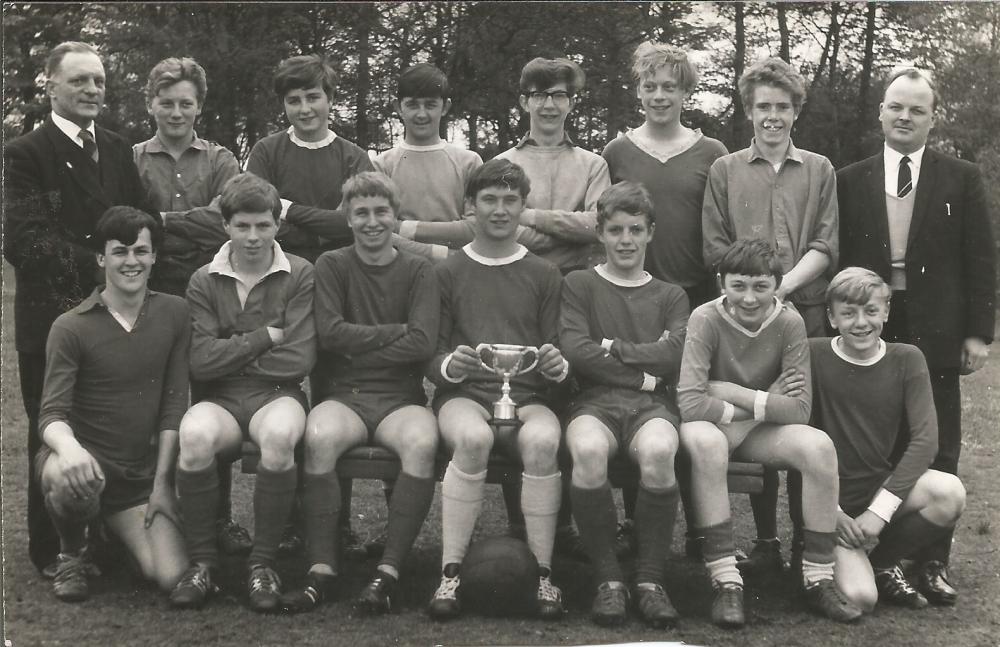 | | | |
| --- | --- | --- |
| | Image scaled down from 1000px to 647px wide | Click here, or click the photo to view original |
Back row (l to r): Mr. W. Calder, L. Roberts, E. Woods, D. Dawson, B. Cross, P. Gormley, M. Green, Mr. R. Banks.
Front row (l to r): B. Conron, J. Boardman, R. Lomax, S. Walters, J. Peet, A. Swift, E. Winstanley.
'Three' very good goalkeepers included here: Dawson, Cross and Conron. The team's off-the-cuff style of play was echoed by the season-long wardrobe malfunctions that are shown on this photo - Yo-ho! Perhaps it would have been better, though, if the majority of us had taken a leaf out of Barry Conron's book, as he was the snappiest dresser amongst us. However, Cup Winners and League Runners-up - followed some time later by the presentation at Bispham Youth Club, ensured that a good time was had by all.
Comments by whups, 15th June 2017
great pic phil . i see a couple of downall greeners there in alan lomax & eric winstanley. sadly i was talking to both of them at johnny haliwell,s funeral a couple of weeks ago.
Comments by pat, 16th June 2017
Wish had had this picture on that day whups.
Comments by whups, 18th June 2017
sorry phil i mean roy lomax.
Comments by Philip Gormley., 18th June 2017
No problem Whups; I was pretty sure you were referring to Roy. I also trust that your pins are ok now as it's been quite some time since they initially flared up. If they aren't, then you might like to re-consider my earlier suggestion of Comfrey well-diluted, and also the dubious task of 'brewing' it yourself - strewth! Take care.
Comments by . Ozymandias ., 20th June 2017
I seem to recognise a few faces among this crew. Barry Cross certainly as he was in the year below me at school. The last I heard of him he was teaching at Shevington high school, but that was a few years ago. The lad on the front row to the right , E Winstanley, although I never knew his real name, I always used to call him ' Diver ', I'm pretty sure he was also at my school, but again a year or two below. The last time I saw him, he was working in the transport office for Wincanton at the Asda RDC in Goose Green, now defunct. But again, that would have been 20 years ago. And did Roy Lomax have a brother, Kenny? Whups will know.
Comments by whups, 20th June 2017
i think he did have an older brother called kenny. he has a younger brother called steven who works at ince crem.
Comments by Eric Winstanley, 21st June 2017
I remember a certain individual giving me the nickname "Diver" at school,which could give people the wrong impression, considering this particular photo.
Is your name Eddie, by the way?
Comments by pat, 22nd June 2017
Roy does have a older brother called Ken.
Comments by John Peet, 25th June 2017
Just found this photo,brings back memories.
Comments by Philip Gormley., 26th June 2017
John Peet - You've got to be the J.P. whom first arrived at The Meadow 'as quiet as a lamb' during the mid-sixties, and yet took little time getting 'stuck in' - especially during the Bispham AFC football matches. How are you?
Comments by Eric Winstanley, 4th July 2017
Just back from holiday and read your message, John. Not seen nor heard from you in years, the last time, I think, was on Ashton market. How are you doing?
I'd love to meet up if you want.
Comments by John Peet, 11th July 2017
Hi Philip,I,m ok thanks.My memory doesn't seem to be as sharp as yours.Was the football pitch opposite the old hospital? Was there a team called Tontine in our league?Hope you are doing ok,nice to hear from you.
Comments by John Peet, 11th July 2017
Hi Eric,nice to hear from you.It was probably about 13 hrs ago when I saw you on Ashton market.I had just lost my wife Sylvia to cancer.I have since moved to Manchester,and don,t get to Wigan too often.
Comments by Philip Gormley., 12th July 2017
John - So it was you after all. Thanks for your reply, and it's great to know that your ok. I'm sure you'll remember most, if not all, of the people on the photo, and perhaps a few particular moments as well. Tontine might provide one of those moments for you, as there have been several teams from that area over the years, although I don't recall the team shown here as having locked horns with any of them. The photo was taken at the bottom-corner of the cricket field, the pavilion being situated only just out of shot and to the right. The soccer pitch was situated just as you imagined, opposite Billinge Hospital's Roy Hartley Maternity Unit. I didn't know that you had played for Wigan Schoolboys, that is until I noticed the programme for your Liverpool game, played at Goodison Park, being offered for sale online. I think the seller was asking something like £15 for it - probably more if it had been signed by yourself and Roy Lomax. Best regards.