| | | |
| --- | --- | --- |
| Wigan Rugby Players | | Views: 1882 |
| George Formby signs for Wigan! | | Comments: 6 |
| Photo: Scholes Malc Item #: 19640 | | |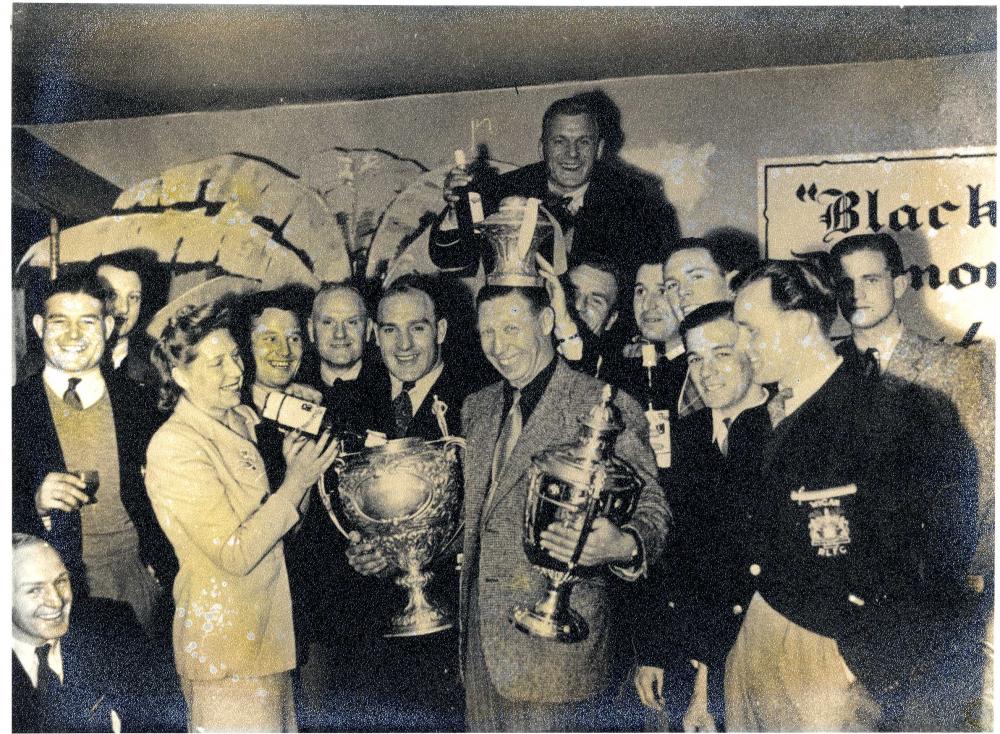 | | | |
| --- | --- | --- |
| | Image scaled down from 1000px to 734px wide | Click here, or click the photo to view original |
I was given a copy of this photo by Tommy Young (snr) of Ince (well known in Oak Tree & St. Bills) over twenty years ago. Now thanks to this weeks Observer the location is solved – Black Diamond in Ince (clue is in the background I suppose!)I remember showing the photo to my Uncle Ernie and he swore the bloke with the cups was Ernie Ashcroft (should gave gone to Specsavers Ernie!)
The Observer names the 'obvious' in Mountford, Gee, Bradshaw, Ryan, & Ashcroft and I also spot a young Ratcliffe on there but can anyone name the rest please

Comments by Bob Aspey, 18th January 2012
Three more!.....Frank Barton LHS with glass in hand.......Joe Egan next to George's wife Beryl....and Ted Ward next to Ernie Ashcroft(with chin on top of bottle!
Comments by atkinson, 18th January 2012
Chin on bottle is Atkinson
Comments by T Berry, 19th January 2012
What about a youthful Jackie Cunliffe front right?
Comments by Walter, 19th January 2012
"Chin on bottle" is Ted Ward, he played in the final.
Comments by Bob Aspey, 19th January 2012
That youthful Jackie Cunliffe happens to be Martin Ryan !
Comments by Keith, 19th January 2012
Bill Hudson at top, Cec Mountford, extreme left kneeling, Les White holding part of cup over George's head, only two players "missing" from team that played in the final in 1948, Billy Blan and Jack Hilton.