| | | |
| --- | --- | --- |
| beckett family | | Views: 1461 |
| Just married at St. Marks, Newtown. | | Comments: 13 |
| Photo: Keith Beckett Item #: 30242 | | |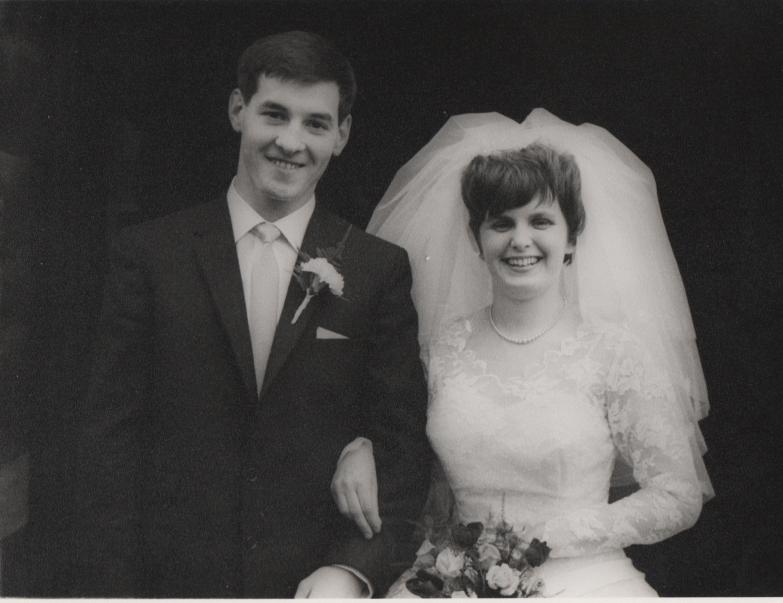 | | | |
| --- | --- | --- |
| | Image scaled down from 783px to 603px wide | Click here, or click the photo to view original |
| | | |
| --- | --- | --- |
| | The start of our married life that was to last for fifty three years before being prematurely ended by the passing away of my beloved wife Barbara eighteen months ago. | |
Comments by Aubrey, 26th February 2018
Keith,
Sorry to hear of your loss.
My wife, Jean, seems to recognise Barbara and has 2 recollections. Did she work at Heinz (Standish) and did she live at the top of Warrington Road, Goose Green.
Comments by irene roberts, 26th February 2018
What a beautiful photo and what a beautiful bride. Thankyou for letting us see it.
Comments by Maureen, 26th February 2018
You looked a very handsome couple Keith..I'm so sorry that you lost your wife..I'm sure you have many lovely memories of her.
Comments by DTease, 26th February 2018
It's very hard to lose someone who has been a daily part of your life for so many years.
Comments by Veronica, 26th February 2018
Lovely happy photo to look back on.
Comments by helen of troy, 26th February 2018
What a happy picture, lovely couple, a very pretty bride & lots of memories for you to cherish Keith.
Comments by John G, 26th February 2018
Keith: Thank you for letting us share this photo with you, she looked radiant on your big day, she also looked a real game for a laugh character I hope you've got fifty three years of fantastic memories.
Comments by Elizabeth, 26th February 2018
A good-looking and happy couple on their big day.You will have beautiful memories of your beloved wife.
Comments by Henry7, 26th February 2018
Lovely photo of a very attractive couple.
Comments by Keith Beckett, 26th February 2018
Hi Aubrey. Yes Jean is right.
Comments by Aubrey, 27th February 2018
Thanks Keith for your reply. Jean worked with Barbara at Heinz. Jeanís sister,Betty,married Tony Bell who used to live at 900 Warrington Road and Jean saw Barbara up there, one day,when we were visiting Mrs Bell.
We agree with the compliments about your wedding day photo. Jean does recollect Barbara as a nice friendly person and the photo is exactly as Jean remembers her from over 50 years ago.
Comments by Albert., 27th February 2018
Keith. No more tears, and no more pain. Rest in perfect peace my Barbara, until we meet once again. Where together we will be, for all eternity.
Comments by Janet, 6th March 2018
Beautiful photo of a very handsome couple... So sorry about the loss of your wife Keith.. Best Wishes to you...