| | | |
| --- | --- | --- |
| Ellis Hewitt | | Views: 1794 |
| Ellis Hewitt | | Comments: 22 |
| Photo: Bill Kenyon Item #: 29604 | | |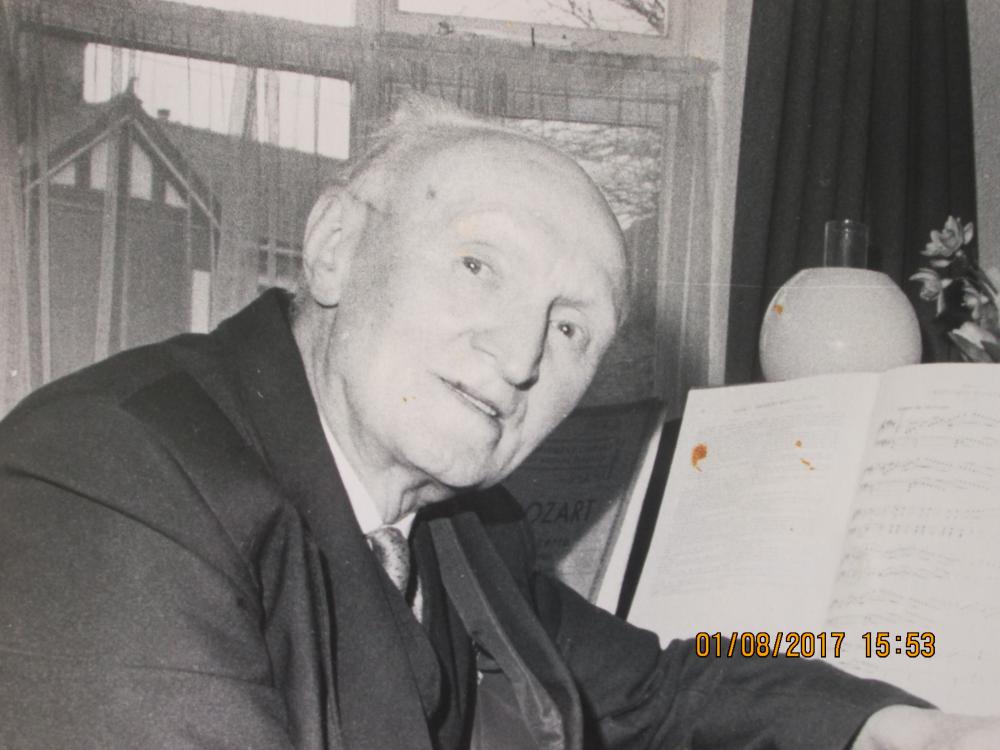 | | | |
| --- | --- | --- |
| | Image scaled down from 1000px to 750px wide | Click here, or click the photo to view original |
| | | |
| --- | --- | --- |
| | This is my great uncle Ellis Hewitt who was born in 1899.Over the years he gave piano lessons to many people in the Wigan area and was also local secretary for the London College of Music. As a child he lived at The Running Horses Orrell and played piano in the singing room aged two and accompanied silent films in Wigan cinemas when just 9. He died aged 93. | |
Comments by David, 1st August 2017
What a surprise to see this man again. I had piano lesson with him a in the late 60's. 1, Bankes Avenue, Orrell.
Comments by winnie, 1st August 2017
Name: Ellis Hewitt
Age: 2
Estimated birth year: abt 1899
Relation to Head: Son
Gender: Male
Father: John Hewitt
Mother: Esther Hewitt
Birth Place: Billinge, Lancashire, England
Civil Parish: Billinge Higher End

Ecclesiastical parish: Billinge
Town: Billinge
County/Island: Lancashire
Country: England
Street address:122 Upholland rd

Occupation:

Condition as to marriage:




View image
Registration district: Wigan
Sub-registration district: Upholland
ED, institution, or vessel: 7
Neighbors: View others on page
Piece: 3569
Folio: 129
Page Number: 6
Household schedule number: 28
Household Members:
Name Age
John Hewitt 50
Esther Hewitt 41
James Hewitt 23
John Hewitt 19
Elizabeth Hewitt 17
William Hewitt 11
Sarah Hewitt 9
Thomas Hewitt 6
Ellis Hewitt 2
James Balmer 38

father was a coal miner
Comments by winnie, 1st August 2017
Name: Ellis Hewitt
Age in 1911: 11
Estimated birth year: abt 1900
Relation to Head: Son
Gender: Male
Birth Place: Billinge Nr Wigan, Lancashire, England
Civil Parish: Orrell
Search Photos: Search for 'Orrell' in the UK City, Town and Village Photos collection
County/Island: Lancashire
Country: England
Street address: 154 St Jame's Rd Orrell Nr Wigan Lancashire
Occupation: School
Registration district: Wigan
Registration District Number: 458
Sub-registration district: Pemberton
ED, institution, or vessel: 25
Piece: 23081
Household Members:
Name Age
John Hewitt 60
Hester Hewitt 50
John Hewitt 29
Elizabeth Hewitt 27
William Hewitt 21
Sarah Hewitt 19
Thomas Hewitt 16
Ellis Hewitt 11
Comments by GW., 1st August 2017
Thanks Bill. Though a music lover i must confess i couldn't play chopsticks to save myself but am in awe of such talents as your Great Uncle Ellis. Comforting to know he left his legacy through the many musicians he taught and no doubt inspired.
Comments by Maureen, 2nd August 2017
I wish he'd taught me how to play the piano..some years ago I was in the bar at the Wigan Pier with my Son ( drinking orange juice ).there was a man playing the piano..he stopped and asked what I would like him to play..at the time 'The power of love' by Jennifer Rush had just been released and I loved it..he started to play it and I have never in all my life heard someone play the piano like him.he even played the backing..and
oh!!! If only I could play that like that,I love music full stop and will never forget that man playing..I went back to enquire if anyone knew him..but nobody did...Mr Hewitt sounds like he was a multi talented man.
Comments by tricia, 2nd August 2017
I also had piano lessons with Mr Hewitt.
Comments by Philip Gormley., 2nd August 2017
I can't imagine Mr Hewitt having forcefully told any of his pupils to 'get a move on', as the photo shows him with the mien of a patient 'type of guy' - you can't give a pork chop to a child.
Comments by Bill Kenyon, 2nd August 2017
When he was 17 he was called up during WW1. One night he was asked by senior officers to play at a concert and missed going out with his colleagues. As he played his 34 colleagues were killed by a Zepplin .Such is fate. He later won a scholarship to the Royal Academy in London and studied under a number of world famous musicians.
Comments by fred foster, 2nd August 2017
I'm sure that Ellis Hewitt played the piano in an outfit called "the Lyrics" with Jack Shepherd on trumpet, and Tommy Kitts on drums. Correct me if I am wrong!
Comments by Bill Kenyon, 3rd August 2017
Don't know about that Fred. When would that have been?
Comments by tricia, 3rd August 2017
I remember that if you did not keep your fingers up in a sort of crab-like shape he would hit the back of our knuckles with a pencil ! I did not recognise him without his glasses either. I still can't play the piano !
Comments by fred foster, 5th August 2017
The Lyrics were playing around 1940-50 as far as I can recollect. They used to play at dances in the old Highfield school.
Comments by Elaine, 6th August 2017
What a wonderful man Mr Hewitt was. Not only a musical inspiration but a lovely man. I loved my Weds lessons and he was an amazing pianist. This photo brought back so many happy memories. Thanks for posting.
Comments by Bill Kenyon, 7th August 2017
That's good to hear Elaine.In his early years he knew many famous music personalities including Sir Malcolm Sargeant and played for Joan Sutherland. He turned down the chance to play at the Moscow Music festival explaining he prefered to teach and stay with his family. I seem to recall hearing that during WW11 he worked at Euxton at the munitions works. I also had lessons with him and although I'm not much of a pianist I'm glad I learned.
Comments by frances foster, 4th October 2017
how lovely to see Mr Hewitt. without him I would not have got my Music GCE in 1965. Always a kind and patient teacher.
Mrs Hewitt was also very kind and thoughtful to all us pupils who invaded her home.
Comments by J Hilton, 4th October 2017
He taught my dad and me too! It was because of this man and Miss Marie Taylor that I went on to become a singing teacher. A fine gentleman, if you saw that portrait in his teaching room, my dad painted that for him.
Comments by Bill Kenyon, 9th October 2017
I took this shot from a bigger photo which shows the portrait you mention being held in place on top of his Bechstein grand piano. His wife my great auntie Annie was a lovely lady.
Comments by James Hewitt, 14th November 2017
Ellis is my great grandfather. He died when I was about 6. I remember going round his when I was little and he'd try and teach me piano. Should have listened as I'm now a drummer so I think he'll be rolling in his grave at that fact!
Comments by Stephen Hewitt, 15th November 2017
Thanks to all those who have made comments about my Grandfather, Ellis Hewitt. It is good to know he is well remembered. He did show his gift of music and the piano in particular, from the age of 2. By the time he was 5 he drew an audience at his fathers pub, the Star Inn in Orrell, over his ability on the piano an photographic memory of all music he encountered. In response to prior comments, he never featured in any popular bands of any kind, sorry. He was a true classical musician to the end! He also worked during the war at the Beech Hill ROF (Millican Carpet Factory today), where he was a manager and in charge of entertainment. In this latter role he recruited from his extensive contacts in the music world to engage such artists as Sir Malcolm Sargent, Dame Nelly Melba, Joan Sutherland and others. Sir Malcolm and Joan Sutherland being long time friends. My grandmother, Annie Hewitt truly was a lovely lady but never recovered from the loss of her son, Ellis.
Comments by Bill Kenyon, 22nd November 2017
It was good to hear the extra information about my great uncle. As well as giving me piano lessons he also gave me extra coaching before the 11 plus exam in the 50's although he didn't think much of the records I would buy ! I recall Auntie Annie cooking lovely meals and having a really nice garden.
Comments by Jenny, 16th December 2017
Hello. When I was a teenager, using my weekly pocket money, I gradually purchased a few hundred piano scores and books on music belonging to Ellis Hewitt from a secondhand bookshop in Southport. I still have those books and scores, and often when I open them and see his name in the front cover I wonder who he was. Could this be him? Looking at when he would have passed, the timings could be right. I was purchasing the books in the early 1990s. I would love to learn more about him.
Comments by Karen, 2nd March 2018
Ellis Hewitt was my grandfathers first cousin and best man at his wedding. Their mothers were sisters, Ellisís mother being Esther Hewitt nee Melling and my grandfatherís mother Elizabeth Hampson nee Melling. My grandfather was William Hampson and lived in Sandy Lane. He also,played the piano but only as a hobby.