| | | |
| --- | --- | --- |
| Gormley. | | Views: 1707 |
| My mother during her teens. | | Comments: 25 |
| Photo: Philip Gormley. Item #: 29461 | | |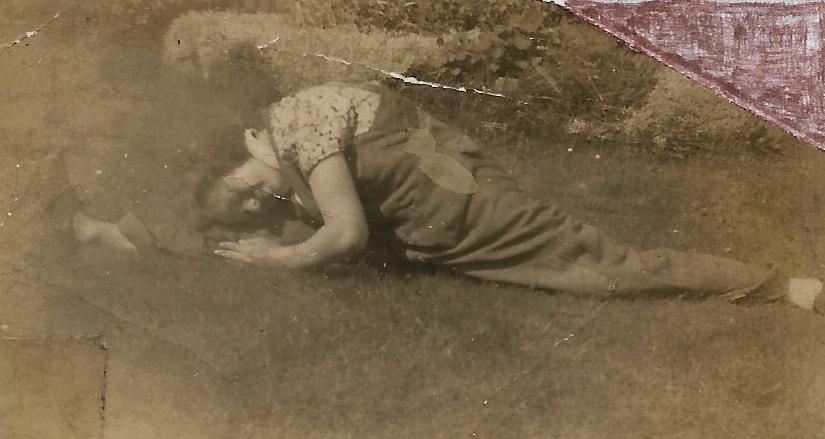 | | | |
| --- | --- | --- |
| | Image scaled down from 825px to 439px wide | Click here, or click the photo to view original |
| | | |
| --- | --- | --- |
| | She's shown here doing her party-piece in the garden of George Makin's farm, when she ought to have been working, I guess. She performed this ... er ... stunt well-into her sixties, but was never happier than when dancing. Joining in with the young'uns at parties and pub discos? ... no problem. | |
Comments by Veronica, 18th June 2017
Philip -it may well be she was copying the ballet dancers in Swan Lake!,,we all had our dreams when young.....! Anyway she appears very supple...never mind the work!
Comments by DTease, 18th June 2017
People still have a Victorian obsession with work. I have made it a policy only to do enough work to pay my way in the world. I'm now in my seventies and I don't owe a penny to anyone and never have. You don't live to work, you work to live.
Comments by Alan, 19th June 2017
Don't owe a penny to anyone..D Tease, so your gas and electric is free is it, Council tax and water free???
Comments by DTease, 19th June 2017
Good grief Alan, is that the best you can come up with.
Comments by Veronica, 19th June 2017
Alan -nit -picking again. As Mr Micawber quoted-"Annual income £20, annual expenditure £19 19s 6d result happiness. Annual income £20 , annual expenditure £20 00 06d, result misery"! DTease pays his way-simple!
Comments by Albert.hp4dm, 19th June 2017
So Veronica, you are a member of the Charles Dickens appreciation society. In Rochester they hold an annual pageant in honour of Charles Dickens. It is quite a spectacle. He spent many years in the Medway area.
Comments by Jonno, 19th June 2017
Good pic Philip, very supple lady.It's alan at his pedantic best again, probably everybody who read DTease's comments fully understood what he meant, but who had to be negative ? yes alan. I always worked to live D, i am now 76, my best mate, both at work and away from it, lived to work, he was there every hour he could be, i went to his funeral some years ago, 'nuff said.
Comments by DTease, 19th June 2017
Sadly Jonno, a couple of my workmates went the same way. They put in more hours than the Factory Cat and neither of them reached retirement age.
Comments by Albert., 19th June 2017
Ladies, and gentlemen. No matter what age you are, especially in your later years, exercise is essential. Just fifteen to twenty minutes each day. In your bedroom. If you are new to it. just build up to it gently. I do a routine every day, never miss, in it, I do fifteen press ups, sometimes twenty. but there again, I've done it for many years. Plus I take a large tablespoon of olive oil, five mornings a week. Have done, for the past number years.
Comments by GW., 19th June 2017
Great photo Philip. I ended up like this after a big jump at a motocross event. I didn't bother turning up to work for a month.
Comments by Jonno, 19th June 2017
Albert, can i ask you, why only 5 days why not the seven, any particular reason? I've been taking Omega 3 fish oil for a few years. I think Philips mum must have been on the fish oil to do what she could do,lol.
Comments by DTease, 19th June 2017
Albert, I can think of better ways of exercising in the bedroom and it doesn't involve a large spoonful of Olive Oil either!
Comments by Philip Gormley., 19th June 2017
Albert - You had been blessed with a lot of energy, as well. As the song goes, and the photo implies: "Golden days in the sunshine of our happy youth, ... ".
Comments by Albert., 19th June 2017
DTease. Reading between the lines, I have a feeling that you connote a different vigorous activity, but being eighty three, I will stick to simple exercises. There is no specific reason that I choose to take the oil five morning a week. I choose to take olive oil, as it is a fruit oil, and not an animal oil. Reading about the oil on the internet got me interested, as I was suffering from type2 diabetes. My diabetes gradually got less pronounced, and I was eventually taken off medication. The medical people put it down to my diet, but I have other thoughts, as I know what I eat.
Comments by Veronica, 19th June 2017
Yes Albert htm I do appreciate Dickens but don't belong to a society. It goes without saying he was one of the greatest writers in the Victorian era.
Comments by Veronica, 19th June 2017
Howard you can either agree or disagree but not 'suspect' that you 'agree' or 'disagree' Make your mind up.
Your sentence is ambiguous!
Comments by DTease, 19th June 2017
And what's more Howard P don't keep swapping about from photo to photo. It's very confusing for befuddled people like me.
Comments by Veronica, 19th June 2017
DTease you do make me smile!,,,glad I'm not the only befuddled one! I 'suspect' Howard will see the comment ..I also 'suspect' he will still be 'suspecting'!
Comments by . Ozymandias ., 19th June 2017
As this thread appears to be veering in the direction of health supplements, I'd just like to say that although I know next to nothing about fish oil, I'm an avid believer in the health giving properties of lard. I've been cooking my chips in the stuff for a number of years now, and although, unlike Albert, I don't exercise on a daily basis, on the odd occasion that I do exercise in my bedroom, I find I can keep it up for half an hour, or even longer, whereas by contrast, forty years ago when I was cooking with mere sunflower oil, five or ten minutes of physical exertion would have been more than enough for me. So there you have it, for a long and healthy life, consume loads of lard. Furthermore, I'm also convinced that half a pound of the stuff, applied externally would have proved efficacious following GW's calamitous motocross incident.
Comments by Veronica, 19th June 2017
I can just imagine Alan trying to work out what all this healthy eating has to do with Wigan. If you mention eating a pie with a spoonful of olive oil you might just get away with it...otherwise there will be another bout of nit-picking!
Comments by Alan, 20th June 2017
You can eat almost anything in moderation. But I cycle every day, so don't need to exercise.
Like me, eat fish, fruit and veg and I don't smoke or drink.
Comments by Jack, 20th June 2017
Veronica has a thing about Alan and Garry tu tu.
Comments by Veronica, 20th June 2017
Whatever do you mean Jack.....don't forget Howard! : 0 ))
Comments by Albert., 20th June 2017
I concur with all of your comments Alan. Your contribution to your bodily health is in your cycling, and your diet. Relating to comments touching on diverse contributions. Variety is the spice of life.
Comments by Sam h., 21st June 2017
Someone once said hard work never killed no man,but it sure did make queer shapes of some men.