| | | |
| --- | --- | --- |
| Bob Vincent | | Views: 1429 |
| E Type Jaguar. | | Comments: 5 |
| Photo: Keith Beckett Item #: 29366 | | |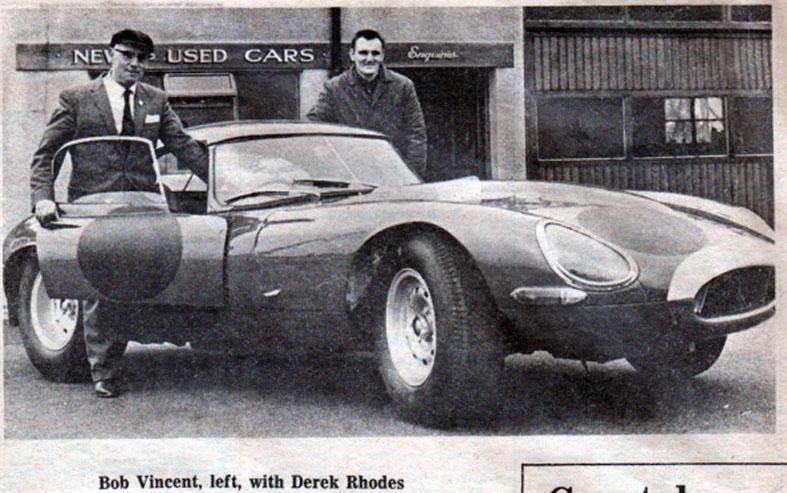 | | | |
| --- | --- | --- |
| | Image scaled down from 787px to 493px wide | Click here, or click the photo to view original |
Bob with his specially built lightweight E Type Jaguar. The car was built for the 1963 Le Mans 24 hour race.Top speed 190 mph.
He was still racing in 1966, the year of the photo, at the age of 52.
Comments by Ellen, 17th May 2017
Ahhh,the E-type! When I was young and more foolish than I am now,this was my dream car! (and I was not yet a driver!)
Comments by Albert., 18th May 2017
Ellen. Certainly a dream car, but the cost was a nightmare.
Comments by Ellen, 18th May 2017
Yes Albert, but back then I never thought I would have a prayer of owing one, so I could,and did dream!!
Comments by Al, 19th May 2017
What a car. Love the E Type though never been a fan of the racing models though; the absence of bumpers and racing stripes spoil its gorgeous lines for me. The values of E Types are getting ridiculous now, early convertibles fetching upwards of 90-100 grand plus, with the later models fetching anything from 40-70 grand, and near basket cases going for no less than 20 grand.

I remember in the late 90s you buy a decent E-Type for about 15k. They are becoming more in the hands of private collectors who never use them than for the enthusiast. The nearest my dad has to an E Type is his fibreglass E Type kit car.
Comments by Grenville Abbott, 29th September 2017
I owned a 4.2 E type FHC reg no. KTB 306C from 1970 to 1977.The first owner being Bob Vincent who I believe had reg RV7 on it. I would love to trace the owner no,just for historic reasons and I still have the owner-handbook and the original chrome grill part,which I would like to hand over to the current owner.