| | | |
| --- | --- | --- |
| Caroline Street, Wigan | | Views: 7200 |
| Ropemakers Arms. | | Comments: 18 |
| Photo: Ron Hunt Item #: 988 | | |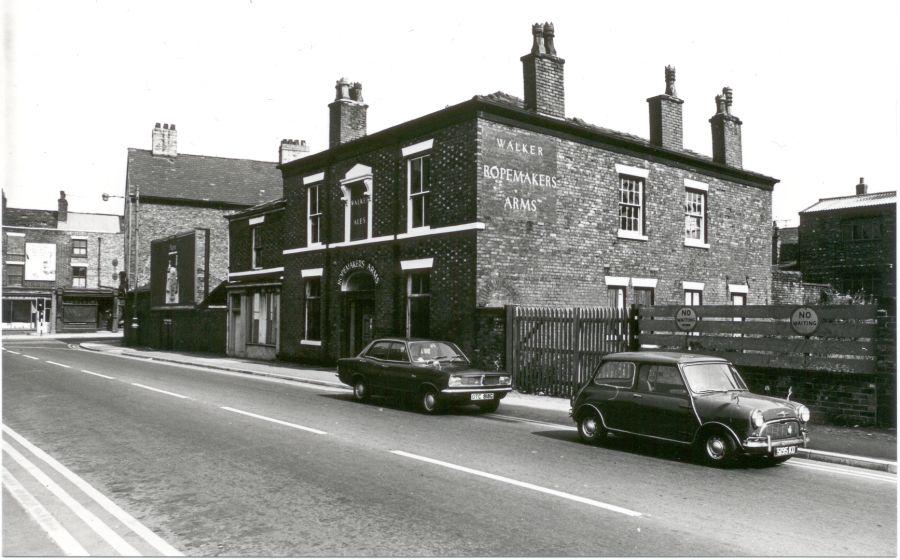 | | | |
| --- | --- | --- |
| | Image scaled down from 900px to 560px wide | Click here, or click the photo to view original |
| | | |
| --- | --- | --- |
| | Ropemakers Arms, 3 Caroline Street, Wigan. | |
Comments by Albert Eckersley, 25th April 2010
The last landlord of this pub was a Patrick King a Huge Irishman.Next door as you look at the pub on the left was the Sweet Shop to the right was St Josephs Church Directly opposite the pub was a second hand furniture shop owned by the Westheads Next to that was the Tobbaconist and Repository shop owned by Joe Latham next to that was in the 1930s Doctor Berrys Surgery later to become a sewing factory and that was on the end of Caroline Street and Wallgate,
Comments by Maureen Andrews [nee Mcgovern], 17th May 2010
Hello Albert,here I am again,your reference to Paddy King being the landlord of the Ropemakers brings back a memory or two.Barney Callaghan who lived next door to us at 25 Great George Street was the landlord before Paddy.My Dad and Cliff took a tape recorder and big speaker to the pub about 1957-58 and played various tapes including some banjo music,Barney was over the moon.I just remember Paddy King and as you say he was a crumper.
Comments by Albert Eckersley, 18th May 2010
Yes I remember Barney as well there was quite a few Irishmen in St Josephs at that time,Tommy Feeney who married Lillian the lady with no legs but a stunner of a looker,Tom Philbin who married Mollie Cunliffe who lived next door to Netta Winters[In Clayton Street] Ma Oneill and her Big Family everyone including the Girls was 6 foot or more in height,Mr Horan His daughter Mary married a Jim McNulty these and many more lived in Great George Street along with your Grandparents,I hope you are writing all this down for future generations Maureen
Comments by margaret farrimond, 12th June 2010
I remember westwoods shop we lived at no 12 caroline st,I was runover on my foot by a wagon early 1950's following my gradmother to the sweet shop.I'm tracing my family tree if anyone can provide me with any details.The butterworth family lived next door to us.
Comments by Paul Cain, 11th January 2011
My father (Joseph "Joe" Cain b.1930) was brought up on Caroline Street and served on the altar at St. Joseph's. His family had lived in and around Caroline Street for some generations, I found out recently through the the UK Census disclosures going back as far as 1861.
Comments by Cordyline, 19th February 2011
Paul Caine
I new your dad, he was head altar boy at St Josephs for quite a time
He lived with his mum in a side street off Caroline St - maybe Cross St not sure
I heard that he got married and moved to Chorley
I must say how surprised I am to learn that he has a son
I was an altar boy too
Have you any photos of Joe your dad ?
Comments by Paul Cain, 28th February 2011
It's nice to hear that someone remembered my father. He was very committed to St. Joseph's and his faith. He married an Irish nurse from Wrightington Hospital (Brigid McLoughlin) in 1966 and in 1968, they had a son, namely me. We moved to Chorley in the early 1970's. He retained a real loyalty and affection for Wigan all his life, even though he worked in London frequently.

Sadly, my father died in 1984 and it means a great deal to hear that some people remember him as a young man.

I live abroad but when I get back to the UK next, I will get some pictures from his childhood in and around Caroline Street and post them on the site.

Many thanks for your comment.

Paul
Comments by Albert Eckersley, 7th March 2011
Paul, I remember your father very well, He was 3 or four years younger than I, He was in my younger brothers class at St Josephs My yonger brother went away to become a Priest in the French Christian Brotherhood at 11 years of age and your dad went to Upholland to join the Priesthood but He did not stay there and came home ,Later in life he joined the Young Christian workers at St Josephs of which I was President,YES I can see him now in my minds eye he was about 5ft 9ins tall a sallow complexion, Blue suit white Shirt Y,C,W,tie which we all wore for special occasions.In those days St Josephs had 4 Masses on a Sunday plus 4 Priests A cracking Parish excelled at Rugby League,8 Classrooms in the Boys school,7 in the Girls School,5 in the Infants,Happy Days,Albert
Comments by Cordyline, 8th March 2011
Paul
Recently I spoke to an old school pal who remembered your dad Joe
Gilbert was delivery boy for a local grocers - Mortons in Chapel Lane - he remembers delivering to Your grandmas house at Henry St near Caroline St
When Joe answered the door Gil says he was always wearing sandals - not the norm in those days, Gil says your grandma was a lovely lady
Your mum may not have been the first irish lady in your dad's life, I remember he used to call at a house in Granville St Poolstock to visit Theresa W and her mum
Did you meet Chris Cunningham when you was at Upholland college ?
Comments by Ian, 26th May 2011
1891 at 35 Caroline Street, Wigan was Richard WATSON,a draper - any pics of the shops / houses would be great!
;-)
Comments by Michael Jordan, 30th June 2011
I think I am related to the westheads who owned the second hand shop. My dad was Alex Jordan and he lived in the shop with his mum, 2 sisters and grandmother.
Comments by Albert Eckersley, 4th October 2011
YES I WELL REMEMBER ALEC JORDAN HE AND I PLUS WILF BROGAN, TED MELLING,JOE UNSWORTH,VINCE GLYNN,JOE DOHERTY,ALL MEMBERS OF ST JOSEPHS CLUB,PLUS OTHERS WE ALL WENT TO THE EMPRESS DANCE HALL ON A SATURDAY NIGHT, ALEC WAS ABOUT 5FT 9 TALL WITH RED HAIR AND FRECKLES JUST LIKE I WAS IN THOSE DAYS,
Comments by j Rudd, 7th December 2011
My mum n dad ( James Rudd/ Mary teresa nee Platt) both came from this area and attended St Josephs. When they got married (1953) i believe they lived on Chapel Street before going to Marsh Green. If my memory is correct mum worked in a bookies on Caroline street, think it was Wally Mills.
Comments by Philip Young, 16th March 2013
The little Sweet Shop was run by two old ladies (or at least they appeared old to me!), the Misses Burns
Comments by Heidi Sands nee Schmechel, 7th August 2013
My grandfather was landlord of the Ropemakers; Thomas Houghton, he ran it with my Nanna Agnes, nee Hughes. Does anyone remember the 3 Houghton girls? My Mum, another Agnes and her sisters Marie and Angela.
Comments by Derek Rudd, 10th December 2014
My grandad was called James Rudd he married Ann Jackson, is there any relationship connection?
Comments by eddie, 30th November 2015
Does any of you wallpapers remember my grandad joe Dean the landlord of the swan meadow public house.
Comments by W/H, 30th September 2018
I/lived/opposite/this/pub/at/number/10/the/first/6months/of
my/life/although/dont/remember/in/1968/..we/lived/with/my
dads/Joe/Whitehead's/sister/Blodwyn/and/her/family/must
have/been/a/tight/squeeze/then/moved/to/Spring/View
Derek/did/you/used/to/live/in/Higher/Ince/about/38/years
ago?