| | | |
| --- | --- | --- |
| Crooke | | Views: 2691 |
| Loading coal at Crooke | | Comments: 7 |
| Photo: RON Item #: 4170 | | |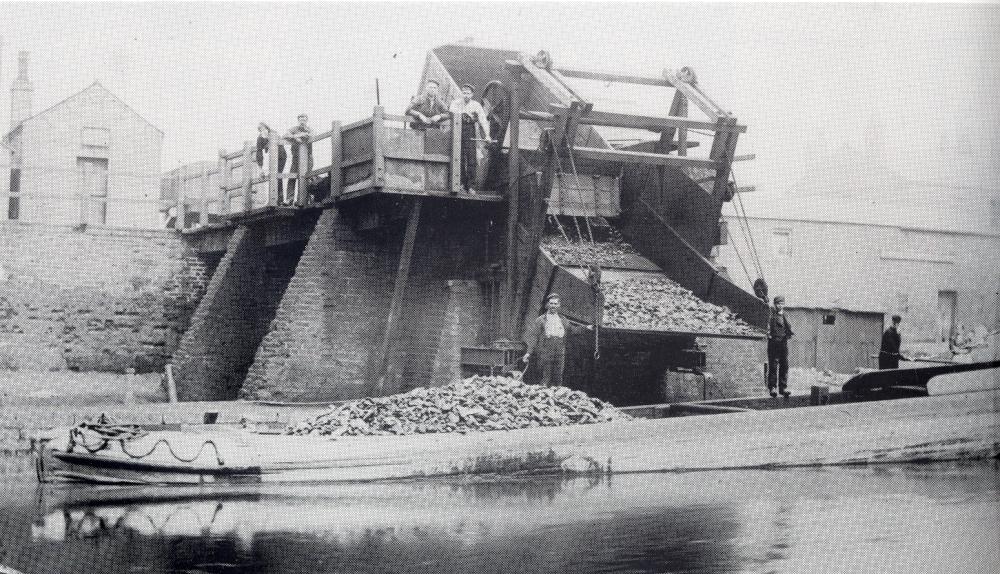 | | | |
| --- | --- | --- |
| | Image scaled down from 1000px to 574px wide | Click here, or click the photo to view original |
| | | |
| --- | --- | --- |
| | Coal from local pits being loaded onto a canal barge at Crooke Pier early 1900's | |
Comments by Ashley, 7th November 2008
A real time capsule of history, Brilliant photo, I seriously doubt if anyone has any memories of this piece of Crooke's history. This photo has preserved it for us.
Comments by Steven Buckley, 21st November 2008
My father remembered this from being in his teens during the 1950's. I think it was used until about 1960 so there'll be quite a few people around who'll still remember it.
Comments by Cyril, 27th April 2009
I can remember this coal wagon tippler operating in the late fifties when I along with my brother and sister went for walks along the canal bank, I remember that the coal coming down the chute into the barge didn't half make a racket. Sometimes we got a lift back to Martland Mill on one of the barges if the bargee would let us on, and very often we'd end up black leaded with the coal dust.
Comments by nephro, 2nd January 2010
A apprentice electricians Me & Art helped to maintain the Pikrose winch that used to bring the empty wagons back up from the tippler. George Woosey was the electricien. 1954 onwards
Comments by christine jolley, 15th July 2010
Gosh I remember this scene like it was yesterday in my memory!! used to play on this contraption as a kid and climed unerneath where there was a small square hole I was always Black with the coal good job our clothes in them days where not up to much!! Memomories Happy and Sad now xxx
Comments by gil cunliffe, 7th September 2011
remember going on barge from crooke to westwood power station with sid baldwin, his dad worked on the barges and we came back to crooke in his bedford van. great days.
Comments by David Halliwell, 9th January 2014
I too remember this. I spent all my summer holidays when I was about 9 or 10 playing around Crooke with my cousin, Barry, who used to live at 81D, the short street at the side of this pier. I remember my auntie used to put the fear of god in us by saying 'whatever you do, don't go up Woodcock Row'. I don't know why, but we never did. I once fell into the cut near the pier, floating those rushes that you'd bend over to make a sail. I remember it very clearly, going under the water, my wellies filling up and dragging me down. I couldn't swim at the time and it was a close thing but I managed to get a hold on the canal side and pull myself out. My auntie was very understanding and said she wouldn't tell my mother, but I think she did 'cos my dad taught me to swim soon after. Happy Days.