| | | |
| --- | --- | --- |
| Haigh Hall | | Views: 848 |
| Rest Gardens | | Comments: 9 |
| Photo: RON HUNT Item #: 30020 | | |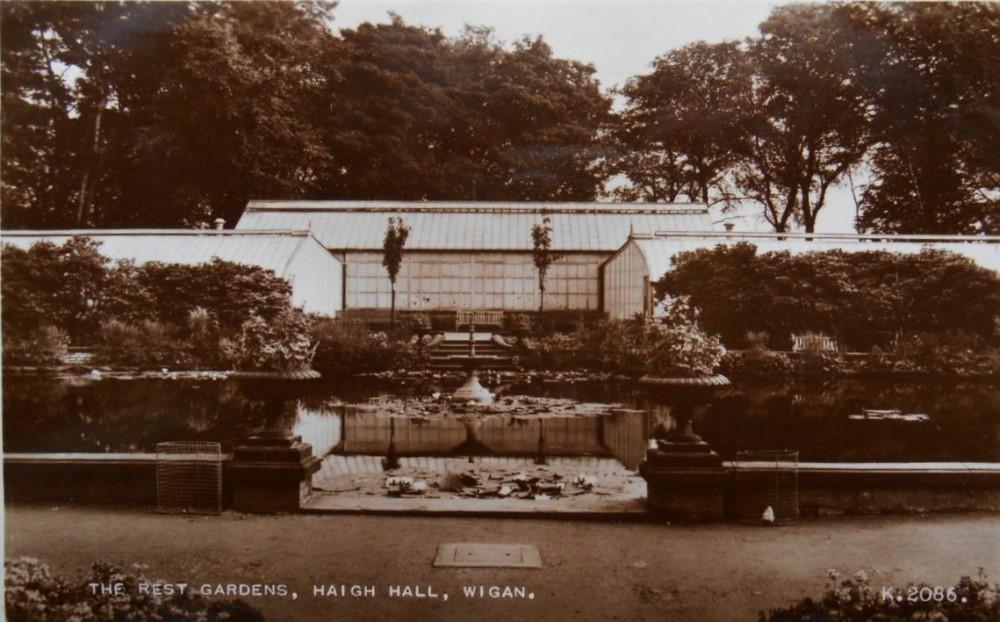 | | | |
| --- | --- | --- |
| | Image scaled down from 1000px to 622px wide | Click here, or click the photo to view original |
| | | |
| --- | --- | --- |
| | A photograph of the pond and greenhouses Haigh Hall 1950's. | |
Comments by jack, 31st December 2017
Thanks Ron. More interesting than a Porche exiting Lodge Corner at Oulton Park
Comments by irene roberts, 31st December 2017
Special memories of the greenhouses at Haigh Hall. My parents and I always went in when I was a child. It was a little world of its own. I remember the fish and the lily-pads in the pond. I went there again a few years ago with a dear friend; the greenhouses were long gone but the area still held the magic of childhood days.
Comments by Garry, 31st December 2017
I remember the greenhouses at Haigh Hall, sadly all gone.
Thanks Ron. All the best.
Comments by Maureen, 31st December 2017
I love plants so to go in the greenhouses was a treat to say the least,why oh why did they have to go.
Comments by JamesB, 31st December 2017
If everyone kept to the spirit of the site, i.e. all places, and people of Wigan, there would be no problem. Ron's contributions are a prime example, his collection of all things Wigan is exceptional to say the least.
Comments by irene roberts, 31st December 2017
I agree, JamesB, but we don't all have access to things equivalent to Ron's brilliant contributions. I uploaded all the old pics I had years ago...I just don't have any more. We must all just be thankful for the modern media which has allowed us all to see photos of the old Wigan to which we would never had access. I keep thinking the photos will dry up soon, and then someone, somewhere, comes across another memory in their attic! Long may that happen.
Comments by John Brown, 1st January 2018
I never knew that they were called 'The Rest Gardens'
Comments by GW., 2nd January 2018
Well said Irene. Happy 2018 everyone.
Comments by Elizabeth, 2nd January 2018
You are so right, Maureen. Why indeed did they have to go?