| | | |
| --- | --- | --- |
| Market Place, Wigan | | Views: 1506 |
| OLD MARKET PLACE, WIGAN 1838 | | Comments: 4 |
| Photo: Keith Item #: 30006 | | |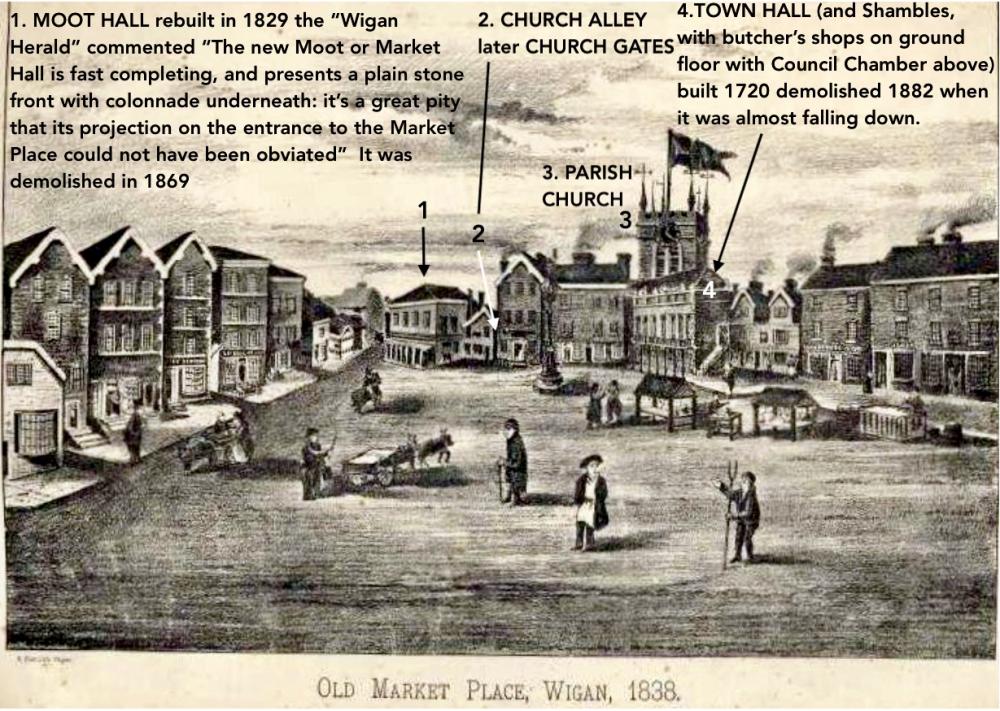 | | | |
| --- | --- | --- |
| | Image scaled down from 1000px to 711px wide | Click here, or click the photo to view original |
| | | |
| --- | --- | --- |
| | An illustration of Wigan's Market Place from 1838 showing the main features. | |
Comments by Keith, 22nd December 2017
The "new" Town Hall, built to replace the old Moot Hall, was paid for by the town's two MP's, its costs today were around the £2 million mark, an example of the corruption prevalent at the time - they took these measures to "guarantee" their return to Parliament which in those days was a very profitable existence.
Comments by Josh, 22nd December 2017
I've read that "very little has been written about 18th century (the "new" Town Hall was built in 1720) urban dishonesty, even less about its abuse and corruption. Government of towns was a limited affair conducted amongst members of the corporation." Change would come slowly.
Comments by Steven Buckley, 29th January 2018
The building to the right of the church alley is still there - became Lunn Poly. Someone told me that it's one of the oldest buildings that survive in Wigan - 16th Century? I believe it was also a pub at one time?
Comments by RON HUNT, 1st April 2018
The pub was the BLACK HORSE There are photographs of it under Market Place