| | | |
| --- | --- | --- |
| Hindley | | Views: 1932 |
| 'Friend of the poor' | | Comments: 6 |
| Photo: Rev David Long Item #: 30000 | | |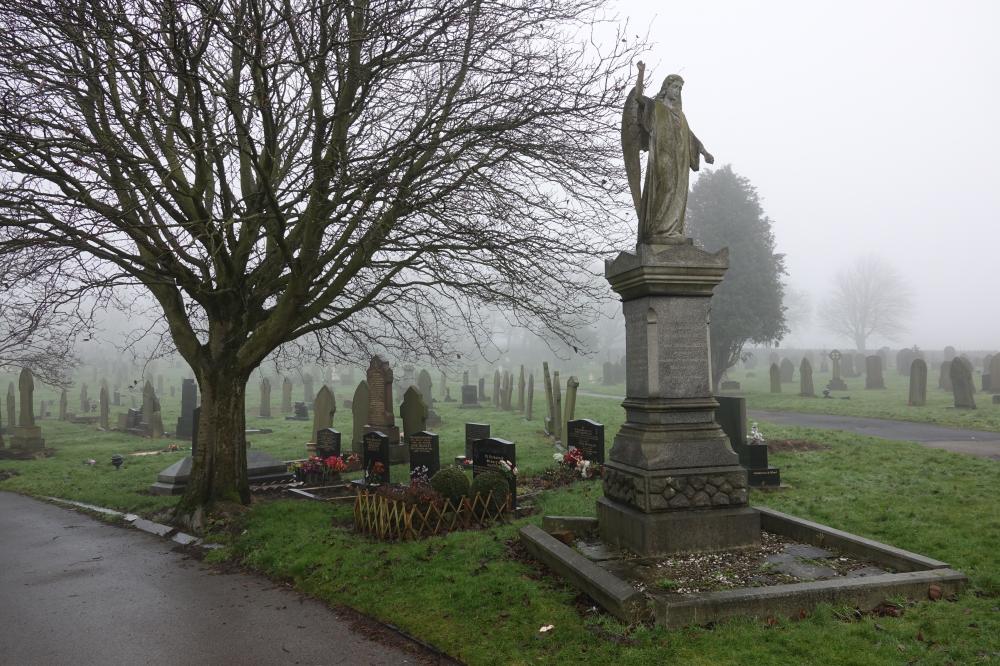 | | | |
| --- | --- | --- |
| | Image scaled down from 1000px to 666px wide | Click here, or click the photo to view original |
Prominent at the entrance to Hindley Cemetery is this statue of an angel. It was erected as a mark of respect to Dr John Grindall Brayton of Liverpool Road, Hindley. He died at the age of 50 in 1892.
Beneath the inscription detailing his lifespan is inscribed 'Friend of the poor'. If I hadn't already known that - and about the monument - I would have missed it, as will most other visitors to the cemetery, as the inscription is in urgent need of a fresh coat of paint in the incised lettering.
Dr Brayton was the father of the famous actor Lily Brayton, featured in an earlier contribution. Her sister Agnes was a less famous thespian.
Comments by DTease, 19th December 2017
Why was he a friend of the poor David? Did he do a lot of work for the poor?
Comments by Roger, 19th December 2017
Seems like his daughter was buried on the same day, but it says 1893. Wonder if it was the result of an accident? Could you still put up such a monument these days if you had the money?

https://tinyurl.com/ycarv6xh
Comments by Rev David Long, 19th December 2017
I've not been able to find out very much about him. The inscription says the monument was raised by public subscription, so he must have made a good impression on the folk of Hindley - especially given the prominence of his grave (Arthur Silcock's massive grave was placed next to it in 1986... so it's definitely the prime spot!).
When he married at St Wilfrid's in 1868 he was described as a Surgeon, of Hindley, aged 26, so I guess he was just beginning his practice then, which would mean he worked there for about 25 years before his death.
The only references I've been able to find about him refer only to his being Lily Brayton's father, who disapproved of her choice of profession.
Comments by DTease, 19th December 2017
He must have been very well thought of by the people of Hindley to have raised enough money by public subscription for such a large monument.
Comments by Rev David Long, 20th December 2017
Roger - Maggie was their first-born, Baptised at St Peter's in 1869. The date of her death, as found in the Hindley Cemetery records under 'Stuff' on this site, is one of Freda Chorlton's rare transcription errors.
The inscription on the monument says she died 7th April 1875, aged 5 years and 8 months.
Comments by Rev David Long, 7th January 2018
More information: When Dr Brayton's infant daughter Maggie died in 1875 she was buried in Wigan Cemetery in Lower Ince, because the graveyard for Hindley, All Saints' churchyard, was full, and Hindley Cemetery was not yet built (it opened in 1880). So when Dr Brayton died in 1892 he was buried with his daughter at Ince.
The folk of Hindley decided it was not fitting for their good doctor to be buried in the Wigan Cemetery, so the fund launched to raise this monument to him also paid for the bodies of the doctor and his daughter to be exhumed from Ince and reburied in the grave beneath the monument in 1893.