| | | |
| --- | --- | --- |
| Ince | | Views: 1825 |
| First Catholic Chapel in Ince 1760 | | Comments: 16 |
| Photo: RON HUNT Item #: 29940 | | |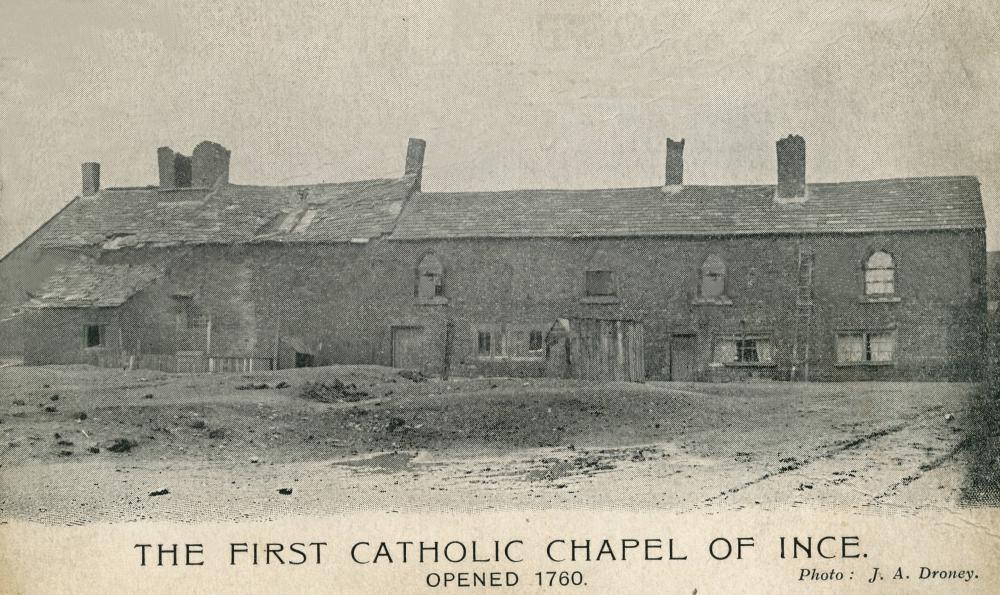 | | | |
| --- | --- | --- |
| | Image scaled down from 1000px to 595px wide | Click here, or click the photo to view original |
| | | |
| --- | --- | --- |
| | As today is the last day a mass will be said in St Williams church before closure. I thought this photograph showing the first chapel is very apt. | |
Comments by TD,, 28th November 2017
Amen.
Comments by Thomas(Tom)Walsh., 28th November 2017
TD Sometimes a single word can speak volumes !
It's very sad when a church is forced to closes its doors very much against the congregation .
Comments by From Where, 28th November 2017
I shall not run , I will not hide, In hiding of mine enemy.
Comments by Albert., 28th November 2017
The accompanying paragraph connected to the photograph, plus Tom's comment, speaks volumes as to the gradual decline in our Christian heritage. Too much emphasis is given to materialism, and secular pleasures, for any considered time to be devoted to the spiritual.
Comments by Helen of Troy, 29th November 2017
Though I do not attend any church these days, I heartily agree with Albert. Well said.
Comments by Wigwann, 29th November 2017
So sorry to read of its closure. My mum's friend Auntie Nellie(Birchall), her husband Joe and their daughter Rita all attended there.I still think of them fondly at their home in Caroline St. Ince. As Albert said it is a sign of the times that so many churches throughout the NW have closed.
Comments by Veronica, 29th November 2017
I did not realise St William's parish was so old.... The building though looks nothing like a church I must say. It's a very sad occasion for the parishioners. I presume they will be attending St Patricks as it's the nearest church in the vicinity.
Comments by Helen of Troy, 29th November 2017
I think the 4 upstairs windows make it look a like a chapel building. Wonder what that ruined tower above the roof was ?It is amazing that these old images keep appearing.
Comments by Philip Gormley., 29th November 2017
I offer my rhyme in the hope that it will be read by others, in spirited support for Ron Hunt's rare photo, which shows the first catholic chapel, in Ince.

Mother's Gaze.

I watch my son from up above, he toils by churchyard post,
a cloudy eye is sometimes seen, his thoughts for mother most.

The warming earth it feels his hand, he sows by latent down,
but doughty seed will bear its brunt, then bloom in summer's gown.

His plastic box from schoolboy days now rests the morning dew,
he smiles at dinner homely laid, mother's two by two.

An upright spade lifts robin's dare, a mealy worm is offered,
it swoops down low to take the gift, its giver's shift unheard.

Hybrid teas are doing well, he casts a knowing glance,
but nesting box is out of line, and at the point of balance.

An urgent call for further help is aired in brutish style,
the plea for aid is duly met, made good with blooming smile.

The heavy load is now in place, the master shuts a gate,
my son returns to heightened bed, he's more than just a mate.

My son is wise and e'er so kind, he romped down country lanes,
and lends himself when kindly asked, Ansel is his name.
Comments by Poet, 29th November 2017
Impeccable hexameter Philip.
Comments by Veronica, 29th November 2017
That's lovely Philip- very clever! 'From Where' is going to be out of a job!
Comments by George, 29th November 2017
If the "pattern" of development in and around St Williams church is similar to other industrial areas then the building of this church would reflect the increase in population and industry around it - I'm assuming that would relate to coal mining which would seem to indicate early coal enterprises in the middle of the 18th century.
Comments by Dave C, 30th November 2017
Although not brought up as a Catholic, I remember attending St. Williams Church on many occasions including the odd Sunday Morning Service if I'd stayed at my Grans in Belle Green Lane overnight. The Frances, Finneys and Moores, all Family, were regular attenders there. Enjoyed many a Family Wedding, Christening and , (sadly), Funerals there, especially in the Club afterwards. So very sad to see it close its doors. Does anyone know exactly where the first Chapel was located ?
Comments by Maureen, 1st December 2017
Philip, that's beautiful poetry..could we have more please.
Comments by Philip Gormley., 1st December 2017
Maureen: I'm glad that you've got further satisfaction from reading my verse; it's obvious that you respond quite favourably to the church, hallowed grounds, and the spiritual.
As far as I can recall, my first 'adult' attempt at writing verse (On Standedge - Danny Towey. Item 29343) had been in May of this year, and I might make other attempts at writing verse in the not too distant future. Should I need guidance in any of these attempts then there will be, as far as I'm aware, four lads on Wigan World (with more ability than myself) upon whom I could rely on for assistance - I know that they would offer it.
It's a pity about the chapel grounds, shown here though, ... they couldn't half do with a good double-digging. Take care.
Comments by Elizabeth, 4th December 2017
I'm not certain but I have an idea the first chapel for St.William's parish was in Consort Street,which was near to where The Grove is down Ince Green Lane.