| | | |
| --- | --- | --- |
| New Springs | | Views: 2324 |
| St John's | | Comments: 40 |
| Photo: DTease Item #: 29734 | | |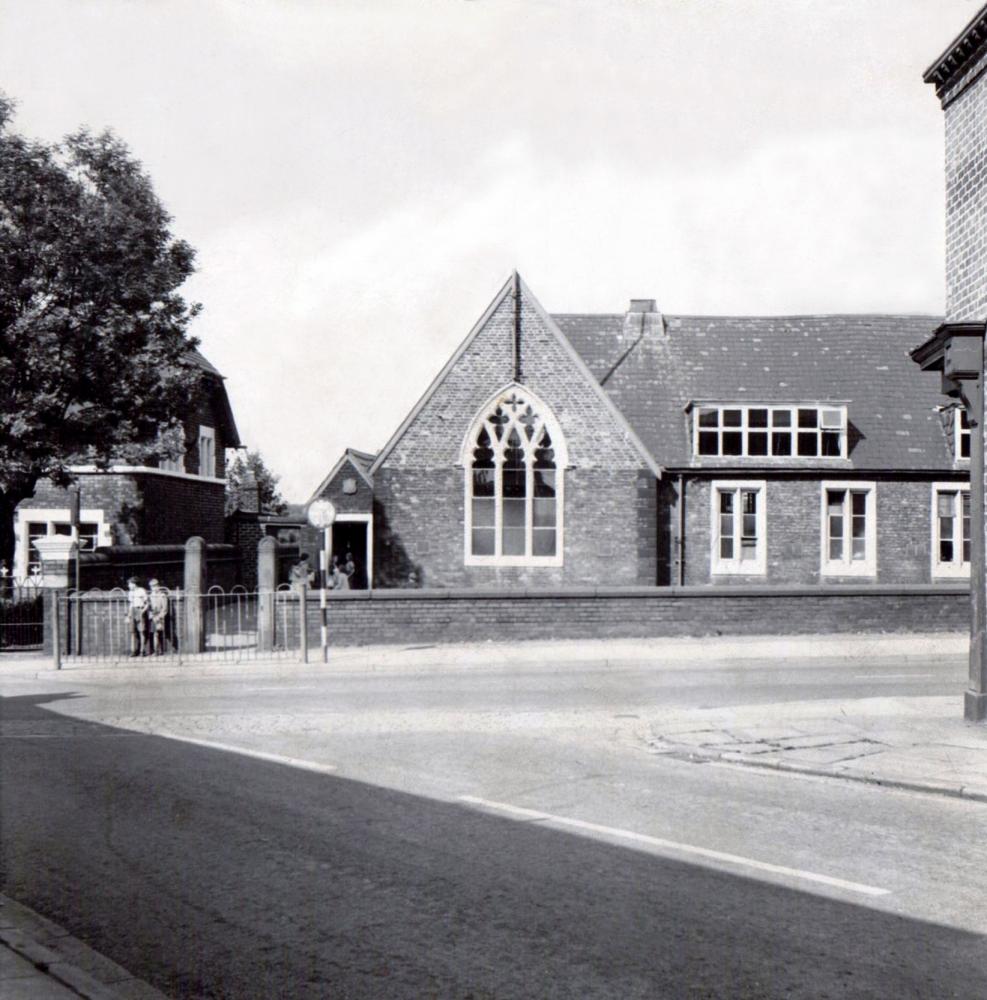 | | | |
| --- | --- | --- |
| | Image scaled down from 987px to 1000px wide | Click here, or click the photo to view original |
My dear Watson (or GW as you prefer to be known) examine the wall in front of the School, is this not the same wall as in Ron's photo? Also, examine the woodwork over the shop door on the right, is this not the same as the woodwork on Ron's photo?
Elementary my dear GW.
This photo was taken at the bottom of Cale Lane, New Springs.
Comments by Philip Gormley., 17th September 2017
What a follow-up DTease! Shades of Conan Doyle's 'The Adventure of The Priory School', too.
Comments by JJP, 18th September 2017
I Think you are wrong DTease, the wall is exactly like the one in the photo, the stepped wall you are referring to belongs to the houses prior to the school, look a little further into the photo. The doorway on the corner of Cale Lane is very similar to the one in the previous photo. This particular pic was taken long after the tram tracks were removed showing a good road surface, perhaps 1950-60s.
Comments by Philip Gormley., 18th September 2017
DTease: It's Cale Lane, sure enough - it approaches Wigan Road from an acute angle. The white pyramid cap stone being the first/last in the series of six or seven that can be seen on the previous photo.
Comments by GW., 18th September 2017
Great bit of sleuthing Dtease. [or should i call you ...Clouseau.] In addition to your findings this also links into my theory that this was the actual spot in the road that the chicken crossed.[ Just before being run down by his mistress's jealous husband in the milk cart ] When you call into the office don't worry about the gun in Ozy's "envelope". He's just happy to see you.
Comments by DTease, 18th September 2017
For clarity I should explain that my comment is in answer to a comment by GW on item #29733 where he asked if that photo could be of Ormskirk Rd looking east.
Comments by Veronica, 18th September 2017
Was that TRex that crossed the road - that will explain why they became extinct then! Going back to the picture it ties in very well- I pass this way on the 715 and it looks very familiar. I just hope the men weren't waiting for it as it's always late!
Comments by GW., 18th September 2017
Extinct??...not if they laid an egg beforehand according to Poets Darwinian principles Veronica. That's it Ozy. No more chicken cases for this Pinkerton agent. How about i try to solve a"film noir"type crime whodunnit featuring lots of lorries and heavy haulage equipment?
Comments by . Ozymandias ., 18th September 2017
So you'd prefer a little more cluck and dagger work, is that it GW? I can empathise with that, as I know from eggsperience that it's no yolk tramping around the badlands of Bolton in fowl weather, trying to pinpoint the former location of non eggsistant hen cotes. In fact it can be quite eggshausting. Even for a hard boiled Pinkerton's agent, it's hardly ever over easy.
Comments by DTease, 18th September 2017
Keep your sunny side up GW.
Comments by GW., 19th September 2017
Eggxactly Dtease, and that should read eggxtinct Veronica. Have a "cracking" day all.
Comments by Philip Gormley., 19th September 2017
DTease: "Keep your sunny side up"; a sound piece of encouragement from your good self. And if G.W. finally decides to flutter off into the seedy world of crime detection (wattle he think of next?), then he would serve the agency particularly well by first searching every stook and cranny for Rhode Island Red, who is reported to have taken flight with a Swiss Fancy.
Comments by DTease, 19th September 2017
Philip. If Geedoubleya goes ahead with his peckuliar decision to take a sidestep in his career with the Agency, will Ozy be prepared to shell out for the necessary re-training?
Comments by . Ozymandias ., 19th September 2017
Blimey O'reilly DTease, I don't lay golden eggs y'know....You lot must think I'm made of blimmin' beer tokens. Do you think I photocopy 'em down at the post office or what?...No, I'm afraid if Geedoubleyolk wants to elevate his status to Grade A within the agency, he'll just have to either crack open his piggy bank or soldier on. We're in the middle of a recession don't y'know?
Comments by Philip Gormley., 19th September 2017
DTease: As generous as Ozy is, his insight would be the deciding factor. He knows that G.W. is a proud child of woodland floor, with a preference for a free run, and as such, would probably choose to give G.W. a generous and tearful bon voyage - allowing him to have his head if you like. I also like 'sidestep', by the way.
Comments by Veronica, 19th September 2017
Anyway GeeDubya will need a long gaberdine mac and trilby aka Bogey in the 'Big Sleep"!!
Comments by . Ozymandias ., 19th September 2017
I've just had a ' light bulb moment ' DTease. You're aware that the agency is currently looking for someone to run the Australian operation from it's office in Tittybong, Victoria.? Well, given GW's well established antipodean connections, plus his thirst for a life a little less mundane, I would suggest we put his name forward for consideration.
Tittybong's a bit of a remote outpost I'll admit, but he won't be on his own out there, as he'll have a couple of ' Shielas ' under him for most of the time.
Clothingwise, well, I have a pair of shorts that used to belong to Don Estelle that he can have for starters, plus my uncle Norman's string vest, and also a genuine rooskin hat that I bought at a church jumble sale and never got round to wearing. It's quite similar to the one that the ' bush tucker ' man used to wear except that it looks a lot dafter. So that's the lad kitted out.
His first mission ( should he choose to accept it ), would be to track down and bring to justice, the joker that named the place....What do you reckon?
Comments by GW., 19th September 2017
"Tittybong"...that was my mum's maiden name Ozy. "Sheila Tittybong".
Comments by Julie, 19th September 2017
Judging by the comments I would say

Phillip, Not Knightbridge or indeed Kensington. Cotswolds maybe , a very nice well kept cottage with history, Likes a well cooked pie but a relax in his chair better , even though he doesn't know it . Never without a tie in appropriate areas . Breeding makes him polite always .. courtesy is always his measure .

DTease. Southall maybe, but this guy can run? Interesting! The guy who got away . Hugely popular with women , due to his personal and financial credentials . Has homes not in the Costas but places like Cuba and Bolivia, Often seen on million pound boats with a gaggle of women around him, then returns to a semi. His wife left him years ago, his dog also.

GW Not sure yet , very likely to hold gold ,in vast quantities somewhere ,
so will have holdings where there is sun. A good fried of DTease , often seen on the same highly expensive boats in small coves like Monte Carlo and the South of France. Prefers , crab to lobsters.




Ozy , Richmond , Surrey, Easy!

Just a bit of fun guys , no offence intended.
Comments by DTease, 19th September 2017
Sounds like a bonzer plan to me Ozy, although I suggest that we don't inform him of his actual destination until he is on the plane with his seat belt on and the door ready for closing.
As far as clothing is concerned you seem to have the situation well in hand. One thing missing though is the corks for hanging around your Rooskin hat. However, me being a generous sort of cove I will make the sacrifice and force myself to empty a few bottles of wine thus providing the necessary items.
One other item we should provide our doughty detective with is a large Water Bottle. After all we don't want him to end up in the Outback looking "Drier than a dead Dingo's donger" do we?
Regards DTease

P.S. You wouldn't like to help me dispose of a few bottles of Antipodian Plonk would you?
Comments by . Ozymandias ., 19th September 2017
Well, I suppose Richmond's a step up from Peckham at least Julie. No offence taken my dear, and none intended to the good people of Peckham incidentally.

Regards. Ozy.
Comments by DTease, 19th September 2017
Julie, if you care to take a trip down to Wigan Pier you will see my boat tied up outside the Orwell Public House.
I am told that it once hung on a nail at the back of Ozy's garage. He acquired it because of fears that climate change would cover his home with a deluge. However, since then Donald Trump as convinced him that there is no such thing as Climate Change. As a result Ozy put the boat up for auction and I got it for a song. I believe it was 'I am Sailing' by Rod Stuart.
Drop in any time Julie and we'll partake of a small tincture before I show you round the boat.
Comments by . Ozymandias ., 19th September 2017
I was beginning to think you'd never ask DTease. Mind you, I get the impression that there won't be much Barossa Valley Shiraz left by the time I get round there.
Now regarding the boat......well, how can I put this?......now DTease, how on earth was I expected to know that you intended to live on the damn thing?......I find this a bit awkward, and I don't wish to appear mean,......it's just that plane tickets are so expensive and I had it in mind....well, let me say, I was prepared to take the boat on the roof rack to Blundell Sands....Now that would have given him a head start straight away. The builders left a couple of short lengths of scaffolding pole in the garden, and I thought if I welded a couple of dustbin lids to the ends,... well,.... he'd probably make it to Sydney in record time. Before Christmas most likely if he puts his back into it. In the meantime, you could always crash at my place. It's flat 84b, Nelson Mandela House, Rue de la morgue, Peckham. Don't bother ringing the doorbell, as I cut the wires to save on batteries, just throw a half brick through the window like everyone else.

Respect. Ozy.
Comments by Veronica, 19th September 2017
But I bet you have chandeliers in there Ozy and the lights for signalling the planes into landing!!! It's a good spot for Heathrow - you must be well paid as part of the staff.
Comments by Veronica, 20th September 2017
Ps I think you lot are more like 'The Rat Pack' concocting your crazy schemes! Who's being Dean Martin why DTease surely! That leaves Ol'Blue Eyes, Sammy Davis Jr and Peter Lawford .... Take your pick! Must be able to tap dance and sing and crack jokes!
Comments by DTease, 20th September 2017
Ozy, we haven't heard much from GW about this. Do you think that he isn't as enthusiastic about our plan as we may have hoped?
It is, after all a fantastic offer, free travel, free uniform, generous remuneration (well fairly generous).
I would find it hard to believe Ozy but do you think it's remotely possible that he has received a better offer from the opposition?
Comments by DTease, 20th September 2017
Veronica, I tried serenading the Missis with a few Dean Martin Songs. She reckoned that it was more akin to Jerry Lewis than Dean
My favourite Dean Martin song....

I'm praying for rain in California
So the grapes can grow and they can make more wine.
Comments by GW., 20th September 2017
This all ties in with the Tittybong family tree you lot. Leaving on a boat from Wigan pier with free remunerations, uniforms,travel expenses and even affordable housing thrown in. A travel package to Van Deimens Land and all at His Majesty's Pleasure. [ perhaps the "Tittybong's" , a once well established Wigan family had royal connections?] PS, Watch out for Dteases "small tincture" Julie.
Comments by . Ozymandias ., 20th September 2017
Leaving Tittybong aside for just a moment GW, your comment has set me thinking. To quote Julie, " Hugely popular with women, due to his personal and financial credentials."......it's these ' personal ' credentials that I'm curious about. By his own admission, DTease wife likens the man to that well known historical figure, novelist and leader of the peasants' revolt ' Wat the Dickens ' whilst at the same time comparing his vocal abilities to those of Jerry Lewis, so I'm perplexed. You don't suppose this small tincture of his could form part of his portfolio of ' personal credentials ' by any chance do you?, as I'm sure there must be many women who find a small tincture irresistible.
Comments by DTease, 20th September 2017
There's nothing wrong with my tincture I'll have you know.I'll stand my tincture up for comparison against anybody.
Comments by Philip Gormley., 20th September 2017
DTease: A noble challenge from your good self, sir. You are an upstanding mariner, sole survivor, and with the tenacity to weather the storm. May we call you Ishmael, please?.
Comments by . Ozymandias ., 20th September 2017
The gentleman doth protest too much, methinks...What thinkest thou GW?
Comments by GW., 21st September 2017
Crickey Ozy. At first i thought he was blowing his flamin' trumpet about how much grog he can swill with the sheila's but maybe he's on about the length of his fishing tackle or the how big a compass he's got on his boat???
Comments by DTease, 21st September 2017
GW, I have one of those fishing rods that reach all the way across the canal.
Comments by . Ozymandias ., 21st September 2017
With regard to these ' vast gold holdings ' of yours GW, they wouldn't be similar in nature to the gold holdings that a certain Mr Beckham is reputed to be endowed with would they? And this preference of yours for crabs over lobsters. I can't really judge, as, as far as I can recall I've never had lobsters, although I did have crabs once.
Comments by GW., 21st September 2017
Boom Boom folks. My skills were once comparable to Mr Beckham Ozy but i'm sure he's kicked a lot more goals. I've a compass that could have saved the Titanic, Dtease but it will only point South these days.
Comments by DTease, 21st September 2017
GW, south is all you need unless you're planning on coming back?
Comments by Mr X, 4th January 2018
I don't know when St John's primary school was demolished, but nearby are Holy Family and St John's churches. Canon Sharples who only had one arm, was the former Headmaster of the Deanery High School who was ordained a vicar, and St John's was his church.