| | | |
| --- | --- | --- |
| Mesnes Park | | Views: 1713 |
| Mesnes Park-29-08-1965(7pm) | | Comments: 35 |
| Photo: Barrie. Item #: 29680 | | |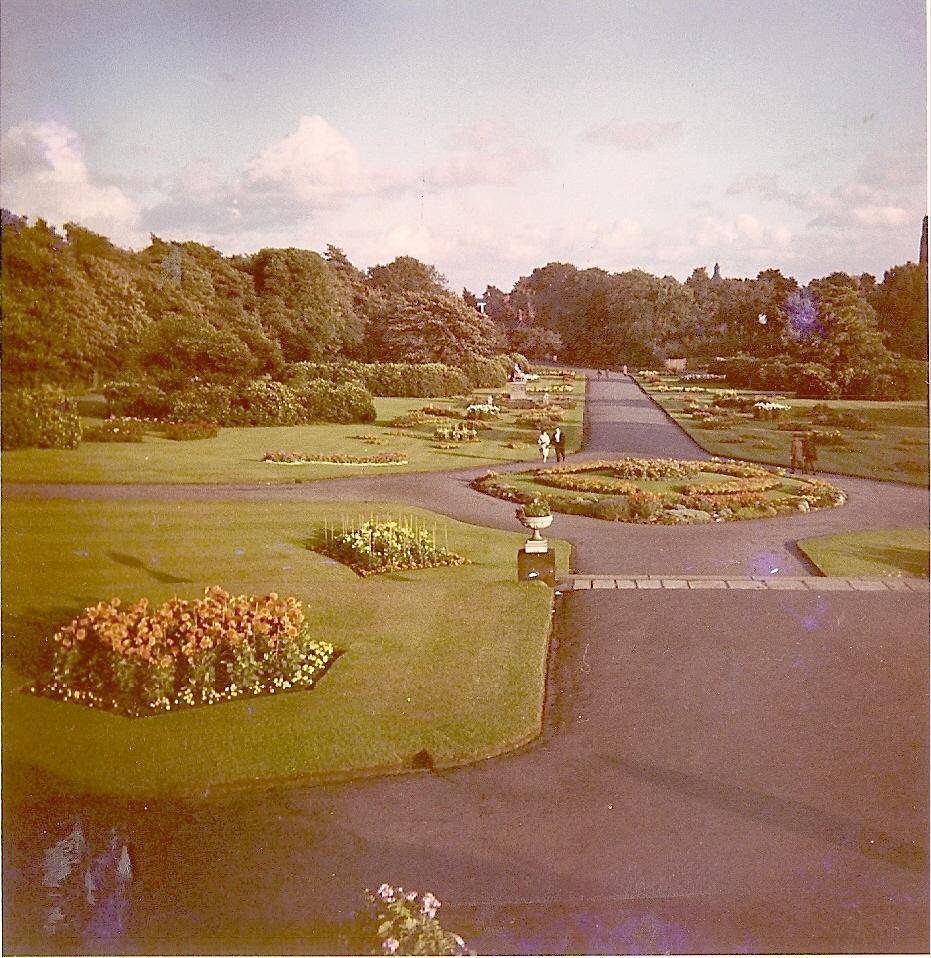 | | | |
| --- | --- | --- |
| | Image scaled down from 931px to 958px wide | Click here, or click the photo to view original |
| | | |
| --- | --- | --- |
| | Evening view of the floral arrangements.Seen from steps near cafe. | |
Comments by Veronica, 24th August 2017
The days when the flower beds were more elaborate and keeping off the grass was 'de rigueur'- the trees look thicker then than now to me.
Comments by irene roberts, 24th August 2017
Timeless.
Comments by Joseph, 24th August 2017
What a lovely photo of the park on a nice Sunday evening.
Comments by Jarvo, 24th August 2017
Trimmed lawns and the yellows and reds of summer flowers...A place that was sacred to every Wiganer. Not a hoddie or dickhead in site. The parents of those demons were yet to be born. But born they would be - like something from another planet. How sad.
Comments by Phil, 24th August 2017
Yup, the trees were thicker, the grass was greener, the summers were longer, the children were more respectful. God bless those rose tinted glasses!
Comments by jack, 24th August 2017
Keep off the grass signs were not necessary in that era. Even as kids playing by ourselves we knew it was out of bounds or the park keeper would by after us.
Comments by Maureen, 24th August 2017
An era of respectful..beauty loving people..simple lives..to be able to admire the park in all its glory,we've certainly seen the best years.
Comments by Philip Gormley., 25th August 2017
A great photo Barrie.
And as cricket commentator the late John Arlott OBE had once said ... "The tempo is superb".
It's a pity that today's minority don't seem to have the patience to move along at the pace that would help them to relish and genuinely be affected by places such as this. Their precept seems to be based on 'quick fixes', the rush to be effective, poorly thought out bucket-lists ..., strewth! Slow down, see and be seen!
I love the stillness and evocative images afforded by the wide open spaces of Parks and Gardens, and although I'm unlikely to ever become a pipe-smoker, show no miff towards Mr Arlott's claim that " St Bruno burns at a nice even pace". Nor, amusingly, would I towards the aroma of Holland House (a 'scented' Cavendish.) being wafting across their lawns. Looks like Chrysanthemums at bottom-left - wouldn't bet on it, though.
Comments by Garry, 25th August 2017
Maureen has hit it on the head with her comments. Lack of respect. I ask myself, where has it all gone wrong, not only with this park, but society in general. Parents, Schools, lack of Police???? Whatever it is, it's sad.
Comments by Albert., 25th August 2017
Garry. A simple answer to your very important question. "If there is no, or very little punishment, to fit the crime, or the offence, then there is no deterrent." End of story.
Comments by Jarvo, 25th August 2017
Memories of the Summer Show, walking towards the main gate with my mum and dad after the firework display.
Comments by Mikew, 25th August 2017
Garry, please don't infer that crime and anti-social behaviour in general is a recent thing. I grew up in the 50s in Springfield and can recall plenty of incidents of violence, gang fighting , vandalism and theft. Country to popular opinion my parents never left their front door unlocked and open
Comments by Veronica, 25th August 2017
I had forgotten the Summer Show ...in 1961 I came 2nd in an Art Competition with entries from all the Wigan Schools ...I won 5 shillings!!!
Wonder what that would be worth in today's money! :0))
Comments by Barrie., 25th August 2017
This was the 1st August Bank Holiday weekend at the end of August.Previous ones were the 1st Monday in August. Not many strolling in the park. I was on a walk from Standish via Beech Hill, through the park to the Plantations-Haigh Hall, Red Rock and back to Standish.The weather was sunny and very warm. Thanks to all for the positive comments. Have not been through the park for many years now.
Comments by Carol, 25th August 2017
Beyond The Horizon of the place we lived when we were Younger.
The Grass Was Greener.
The Light Was Brighter.
Comments by Maureen, 25th August 2017
In the 70's I used to go to Wigan tech art class..'Painting for Fun' when the summer show started our teacher put my painting of Mona Lisa on show in one of the tents..proud as punch I was.
Comments by Kenee, 25th August 2017
Are you a Pink Floyd fan by any chance Carol ?
Comments by Veronica, 25th August 2017
Maureen I didn't even know I had a painting in the show! I found out in a roundabout way. I was working at Aspinall's on Mesnes St and the young son of the boss told me he had seen the picture in the park. The Headmistress at school sent it in -it was done before I left school...I had to go to school to pick up my 'prize'! 5 bob! I never saw that picture again - I recall it was an ice skater twirling about on ice! If I'd have known I would have done a ballerina as that was my 'forte' at the time!
Comments by Julie, 25th August 2017
Would the Council ever consider bringing the Summer Show back like it was? Walking days were wonderful, but brought to an end as if pagan to the modern day Wigan . I am no doubt out of touch and lost in memories from the past..
Comments by irene roberts, 25th August 2017
I once had a pen-and-ink sketch in the Summer Show....Veronica and Maureen, weren't we the artistic ones?!!. I was married but Peter was away with he T.A. and my Mam and Dad went with me to the show. We were on the bus home when a very loud woman known to my Dad boomed down the bus, "IS THAT THI DOWTER, BOB?", to which my Dad said it was. " 'OW OWD IS 'ER?", she yelled, which wouldn't have been so bad if I had been six, but my Dad had to say, "Twenty-two". Everyone on the bus turned to look at me.....have you ever wanted to be invisible?!
Comments by Albert., 25th August 2017
Barrie. If you are in a position to do so, if you would be so kind, as to take a similar photograph, on Tuesday, the 29-8-17, to see what change there is, if any, to the scenery depicted here.
Comments by Carol, 25th August 2017
Our Weary Eyes still stray to the Horizon.
Though down the road we've been Many Times.
The Taste Was Sweeter.

Kenee: Yes * High Hopes * For Ever And Ever *
Comments by Veronica, 25th August 2017
Aw Irene how embarrassing as if you were invisible! At the time 'cringing' but looking back funny...that's how some folk were then... I suppose it was because everybody used to know everybody especially on buses going home.
Comments by Pw, 25th August 2017
Mikew.I came from a poor area in the 50's early 60's in Hindley and I do remember the front and back door never being locked,and I never had a key.It was the norm in those days,but perhaps nobody had anything to flog.
Comments by Veronica, 25th August 2017
Another to bring a tear to the eye......

Though nothing can bring back the hour
Of splendour in the grass, of glory in the flower;
We will grieve not, rather find
Strength in what remains behind;

"Intimations of Immortality from Early Childhood."
WWordsworth
Comments by Mary, 25th August 2017
Agree with PW , Mike , we also had no worries . We were all in the same boat, you don't rob your own, we had nowt anyway. It was like an invisible family , but an incredible bond. We gave to each other what we had and moved on. I never once feared my backdoor , I closed it shut , and went,, that's how it was. We just knew back then, how and why. Now life is based on more and more, faster and faster. The faster you move the more you get. I prefer to remember the bond I knew , but respect my world has gone..
Comments by Garry, 25th August 2017
Well I can't recall anything so bad Mikew. Maybe I kept away from trouble.
Comments by Jack, 26th August 2017
Garry I agree with you. I was brought up on Wigan Lane and played with the local kids. We were not all angels but we did not thieve or were violent with anyone.Mikew I served a 6 year apprentiship in the early 60s not far from Springfield with a lot of lads from there , but I never heard of any gang violence .None of them were locked up for theft.
Comments by Stuart, 27th August 2017
I grew up in Springfield in the 60s and I remember gang fights. Usually kids from different schools such as Sacred Heart and St Andrew's or those from Ingram Street against those from First/second/Third Avenues. It wasn't major violence like mods and rockers but it involved throwing house bricks. Theft was rare though, I don't remember anyone around where I lived being burgled. I do feel that too many on here wear rose-tinted glasses. Lets face it, would you really swap your centrally heated, all mod cons home for the cloud and draughty houses of the 60s. Outside lavvies, no hot water most of the day, no phone, no fridge and three channels on the telly. To cap it all, there was the miner's strikes in the early 70s so sitting in the dark became a past time as well. Go back? No chance.
Comments by Philip Gormley., 28th August 2017
I remember there having been only three channels, as well, Stuart. The vertical and horizontal 'hold buttons' on our 1950s TV set seemed to require almost constant attention ... Grrr! The limited number of channels gave some relief for the doughty, though.
Comments by rt, 28th August 2017
I grew up in the 50s and yes there was violence mostly around pubs and the gangs where usually school kids throwing stones at each other there was also the odd break in and because nobody had anything of value the gas and elect meters where emptied proper little pigy banks they where but the culprits stood out like a sore thumb when they paid for everything with shilling pieces
Comments by Veronica, 28th August 2017
There has always been crime in every decade down through the ages! What has been lost is the communities of the time above. I grew up in a wonderful and 'poor'( relative to nowadays)community which will never be repeated sadly -I don't think. One thing people never did then was drop bottles,cans, food wrapping willy -nilly all over the place- with no respect whatever for others. If there was litter it wasn't to the extent of what it is now.
Comments by Veronica, 28th August 2017
Further to the dropping of litter which for me sums up the attitude of the imbeciles who do it- is the 'couldn't care less' thinking behind it! You could give them brand new houses (as in council houses) and they wouldn't appreciate them. They wouldn't take pride in them or look after them. New council property was built in the 30's around Wigan that people took pride in-we didn't all live in two-up and two-down houses for that matter. No I wouldn't want to live in the house I was brought up in now but I certainly miss that community and the street. Even though the terraced housing was humble by today's standards -many people took pride in them and looked after them and kept them clean as best they could. People had dignity then and standards. There's a culture now that exists in the minority which ruins it for everybody else!
Comments by Philip Gormley., 28th August 2017
Litterbugs probably don't find the correct and yet simple procedure of using the 'litter bin provided' fulfilling, so perhaps the tasty morsel of 'commendation for each deposit', would see the correct procedure carried-out ... 'Aw'. A tasty morsel? ... not on your Nelly!