| | | |
| --- | --- | --- |
| Market Place, Wigan | | Views: 2658 |
| UNDERGROUND TOILET | | Comments: 20 |
| Photo: Frank Orrell Item #: 29662 | | |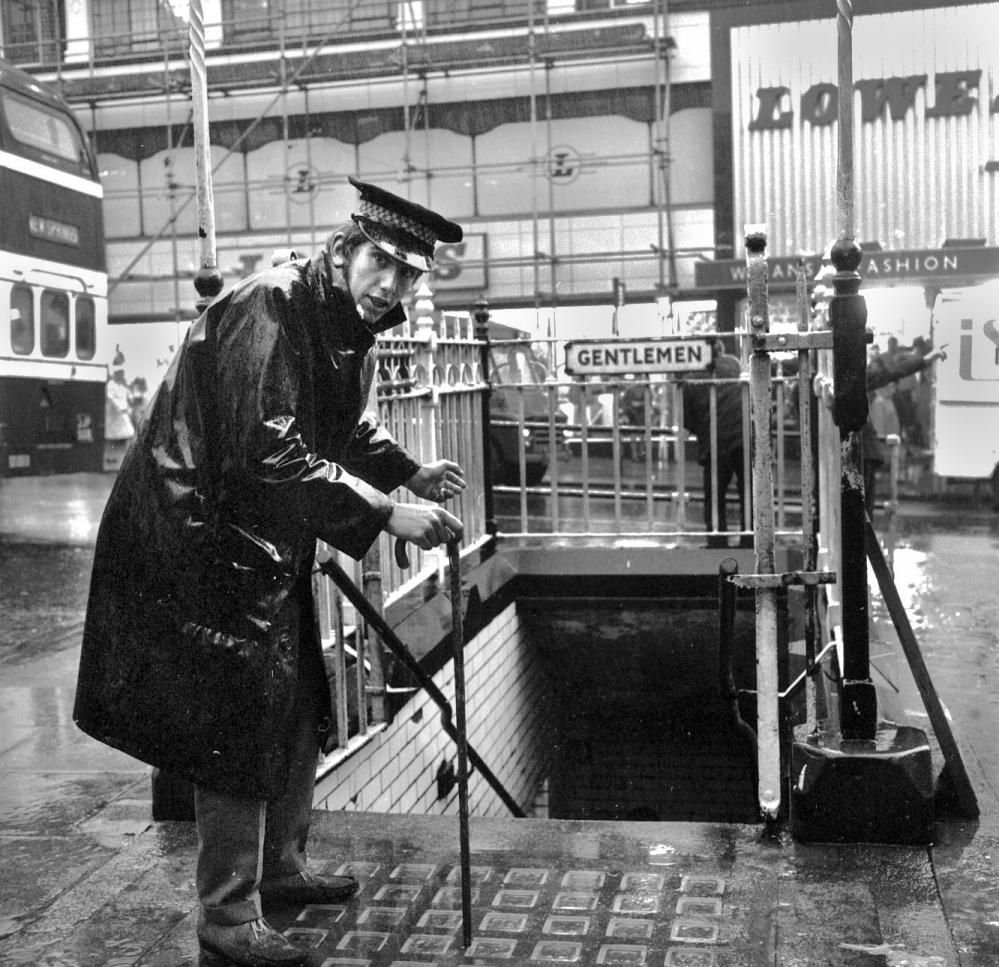 | | | |
| --- | --- | --- |
| | Image scaled down from 999px to 967px wide | Click here, or click the photo to view original |
| | | |
| --- | --- | --- |
| | A guide to the old underground toilet in Wigan Market Place in 1968. | |
Comments by Roy, 19th August 2017
White City as it was commenly known.
Comments by Tri., 19th August 2017
Is that Shane Macgowan in the photo?
I can't recall the Pogues playing a gig in Wigan.
Comments by Albert., 19th August 2017
My very good friends of the forties, and fifties, Jimmy, and Ronnie Williams, (May they each R.I.P.) Their father was the attendant in these toilets, in the late forties, and fifties. (Jimmy. R.I.P.). He wore a peg leg. Lived originally in Spring View,and then, Lower Ince.
Comments by Roy, 19th August 2017
COMMONLY !!!
Comments by john, 19th August 2017
Great picture Frank. I remember it well.
Comments by TD,.., 19th August 2017
Super photo above the good old ablutions in Wigan Market Place. The guide chap is striking a fine pose in his mackintosh and does seem to have a look of Dudley Moor's mate, Peter Cook.
Comments by Pepsi, 19th August 2017
Looks like the New Springs bus in the back ground
Comments by Owd viewer, 20th August 2017
Albert, there was a man with a peg leg that cut hair in the 50s from spring view could he be the same man.
Comments by irene roberts, 20th August 2017
I can still hear the old pennies dropping into the slots in the doors of The Ladies, and the CLAAANNNGGG of those VERY heavy doors, and the flush of the chain pulled from on high, out of reach of a child, (your Mam had to flush it)! And we'd have stood back in amazement at a machine blowing hot air to dry our hands!
Comments by Albert., 21st August 2017
Hi Owd viewer. No, but they were related. The person you are referring to was Mr Edwards, he lived in Shed Street, Spring View. I believe he lost in his leg in a mining accident. He worked in the time office, or the lamp room, at Pearson's Colliery. He had two sons, Eli, and Fred. Eli died in a Japanese P.O.W.camp, in world war 2. Fred who was a school friend of mine, was a fitter at the Maypole Colliery. Eli is commemorated, on a plaque, on the wall of Ince Parish Church. A contributor to W.W.A. Jimmy Edwards, may have more details. The families of Williams, Edwards, and Berry's were all related. All great people. All staunch Spring Viewers'
Comments by AH, 21st August 2017
I think these toilets were left intact and the entrance capped does anybody know any different.
Comments by Veronica, 21st August 2017
I have often wondered if the space underground was filled in or left intact.
Comments by Rev David Long, 21st August 2017
Albert - Eli is also remembered on the Memorial in St Mary's Church - a replacement for the one lost when the original St Mary's (which would have been 150 years old this year) was demolished in 1978.
His uncle, also Eli, is remembered on the WW1 plaque in the church. He died on the Somme. He is also commemorated on the WW1 Memorial in Ince Cemetery. Why the WW2 plaque was installed on Christ Church, instead of the names being added, as was usual elsewhere, to the WW1 Memorial, I don't know. The plaque at Christ Church also omitted the majority of names of those from Ince who died in WW2.
Comments by baker boy, 21st August 2017
try having a pee in wigan now
Comments by Albert., 21st August 2017
Reverend. Somewhere at the back of my mind, I seem to recollect that Graham Worthington told me that Eric McPherson, who went to Spring View School, in the forties, was instrumental in arranging that missing names were added to the plaque at Christ Church. I believe one was Eli Edwards.
Comments by Rev David Long, 21st August 2017
Albert, local Spring View boy, Eric McPherson's excellent work covering all the WW2 Memorials in Wigan MBC, (Roll of Honour, Anzio Publishing,2001) lists Eli Edwards as being on the original Christ Church Memorial. The new memorial was commissioned by the local British Legion after his lists were published - but took no notice of them. What Graham might have recalled was my complaint to the Legion that they commissioned the new plaque without referring to Eric's work - and so omitted many names which appeared in his book who were eligible to go on that Memorial.
Comments by Rev David Long, 22nd August 2017
Albert - a follow up re the Christ Church plaque - the original is in the Album, item 12088, under Ince Parish Church. Eli Edwards is recorded on it.
Comments by Gerry, 23rd August 2017
I took the photo of the original plaque. Am i the only one who knows where it is?
Comments by DTease, 23rd August 2017
The last time I visited this place was in the 60s after a Saturday afternoon celebrating in the Crofter's Arms.
Having ensconced myself in the cubicle I removed my jacket in order to set about the job in hand. Unfortunately there was nowhere to hang said jacket so I rested it over the top of the door and got down to work. Whilst thus incommoded some scallywag saw his opportunity, whipped my jacket and took to his heels. By the time I had re-arranged my situation sufficiently to give chase the little toerag was long gone.
I had to make my way home sans jacket but just a little wiser and I never went down there again.