| | | |
| --- | --- | --- |
| PUBS | | Views: 3809 |
| Can anyone identify this pub? | | Comments: 14 |
| Photo: Dave White Item #: 29621 | | |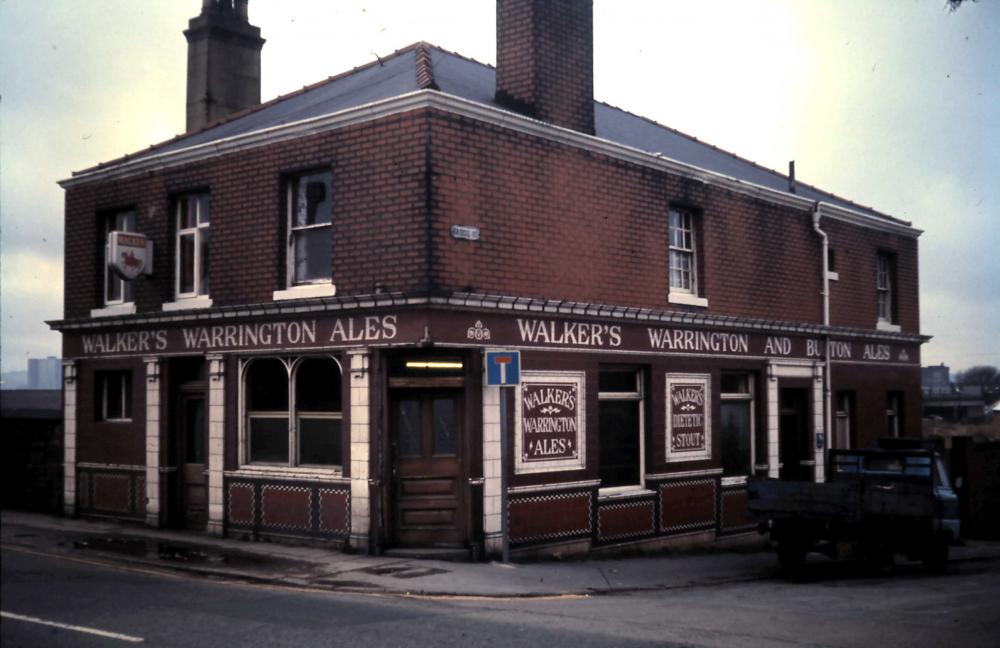 | | | |
| --- | --- | --- |
| | Image scaled down from 1000px to 648px wide | Click here, or click the photo to view original |
I'm not 100% sure if the pub is even in Wigan but think it may have been the Bridge Inn on Chapel Lane, Poolstock and that the street sign in the picture belongs to Bridge Street.

Neil Richardson, in his book Wigan's Pubs 1 said "Walker's Bridge was a red tiled, one room alehouse with a local clientele and a welcoming, roaring coal fire in the winter". The pub, along with others on Chapel Lane was swept away in the reconstruction programmes of the 1960s.
Comments by Garry, 8th August 2017
You're right Dave on Chapel Lane, the tall flats can be seen at Worsley Mesnes.
Comments by Maureen, 8th August 2017
Yes it's definitely on Chapel Lane.
Comments by Anne Melling, 8th August 2017
This is the Bridge Inn which was on the corner of Bridge St. and Chapel Lane it was the last pub on the left before the canal bridge and my Aunty Elizabeth Platt was the landlady in the 60s.
Comments by Harry C., 9th August 2017
Chapel Lane, I used to work across the road at Wigan Print, there was a pie shop on the opposite corner.
Comments by Helen B, 9th August 2017
There was another pub in Bridge Street, opposite the Bridge Inn, The Fox I think. Then a little further along Chapel Lane was the infamous Bears Paw, empty around the late 60's or early 70's, and used as a hideout for forgers.
The pie shop could have been Linneys, It was also a butchers shop.
I worked across the road at the Electricity Board at Bradford Place.
Comments by Dave White, 9th August 2017
Thanks for confirming, Anne. Mystery solved.
Comments by Sam h, 9th August 2017
Dave,use to pass this pub when I left school about 1965 on my way to work at Richard fosters furnature manufactures , my first apprentiship.walkers was a really good bear in those days better than some of today's.good picture Dave .
Comments by Ian, 9th August 2017
Great photo Dave, many generations of my Walsmsley family lived in Bridge Street from the 1870's until it was demolished.
Comments by Anne Melling, 9th August 2017
It was on the right sorry not the left
Comments by Fred, 9th August 2017
Yes Ian I remember the Boon family who lived in bridge street the family used to frequent the Bridge pub and the Fox
Comments by Stewart Revell, 30th August 2017
Thanks to everybody who provided info on this Pub.
The Photo was taken by my Brother Ian and his Scottish friend in 1974 when they were students. 43 years ago!
It was not known that it was going to be demolished at that time. So, if you Download this Photo, please give a 'Credit'/acknowledgement to Ian Revell who has the original print. Thank you.