| | | |
| --- | --- | --- |
| Wigan Casino | | Views: 2730 |
| Coming Prepared | | Comments: 49 |
| Photo: RON HUNT Item #: 29555 | | |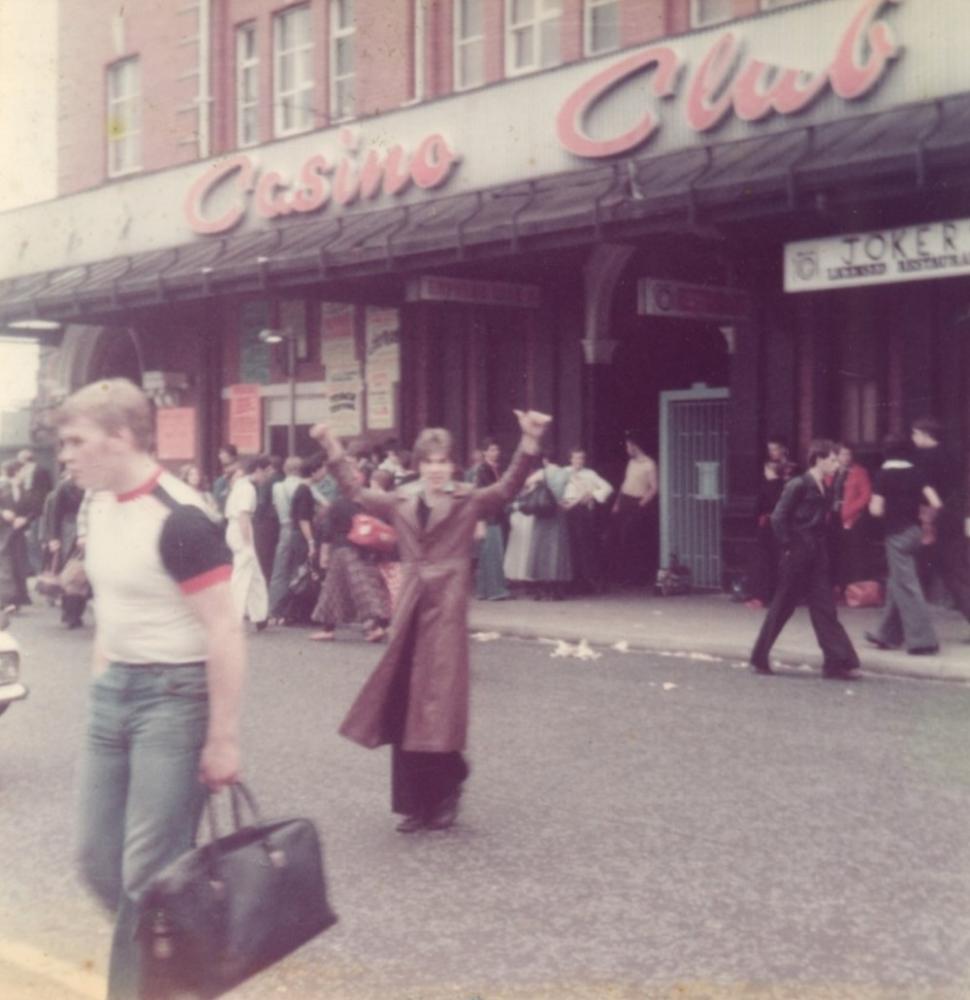 | | | |
| --- | --- | --- |
| | Image scaled down from 970px to 1000px wide | Click here, or click the photo to view original |
| | | |
| --- | --- | --- |
| | Looks like the people are arriving all set for a night of Northern Soul. | |
Comments by TD,,, 13th July 2017
There's a Ghost In My House!
Comments by RON HUNT, 13th July 2017
Great Record. Even Fred thinks so...
https://www.youtube.com/watch?v=ug_NpT5Io8g
Comments by Carolaen, 13th July 2017
Not my scene at all even though I was that age at the time. Me and my mates were into Blues/Prog Rock like Led Zeppelin. Pink Floyd etc. having said that I was at WGS with Russ Winstanley who became Mr Northern Soul himself as he promoted these events and he appears on nearly every documentary about the phenomenon. Well done mate - hope you are keeping well and I think he still lives in the Wigan area.
Comments by Owd Fossil, 13th July 2017
Met my wife at the casino 1971 When they had live groups not just playing records.
Comments by Jarvo, 14th July 2017
This looks like the morning after the night before. Typical stuff: posing with leather coat (bought at the Manchester Market) and funded by mummy and daddy. This crowd bored me to death. And so did the music they 'danced' to. With hardly anywhere to go at that time(Wigan had a poor night life) these posers latched on to anything that they deemed cool or out of the ordinary. It wasn't, of course, but this didn't distract them. Notice the Bay City Rollers boys in the background...That about sums the whole scene up: soulless, lifeless, and insular. Most of these oddballs later became mobile ladies' hairdressers...with shaved shiny yeds...
Comments by Tudor, 14th July 2017
They bored you to death because you were too old for that scene, Jarvo. Pemberton club/pub life with the cardigan and comb over crowd was your mark. Photos like this is not something you should comment on really. Didn'y you used to get laughed at by the lads for riding your sisters pony at this time? Sissy's will be sissy's I suppose though.
Comments by . Ozymandias ., 14th July 2017
Don't sugar coat it Jarvo, just tell it as it was mate.
Comments by Maureen, 14th July 2017
And none of it was as good as the Emp'.
Comments by TD,,, 14th July 2017
Great photo and link Ron. Without getting over nostalgic about this particular location, it was the scene for generations of Wigan people, whatever their taste in music or dance. Sterile redevelopment now sits on the site of course and possibly not without reasons or good intentions, but a very sad consequence of destroying so much of the the old town, is the loss of the irreplaceable ambience, never to be experienced by those who follow. Thanks for sharing, WW KTF.
Comments by Philip Gormley., 14th July 2017
Maureen - I had some good nights at The Emp', as well. I remember going there to see P.J.Proby ... A Day in the Life, and Ode To Billie Joe, were two songs that I remember from his performance. Good singer was 'Jim'. Northern Soul 'dancing' hadn't been for me as my dance-floor movements were limited to nothing more than a decent shuffle in blind obedience time, but I still like the effervescence of it all i.e., What, sung by Judy Street.
Comments by RON HUNT, 14th July 2017
Looks like Rita Hayworth also liked the song but she only has eyes for Fred<g>
Comments by WILLY WACKUM, 14th July 2017
Not many obese Northern Soul dancers around in those days. They probably burned off more calories in one night than most young people these days burn off in 12 months. At the time it wasn't my scene but Ive got to admit I do like the music and I like to watch them dancing
Comments by Maureen, 14th July 2017
Phillip,I absolutely loved the Emp'..I was there every night except Wednesday..plus I'd no bus to catch ( I lived in Great George St )..which was a bonus..after we came out we would walk up and down King St and Library St...or else walked home by the latest boyfriend..what sticks in my mind is the fact that the Bobby would say to us all "come on then let's have you all home" and we went..can you imagine today's youths going home if a Bobby told them to...I don't think so..weren't we good kids ha ha.
Comments by John G, 14th July 2017
Jarvo: I really love your dry sense of humour, that did tickle me about being mobile hair dressers and bald yeds, like Ozy said say it like it is.
Comments by Philip Gormley., 14th July 2017
Maureen - Walking up 'n' down King St and Library St after leaving The Emp', suggests to me that you and your friends had deliberately been taking the long way home, as if not wanting that which had previously been enjoyed to have come to an end - fabulous! Do you remember the line from Simon & Garfunkel's song, For Emily? ... "I wandered empty streets ... ". Our 'crew' enjoyed the same process on many occasions: leaving behind The Room At the Top (New Year's Eve?) being one in particular. We had been heading our way home to Billinge via Winstanley and when almost there, and to everyone's surprise, found our previously detached crew member leaning against the hand-railing of the M6 Motorway bridge - thankfully, we all reached home safely. Take care, and thanks.
Comments by Veronica, 14th July 2017
(as I was saying) I loved the Emp and remember seeing Tom Jones there. There was quite a few items of clothing being thrown at him (not mine I hasten to add). Northern Soul was a tad bit later than my day. The very first time I went the Twist was all the rage. I'm glad I never went to the Emp again after Northern Soul took over - it would have tainted my memories. I must admit when T.V documentaries show the young ones doing their moves on the dance floor I'm amazed at the energy ......!
Comments by irene roberts, 14th July 2017
I never went to The Casino or The Emp so can't comment but I enjoyed Maureen's memories of more innocent days. Thanks to Philip for bringing back "For Emily", which had completely vanished in the mists of time for me....."I wandered empty streets".....a beautiful song. Finally, I don't believe that that Veronica didn't throw any unmentionables at Tom Jones!!
Comments by Veronica, 14th July 2017
If truth be told Irene it was all a 'blur' as I was shortsighted and too vain to wear specs. I boarded many a bus I shouldn't have done because I couldn't see where it was going! Happily I got some contact lenses later after walking into double glass doors! I have worn them for years!
Comments by Grannieannie, 15th July 2017
Enjoyed a smashing book recently,'Cider with Roadies' bought by my granddaughterfor a recent birthday.Reading the section on Stuart Maconie's early life talking about the music scene in Wigan brought back a lot of memories. Not mine, I was too old for all this lark, just the younger members of my family,but still enjoyable.
Comments by irene roberts, 15th July 2017
I am currently reading Stuart Maconie's "Cider With Roadies". It is very funny in places. I also like his "Pies and Prejudice", which features Wigan a lot, and "Adventures on the High Teas" which features many other places.
Comments by Jinksi., 15th July 2017
Phlllip, PJ Proby used to go in the same Pub as me when I lived in Bury.Always wore a Stetson Cowboy hat.& his Jeans tucked in his Boots.Used to do a turn on Saturday nights always got the place rocking.Think he moved to Blackpool were his Wife came from.
Comments by Philip Gormley., 16th July 2017
Jinksi - I knew that he had lived in Lancashire - Bury, and then Blackpool, was it. Thanks. I still reckon that, in his pomp, he had a very good voice.
Comments by Veronica, 16th July 2017
I remember when P J split his trousers and it became headlines in the newspapers! I agree he did have a good voice and seemed to me to model himself slightly on Elvis.
Comments by RON HUNT, 16th July 2017
I believe P.J Proby married a very young girl I saw him in a show in Manchester a few years ago when he made a surprise appearance
Comments by Philip Gormley., 16th July 2017
Maureen - Another recollection of 'taking the long way home' that I have, is of the occasion when we walked for part of the way home after seeing The Small Faces at the Floral Hall. After a brief difference of opinion between a member of our crew and the driver, a parting of company ensued - at Scarisbrick. The long walk from that moment onwards, until eventually being given a lift by a complete stranger, wasn't too difficult to bear as we were all still cock-a-hoop after enjoying ourselves at the concert. I'm sure you'll have seen instances of a few spectators remaining in their seats for a while after watching a Cup Final, as if not wanting ... . It's the same kind of thing really. Take care.
Comments by Al, 17th July 2017
I have to agree with Jarvo there. I think scenes like this set the precedent for what we have today (not just Wigan but everywhere), which is the nightclub, binge booze culture full of awful music. There were far, far better times than this overrated part of Wigan's night scene, but you never hear people talking about it. But I can understand why people get so nostalgic about the Casino days, as it no doubt was better than what we have today. At least Wigan then had its own identity, now, like with the shops, etc, it's night scenes are the same as elsewhere.
Comments by TD,,,, 17th July 2017
AL - There could never have been any binge booze culture precedent set at this scene. They did not sell booze!
Comments by Andy C, 18th July 2017
Care to name the times and place in Wigan nightlife history that were far far better al? That people would travel the length and breadth of the country to listen to records that couldn't be heard anywhere else because they were the only ones this side of the Atlantic.
Along with the rugby and the Pier the Casino put Wigan on the map.
Comments by Sam h, 21st July 2017
jarvo,every youths era is the best mine was the mid sixties, but every kid enjoys there's that's how is, and should be.
Comments by Veronica, 21st July 2017
How true Sam- mine was the mid sixties as well! I recall lots of groups played in the pubs. The Old Hall at Ince was one with 'The Voqueros' (might be misspelt) and The Banner pub in Hindley had a few good groups on there.
Comments by Julie, 21st July 2017
Sam H , Poetry in one sentence.
Comments by Sam h, 21st July 2017
Julie, thank you my dad disliked the sixties music but loved the 40s and 50s but everyone is entitled to think there times are the best, and they are such is the beauty of all our youth.
Comments by Sam h, 21st July 2017
Veronica, I also use to visit the old hall during the sixties, the groups I remember were hoggy and the membrains, mick hurst and the trackers ? And i vaigly remember a group called night train . Happy times.
Comments by Veronica, 22nd July 2017
If I hear 'Hey Mr Tambourine Man.....'. I'm right back to those days! Good times! I love 40s music as well- the romantic ones -'Night and Day'- 'When They Begin the Beguine'- 'Fools Rush In'....and many more...play it again Sam! There's good music in every decade.
Comments by TD,., 22nd July 2017
Sam - Mick Hurst and the Trekkers. Believe the similar named Trackers were a Hindley band.
Comments by Sam h, 22nd July 2017
Td, your bang on there .think I watched them also at the Monaco in hindley really good group I'm almost sure mick hurst had something to do with Wigan rugby club in later years but in a clerical way, happy times.
Comments by TD,., 22nd July 2017
Sam - Happy days indeed and what a coincidence. Different person, but one of the Trackers was also later involved with the same rugby club!
Comments by Sam h, 23rd July 2017
Veronica ,it's Sunday morning and once I have finished my chores I tune into radio manchester at noon Mike sweeneys 50s and 60s show,very nostalgic to sing along to.
Comments by Veronica, 23rd July 2017
I might try that Sam thanks! It's usually Radio 4 and radio 2 for me these days! I can't stand too much noise of the modern stuff!
Comments by irene roberts, 23rd July 2017
Veronica, for obvious reasons, (Peter's and my Forties Re-enactors hobby), I love the forties music, but Oh!....Mr. Tambourine Man.....I am back in jeans and T-shirt and love-beads! I love that song!
Comments by Veronica, 23rd July 2017
Took Sam's advice and felt 17 again...!!! Hahahaha.....
Comments by Jinksi., 25th July 2017
Veronica,try Smooth FM
Comments by Veronica, 25th July 2017
Certainly will Jinksie thanks!
Comments by Kenee, 27th July 2017
Sam H:
It was Oggie and the Membranes, I was the bass guitarist until August 1968. I remember at The Old Hall the crowd getting up and waving their arms to 'Hi Ho Silver Lining'.
Played the Emp and Beachcomber a few times too.
Comments by Sam h, 27th July 2017
Kenee, remember the times very well you had a excellent group back in sixties ,I did read that Oggie had past away a few years ago ,you all had a excellent talent back then. Cheers.
Comments by Carolaen, 27th July 2017
Does anyone know if Russ Winstanley - Mr Northern soul himself is still alive and kicking around Wigan ?.
Comments by Marg Barker, 3rd August 2017
Carolaen, Russ Winstanley is still doing Northern Soul all over the UK. He's got a NS weekend at Butlins Skegness in September.
Comments by Carolaen, 5th August 2017
Marg. Thanks for the info. As I commented earlier on its not my music but I was at school with Russ and its always nice to see Wiganers making a mark in the world.