| | | |
| --- | --- | --- |
| Scholes | | Views: 2847 |
| SCHOLES LADS | | Comments: 55 |
| Photo: Frank Orrell Item #: 29539 | | |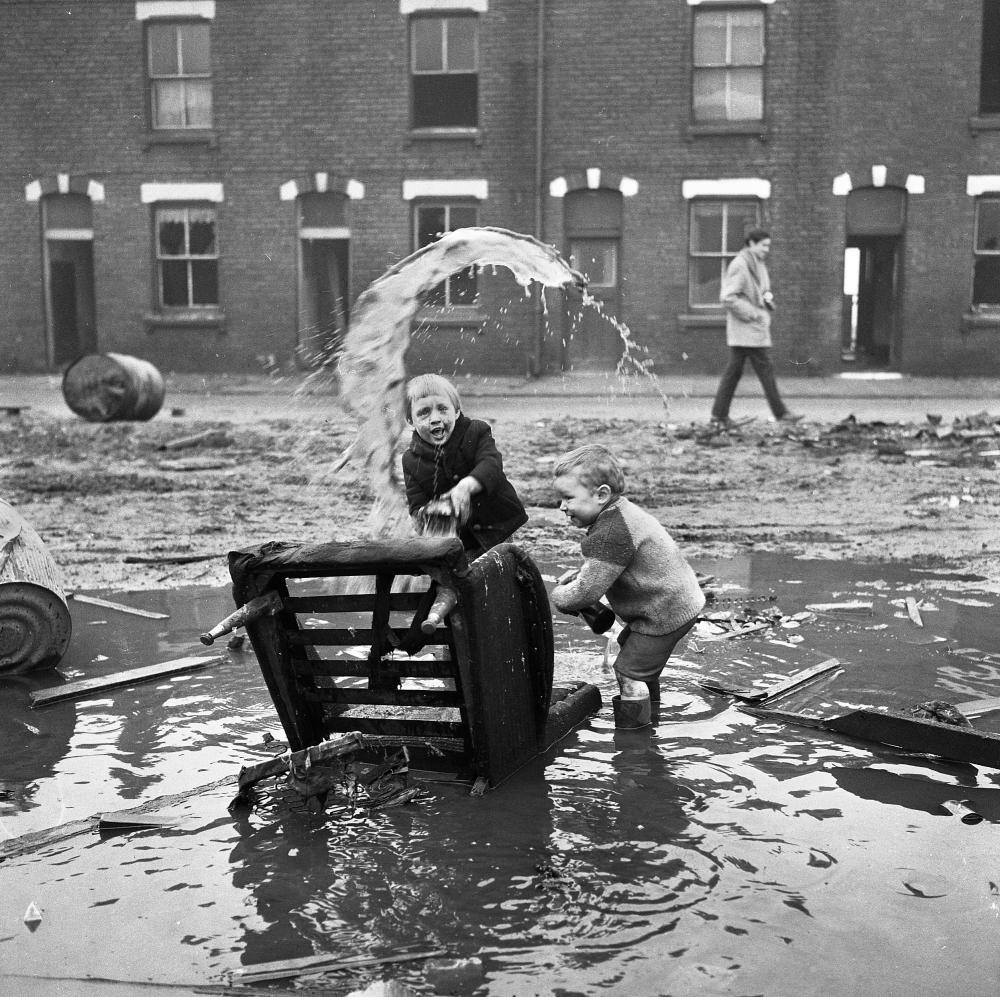 | | | |
| --- | --- | --- |
| | Image scaled down from 1000px to 997px wide | Click here, or click the photo to view original |
| | | |
| --- | --- | --- |
| | Young pals in their own adventure playground in Scholes in 1969. | |
Comments by Roger, 8th July 2017
I reckon the health and safety wallahs would be up in arms these days if they saw this.
Comments by Garry, 8th July 2017
That's all we did as kids, make up our own playground then, a bath later in a galvanised tub in front of the coal fire....great!
Comments by Linda Massa, 8th July 2017
Do children today still enjoy playing in the muck like what we did?
Comments by Philip Gormley., 8th July 2017
Won't be long, Mum.
Comments by DTease, 8th July 2017
Playing in the muck Linda? In their best designer trainers and clothes? I don't think so!
Comments by Pw, 8th July 2017
Sold two dolly tubs like the one on the left last year for£120.How times have changed
Comments by Veronica, 8th July 2017
I don't know why their mums made them put whellies on! What fun they are having and I wonder where it is exactly . My first impression was Greenough St for some reason.
Comments by Philip Gormley., 8th July 2017
Linda - I'm afraid not, and even if they were allowed to, wouldn't go to quite the same extent as that enjoyed by the two lads on the photo - just look at the height of that spray! In all fairness though, children will continue to place a foot onto the surface a puddle in order to create a rippling effect ... come along darling.
Comments by irene roberts, 8th July 2017
I can just hear someone's Mam shouting, "Mind tha' dunt faw in!"
Comments by Julie, 8th July 2017
One of the best pictures ever posted on WW in my eyes . Every picture tells a story, this one speaks volumes. Thanks Frank . You certainly post some wonderful pictures . This was a better time , somehow we have now
lost our way. As Frank''s heading puts it. 'In their own adventure playground '. No heads stuck in front of video games or mobiles . Children these days are spoilt beyond belief pushing them to want more and more of the new technology. If you see this as picture simply as poverty then you are missing legions. My own opinion.
Comments by Michael Gormally, 8th July 2017
I think this is the top of Spring Street.
Comments by Michael Gormally, 8th July 2017
I was wrong. It's not Spring Street. I just checked on Google Street View and the houses are not right.
Comments by H,, 8th July 2017
Could be the spare land known as the Breid? in the Lime Street / Morris Street area, used as a car park in the 1950's when Wigan were playing at home, Can we mind your car mister!!!
Comments by irene roberts, 8th July 2017
"Mind tha' dunt faw in an' be sure t'be wom afoor it gus dark!"
Comments by Veronica, 8th July 2017
Irene you are very good on Lanky dialect...or should I say Wiganese! I bet the kids think they are on Blackpool beach. ...bless 'um!
Comments by Alb, 8th July 2017
Great photo. I have to wonder what there will be to photograph of our children or grandchildren in 20 or 30 years time given the big brother/nanny state that is ever more encroaching on everyone freedoms, privacy and movements, often in the excuse of health & safety and security.
Comments by Julie, 8th July 2017
As per Garry x
Comments by Mick, 8th July 2017
Theres a lot more photos like this one in Franks second book, I bought the book the other day and was surprised to find my name mentioned in it.
Comments by Roger, 9th July 2017
Alb, I agree with you 100%, who was it that said:

The best way to take control over a people and control them utterly is to take a little of their freedom at a time, to erode their rights by a thousand tiny and almost imperceptible reductions. In this way the people will not see those rights and freedoms being removed until past the point at which those changes can be reversed.
Comments by TD,, 9th July 2017
Beltin shot! "Wil avfert wAsh slutch off mi mams cheer ney, un fotch it back in'tert frunt room , bifoower er cums wom"
Comments by Elizabeth, 9th July 2017
Lovely pic, so many happy memories. I remember playing on a patch of land we called The Croft,off Branch Street, just off Manchester Road, Ince and there was a cement mixer which had been left by workmen over the weekend. One of the girls got inside and some of the lads managed to switch it on. She got out unscathed and carried on playing.Life was just a big adventure with us, I don't envy kids today at all.
Comments by Philip Gormley., 9th July 2017
Veronica - Don't tell Irene too much about language families, as she's going rather swimmingly here. Her initial advice would also have been well-served if offered in my direction during our party's trip to Southport, during the late 50s. I'd been making steady progress in the direction of a shiny object that had been seen just beneath the surface of the Marine Lake, before succumbing to the dreaded algae that had formed at the water's edge. After being helped to the side, I found little difficulty in occupying the party's rearguard position - drying eawt some time afterwards. Ah well ... I tried.
Comments by Veronica, 9th July 2017
If it was one of those badges you're all very fond of most likely she would have given a hand in retrieving it Philip - never mind the algae!
Comments by TD,,, 9th July 2017
Philip the wonderful story of your attempt to retrieve the object from the Southport marine lake in the 50's is most admirable. Reminds me of a similar incident involving one of our party, on a trip into the same lake in the mid 60's. Poor lad came out sopping, but laughing and he soon dried eawt in the glorious sunshine. My guess for the aquatic activity in Wigan is Wellington st, Scholes?
Comments by Philip Gormley., 9th July 2017
TD - Thanks. So your party member surfaced with a smile on his face, did he; I sought refuge at the back of our party, in prolonged embarrassment. The street's name is some time in coming, but I'm confident that someone will 'nail it'.
Comments by A.W., 10th July 2017
Was chatting with my 86 year old Auntie the other day and we were laughing about how we played about in all sorts of muck and never came to any harm. Kids today live in a much cleaner environment but always seem to have a cold or some ailment.
Comments by Mark, 10th July 2017
all the doors are open
Comments by irene roberts, 10th July 2017
Frank, you took the photo....do you remember which street it was? x.
Comments by Veronica, 10th July 2017
It looks to me as if most of the houses are empty and awaiting being demolished.
Comments by Frank Orrell, 10th July 2017
I don't remember which street it was but it was at the time when there was a lot of demolition in the Scholes area.
Comments by NORMAN CUNLIFFE, 11th July 2017
I agree with H., it's the breid or Big Yard in Lime Street between the two Morris Streets, Upper and Lower.I lived in School Street (back to back with Lime Street) and during the war there were Air Raid shelters on the spare land. I spent several 'exciting' nights in the shelters being quite unaware of the devastation that Manchester and Liverpool were undergoing.
Comments by Philip Gormley., 11th July 2017
It seems as though H's suggestion, The Breid, is gaining momentum.
Comments by H., 13th July 2017
Norman I am 99% certain about it, I remember the air raid shelters and when the fair was on the market square they used to leave the unloaded wagons there, they made a great playground, those were the days. H.
Comments by H., 13th July 2017
Looking at that man's coat and drain pipes it may have been late 1950's early 1960's
Comments by Cliff, 14th July 2017
H the photo has been dated as 1969 by the man who took it.
Comments by Robert, 15th July 2017
Beltin, now that's proper playing, as kids we had nowt really but our imagination & ingenuity, as for me...., personally I was never happy unless I was gerrin dirty doing summat like building dens/tree houses/rafts/go karts made using owd pram wheels,not to mention damming up streams, making death trap rope swings over 40 foot ravines etc.
There was ALWAYS something to do & we all learned skills while doing it.
During the summer holidays on year we "borrowed" our dad's tools from their respective sheds & garages then went out in the woods, collected wood from everywhere then built two massive tree houses & LINKED THEM BY A BRIDGE!.....Oh the fun we had that year just playing..."Army" ..."Cops & Robbers"...."Cowboys & Indians"

One year we made a "Tank" from an old silver cross pram & a tin bath (The A Team had nowt on us)

Life was one big adventure, Although I am amazed that we never got killed..I shudder now when I think of what we did..
Although I did get a fractured skull & broken arm.....but you just walked it off in them days
Comments by Harry, 15th July 2017
Norman Cunliffe???
Are you by any chance the same Norman Cunliffe who was my headmaster at Blackrod St Katherine's primary in the 1970s??
Comments by Veronica, 15th July 2017
Robert you are a true child of the fifties!
Comments by Philip Gormley., 16th July 2017
Robert - Can I play too? I've got my own trolley, can make a den, dam a stream, and I can even ... sorry, Robert, I was getting too carried away, then, by your beltin 'child of the fifties' tales of derring-do. Great times, weren't they. I remember steering my trolley along the pavement down hill, and whipping off a load of flowers from the shrub that was situated on the right-hand bend; front and back off sides, were festooned with 'em'. I identified, some years later, that the shrub is called Ribes. Keep your 'child of the fifties' tales ... , coming. Thanks.
Comments by Robert, 16th July 2017
Thanks Veronica, Oh I also forgot getting up to no good mischief like playing Knocka door run, & apple scrumping, sometimes went fishing too.
On the odd occasion had to go coal picking for my mam when we had no fire,
Other pastimes were train spotting, playing footy, shooting air rifles, catapults.... & haymaking for the farmer....there was always something to do & the sunny days seemed to just last forever back then...
I feel sorry for today's kids with their X boxes & endless stream of technology that they are just a slave to, as they have never really learned how to just properly "play" or had the real freedom to.

We had it better & I wouldn't swap it either.
We were barmy scallywags,but deep down we had respect & knew how far to go.

Although I once got the fairy liquid squirted in my mouth because my Gran overheard me swearing...Oh dear.
Comments by Veronica, 16th July 2017
Not forgetting collecting for Bonfire night.....and raiding others kid's bonfire stuff - although little lads were worse than girls!! When you think of some of the furniture that was burned -it would probably be antique stuff by now- no veneer then it was solid wood!
Comments by Tony G, 16th July 2017
1969: Most like Regent or Oxford St. Lime St had built on with maisonettes.
Comments by Robert, 16th July 2017
Hiya Phillip, aye you bring thee trolley an I'll have thee a race, :-) I don't think any of our trolleys/go carts had any brakes back then, they really were death traps as we flew down't hill but if you got hurt it were your own fault.
My pal Derek once ran over me with my own go cart & my mam caught me afterwards "being mard" (as she put it), I can still remember being told by her....
'Stop skriking yer mard@rse, it's only a cut, now shurrup before i give thee summat fort skrike for'
(as she dabbed Iodine on it).
Didn't Iodine sting??
Whatever happened to Iodine?? you don't see it in the chemists anymore..
As for flying down the hill, it's just reminded me, that one snowy winter we found part of an old car (it was either a boot lid or a bonnet) that would fit about 6 of us kids on it.....we took it to the top of a big hill & rubbed the sliding surface of it with a candle so that it would go faster & we all piled on.......& we ended up shooting down the hill at a breakneck speed...terrifying yet exhilarating at the same time..
We just don't get winters like we used to either, or are equipped to deal with them these days, as if an inch of snowfall happens these days & everything grinds to a halt.
I've never forgot that car bonnet sledge that we had, funny isn't it how back then you could find a piece of junk yet end up having hours of fun with it?
Comments by Robert, 16th July 2017
Veronica..We often threw spuds wrapped in foil in the bommy afterwards it had gone to embers & they tasted so so good too.
Comments by Veronica, 16th July 2017
You should write those memories down Robert and send them off to Past Forward that's what people like to read about as one or two on here will verify.
Comments by Philip Gormley., 16th July 2017
Robert - Thanks for your further recollections. And Veronica's quite right; you should have them drawn up and forwarded to the nearest printers, even if the entire process takes until 'bunuck'. Your recent post contains your experiences of adventures that thrilled, and situations that would have tested the nerve of any parent, while your discovery of the value of waxing beneath a car bonnet was a masterstroke of 'national importance'. Please see People > Porter, within Album. It will keep the good times going for a while longer. Continued thanks, 'fettler'.
Comments by Robert, 17th July 2017
Philip, aye I've just seen the super trolley on the People> Porter page on here, (the one that was taken in Billinge in 1940), ours was a bit like that..only more lethal...
Past Forward, never heard of it, but I will certainly look into it so thanks.
Oh the childhood stories I could tell, personally I was a nosey little sod as a kid (I still am)...& one of my tricks back then as a kid was to just keep quiet & try to "blend" into the background so that I could eavesdrop on adult conversations & for example to listen to my Gran going on about what was going on in the mill where she worked, often If she caught me eavesdropping on her I would get sent on my way with a clout & told.......'Little pigs have big ears'
Veronica..Philip always a pleasure to chat with you, take care of yourselves...Bob.
Comments by Veronica, 17th July 2017
If you know where the History Museum is in Library St Wigan you can buy a copy of Past Forward. It comes out Spring, Summer and Winter and details will be inside it regarding stories. They are always inviting people to write their memories. It gets a good following Robert.
Comments by Veronica, 17th July 2017
Robert if you don't live in Wigan you can key Past Forward into google it's a Wigan magazine and find out about it.
Comments by NORMAN CUNLIFFE, 22nd July 2017
Yes, Harry, I was your Headteacher at Blackrod Parish School (St.Katharines).Thanks for asking,it's always nice to talk to former pupils.
Comments by Harry, 24th July 2017
Stand by Mr Cunliffe, I will email you directly.
Comments by NORMAN CUNLIFFE, 1st August 2017
Hello Harry, I'm waiting,with interest, for your email, although I don't know how you'll find my email address.
Comments by Harry, 1st August 2017
Hi Mr Cunliffe, I have emailed you via the hotmail address that you have listed on here??..is that one still active.
Comments by NORMAN CUNLIFFE, 20th August 2017
Yes Harry, my email is as you said.But even though I check my emails every day, I haven't received anything from you.
Comments by joe tighe, 12th November 2017
chuck the kids in the yard let them play in the muck and dirt from an early age and they will build the perfect immunity to desease.this just what i did when i was a kid and i am in good health at 76 years of age.sod the adverts you see on telly about killing all germs what a load of cobblers. doctors should heed what i have to say,if you cant live in your own environment hard lines. the adverts are only interested in making money by frightening people