| | | |
| --- | --- | --- |
| henry africas | | Views: 2171 |
| HENRY AFRICAS | | Comments: 9 |
| Photo: Frank Orrell Item #: 29455 | | |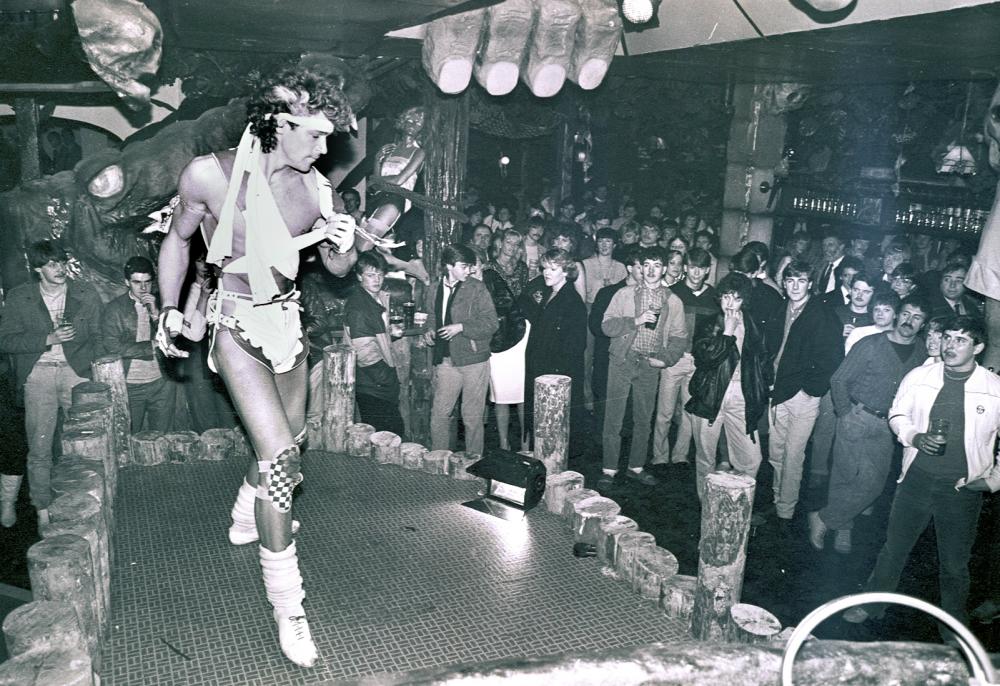 | | | |
| --- | --- | --- |
| | Image scaled down from 1000px to 686px wide | Click here, or click the photo to view original |
| | | |
| --- | --- | --- |
| | Disco dancer Barry Clark struts his stuff in Henry Africa's fun pub, Standish, in 1985. | |
Comments by Jarvo, 17th June 2017
Eighties wasteland: big hair and pre-shell suit Friday chippy teas treat. Note the apathetic looks and general malaise. The girls were prettier then; and knew how to carry their femininity. The boys? Despondent and suspicious. The guy dancing seems to be taunting them....Not the best way to enjoy Friday night after a hard week's slog on the production lines...Next!
Comments by Dave, 19th June 2017
According to Jarvo, the 80's were no good neither were the 70's at the Alnighters, when was there a good time?
Comments by Jarvo, 19th June 2017
Depends where you were. The seventies were varied; but one avoided the Soul Night tackle; it wasn't conducive to good vibes or feeling good at all. That said, the disco scene was good for pulling the birds. But NOT the pretend elitist scene of the damp all nighters. The eighties? Some good music around and the women dressed like women. You avoided the places like Clowns and HA'S because they did nothing for your self esteem. Early eighties were promising but tailed off after Live Aid. I now think that Queen were quite appalling...
Comments by GW, 20th June 2017
Ah' where is Barry now? ( and did he pass down those lovely legs to any of his female offspring?)
Comments by Dave, 20th June 2017
Queen, appalling, you're living on another planet mate.
Comments by Mary S, 20th June 2017
Couldn't agree more about Queen,over-rated theatrical rubbish. They went downhill after 'Seven Seas of Rye'
Comments by WN1 Standisher, 23rd June 2017
Watch Live Aid again, Queen smashed it
Comments by Alan, 23rd June 2017
There's more blokes watching him than women.
Comments by Essex Girl, 27th June 2017
Interesting photo and great legs for a bloke, shame about the negative comments. I always thought Wigan area was a great place for music and entertainment.