| | | |
| --- | --- | --- |
| Appley Bridge | | Views: 1735 |
| APPLEY BRIDGE MILKMAN | | Comments: 11 |
| Photo: Frank Orrell Item #: 29371 | | |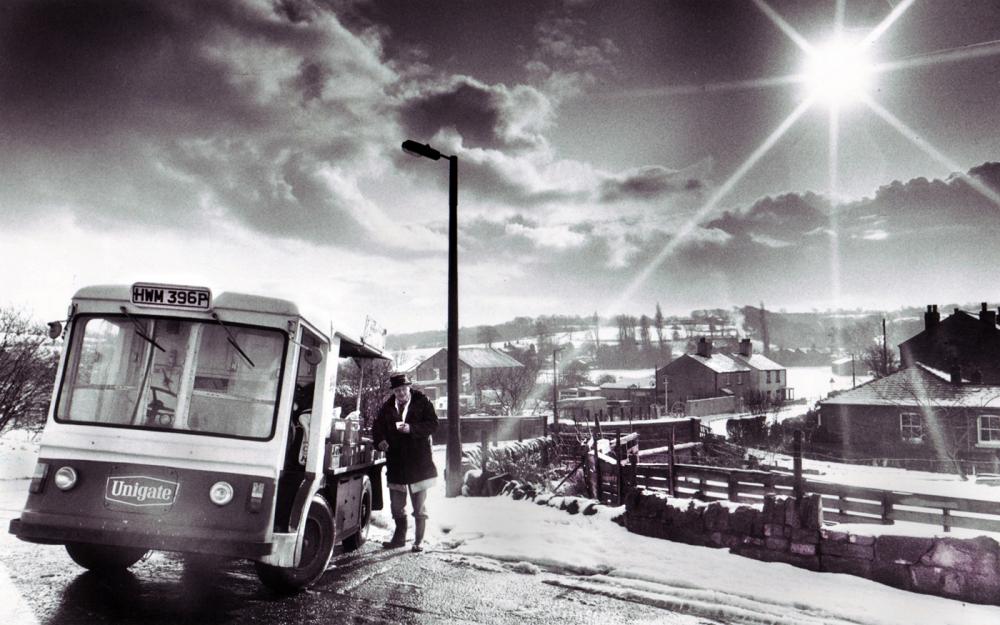 | | | |
| --- | --- | --- |
| | Image scaled down from 1000px to 625px wide | Click here, or click the photo to view original |
| | | |
| --- | --- | --- |
| | A milkman stops for a warming cuppa during his rounds on Appley Lane South in Appley Bridge on the wintery Wednesday morning of January 25th in 1984.Picture in my latest book "Just One More" Volume 2. | |
Comments by GW, 20th May 2017
All great photo's Frank but for me this one's the winner. A moment of magic caught on camera.
Comments by Colin Harlow, 21st May 2017
Great photo Frank: Unigate milk depot was based in Harvey Street just off Manley Street, Lower Ince.
Comments by Alan, 21st May 2017
This is what WW is all about..thanks Frank for restoring WW. You've made my Sunday.
Comments by Ann, 21st May 2017
The all winners Frank, This is Wigan World Albums for me, thank you.
Comments by Al, 21st May 2017
Great photo, and a proper winter like they should be. The Milkman seem to be another thing that's going the way of the dinosaur; they use to be so common place, yet now people very rarely use them. I don't know anyone who has milk delivered, it's cheaper to nip to the supermarket and buy a large bottle for about a £1 than pay about £14 for a fortnights milk.
Comments by Howard P, 22nd May 2017
I suspect no sort of heating in these milk-floats too.
Lovely photos Frank.
Comments by Albert., 22nd May 2017
What is that place used for now Colin, that was on the corner of Manley Street, and Harvey Street?. I recollect when it was Harvey's bakery. Is the old Regal building still in existence?. One time there were three film changes each week.
Comments by Rev David Long, 22nd May 2017
Albert - the cinema building is still there - it was a kitchen manufacturers when I went to St Mary's - but it is now used by a chemical firm called HiBond or Copper Safe. A Google of the latter name brings up a report of the inventive owner and the enterprising products he has developed.
The dairy was demolished some years ago - for a couple of years before its demise it was the temporary home for the milk float I used to borrow each Christmas to use as Santa's sleigh with which we toured the Parish.
Comments by Mick, 23rd May 2017
The milk float might have been struggling to get up the hill and over the bridge
Comments by Albert., 23rd May 2017
Thank you Reverend. A life time ago, as I remember it. I remember the Regal being built in 1939, and queuing up, in the black out, for the front stalls. The cinema put people in a different world, than the tragic one that they were living in.
Comments by ian, 27th June 2017
al the milk man is not a thing of the past we are still going strong in wigan area, its good to see some people surport the milkman, and not the greedy supermarkets