| | | |
| --- | --- | --- |
| Market Place, Wigan | | Views: 2095 |
| Market Place | | Comments: 19 |
| Photo: RON HUNT Item #: 29344 | | |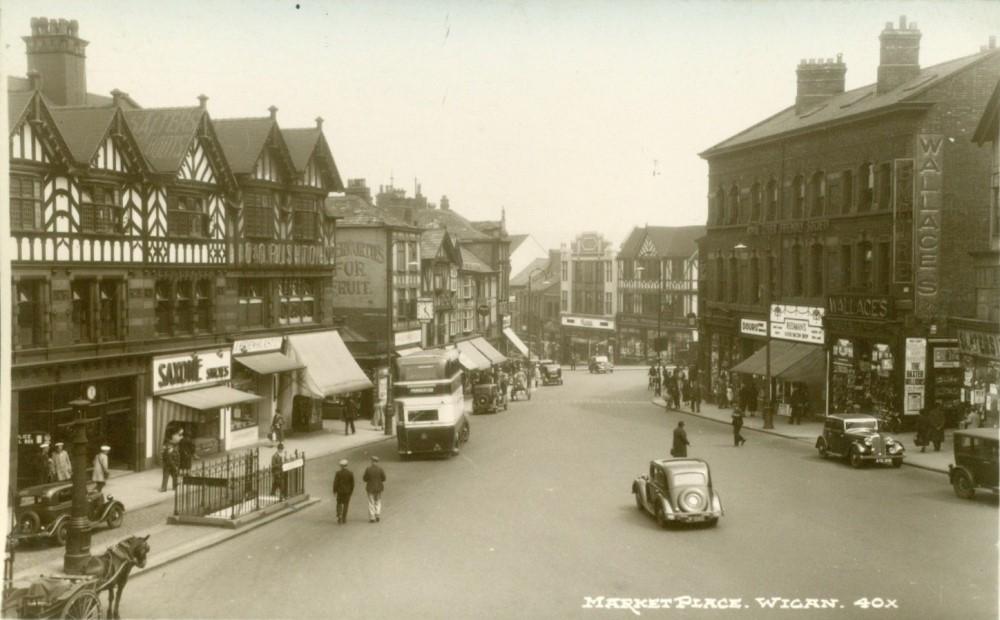 | | | |
| --- | --- | --- |
| | Image scaled down from 1000px to 620px wide | Click here, or click the photo to view original |
| | | |
| --- | --- | --- |
| | Postcard showing the Market Place 1930's/40's | |
Comments by Jack, 12th May 2017
I can just about remember the type of bus in the photo. It had bench seats with a walkway along the nearside upstairs and straps hanging over the walkway downstairs for standing passengers to hold on to.
Comments by Garry, 12th May 2017
So clean and tidy, Respect during war time Britain.
Comments by AP, 12th May 2017
I wonder why shops were then deemed to need sun blinds, but are now deemed not to need them. They seemed to disappear quite suddenly circa 1978!
Comments by A.W., 12th May 2017
AP, I think the shop blinds may have been abandoned due to many shops having air conditioning nowadays. Who remembers clothing shops having orange coloured cellophane over the windows in sunny weather to stop the dresses in the windows fading? I don't remember that much after the 60's.
Comments by Veronica, 12th May 2017
The summers were much hotter in those days -according to my old dad the sun cracked the flags. I remember that yellowish film laid across goods in the window display. It looks very homely the town centre- it was still like that in the sixties and seventies. As Garry said how clean it looks -bet there wasn't any chewing gum on the stone pavements!
Comments by Garry, 13th May 2017
Now now Veronica, I didn't want to go down that Avenue, but your dead right.
Comments by Syd, 13th May 2017
From then, to now, can anyone genuinely say that Wigan has improved?
Comments by Garry, 13th May 2017
Syd for me then was better than now. Today everything is about speed. We managed then without mobile phones and computers and still got the job done.
Comments by Howard P, 13th May 2017
I suspect we had time for each other too.
Comments by Eric, 13th May 2017
Did the clippies have a summer and winter uniform?
Comments by Veronica, 13th May 2017
I seem to remember the clippies wearing a beige cotton jacket with the sleeves turned up....in winter they wore a black wool jacket with red piping....I think!
Comments by Al, 14th May 2017
Anyone identify what cars those are - Austin. Morris, Ford?. I wonder who those belonged to considering almost ever working class person wouldn't have had a car during this time.

I agree about the stories about the summers in the psst being scorchers, often lasting the entire spring/summer period. People tend to put that down to distorted childhood memories, but I disagree, I think the summers were hotter, up to a certain period. I remember the late 80s & early 90s being very hot. I doubt this nonsense man made global warming/climate change is to blame, I think sun cycles have their part to play. Believe it or not, but during medieval times there was a warm period where it was so hot that vineyards were grown as far north as Hadrian's Wall.
Comments by Veronica, 14th May 2017
Is that why they built that wall Al to keep the pesky Picts out?
Comments by Ray, 14th May 2017
Hi Al,S far as I can make out, the car on the right with the chrome radiator is a Rover,the car nearest the centre is a Morris, the cars near the toilet,infront of the bus,
and firther on in front of the handcart are Ford "Y Model".
The car climbing Standishgate,approaching Market Place looks
like a Morris 10,not too sure,its a bit blurred. Ray
Comments by DerekB, 14th May 2017
Al, the car parked behind the toilet block railings is a Ford 8 or ten, the one in the middle of the road seen from the rear is a Morris and the one under the sign reading Wallace is, I think, a Rover.
Comments by Albert., 14th May 2017
Just two items that does make me doubt that the photograph was taken during the war years. There is no one to be seen in uniform, and the vehicle, showing its front, far right. The headlights are not covered with the compulsory grill, required for the downward projection of light.
Comments by Tom Clancy, 15th May 2017
THE BUS IS A Leyland TD Wigan Corporation
Comments by DerekB, 15th May 2017
Don't think this is the war years. I was born in 38 and I only remember the building behind the railings being Wigan Corporation bus offices which were finished outside in beige tiling and with a three sided square white clock above the entrance. Don't recall the building sited there in this picture at all. The Morris car referred to in mine and another previous posting is a late 30s model, so this picture can't have been taken earlier than then.
Comments by M G Price, 15th July 2017
Those buses were being used in the 1060's and the Standish bus stop was near the toilets. I used to go to Saxone Shoe shop and I think Dewhurst's butchers was in that row of shops.