| | | |
| --- | --- | --- |
| Skitters Wood Ashton-in-Makerfield | | Views: 1058 |
| Skitters wood 1964. | | Comments: 6 |
| Photo: . Ozymandias . Item #: 29334 | | |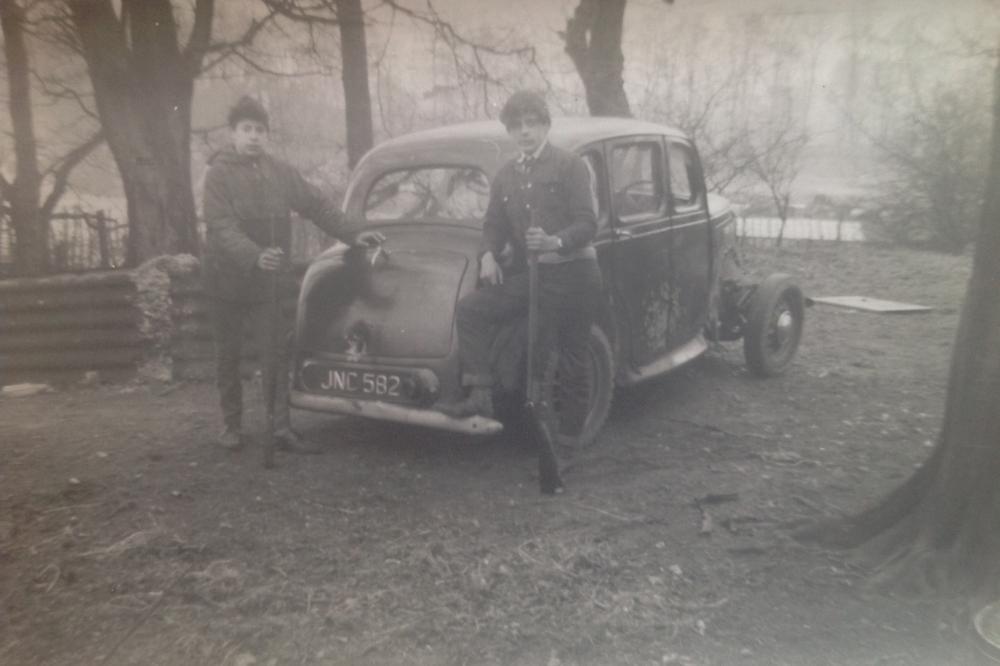 | | | |
| --- | --- | --- |
| | Image scaled down from 1000px to 666px wide | Click here, or click the photo to view original |
| | | |
| --- | --- | --- |
| | Bob Sankey on the right, posing with his grandfather's 12 bore shotgun, and Danny Towey with his Spanish 5 shot repeating shotgun demonstrate how to blast holes through an old Morris ten. It may be of interest to learn that Danny purchased the 5 shot repeater from his Mother's catalogue on easy terms. You could do things like that back in the 60's. | |
Comments by Howard P, 10th May 2017
I suspect you couldn't do that at any time.
Comments by Alan, 10th May 2017
A 12 Boring more like!!
Comments by Mick, 10th May 2017
I bought a Cooey single barrel 12 bore shotgun the same way back in the 60s! Had to collect the parcel from the local railway station.
Comments by Philip Gormley., 10th May 2017
There's something of the cavalier about the Skitters ensemble, which can't fail to impress. Their almost regulatory twelve-inch bottoms, winklepickers and a sprinkling of derring-do, have certainly gone some way towards securing the ensembles place in local teenage folklore, while the players' interest in all things mechanical had 'admittedly' laid the foundations of what were to become successful careers for both of them. The image shown here would easily have cut it as a 1960s album sleeve, while Danny's five-shot repeater must have been a fearsome bit of kit with an obvious facility for dealing with an aggressor that shows stubborn resistance e.g. a Morris 10.
Comments by GW., 11th May 2017
An literally great shot of more innocent times. Could be a still from the film, Deliverance!!
Comments by Al, 11th May 2017
Great photo. Yes it could be a scene from a film or album cover. No chance would you be able to do that today and walk around with that. What a boring place Skitters Wood is today, the usual non friendly and miserable dog walkers and kids playing on rope swings; I'm surprised even that's allowed these days without H&S or some environmental group sticking their ore in. I used to hear people mention about a deer being spotted in Skitters, no idea if that's true. I've also seen long pieces of branches that have been stacked up against a tree, anyone know if that's to do with scout groups?.