| | | |
| --- | --- | --- |
| Lower Ince | | Views: 2425 |
| LOWER INCE STATION 1960's | | Comments: 10 |
| Photo: RON HUNT Item #: 26490 | | |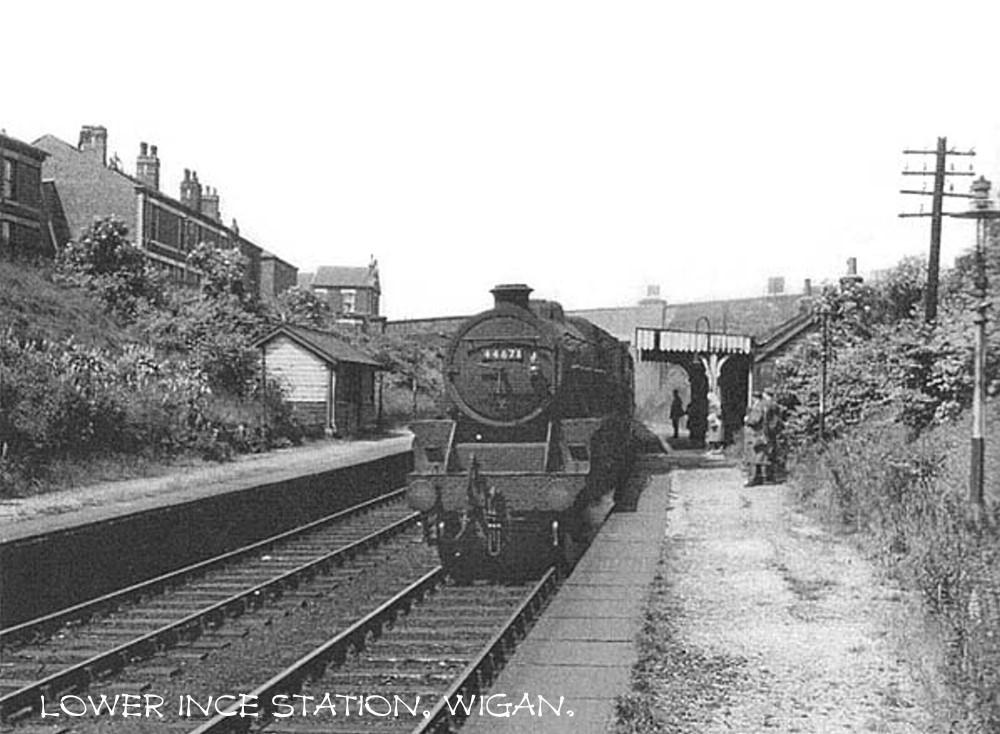 | | | |
| --- | --- | --- |
| | Image scaled down from 1000px to 734px wide | Click here, or click the photo to view original |
| | | |
| --- | --- | --- |
| | POSTCARD AROUND THE MID 1960'S | |
Comments by Jarvo, 19th May 2015
Real nostalgia here. A photograph taken from Bob Pixton's book. This was the direct route to Manchester Central; if you wanted a ticket to London, you could obtain one at Wigan Central, and travel to London St Pancras via Manchester Central and Derby. A long trek by anyone's standards, but wholly achievable. However, most Wigan folk chose the quickest available route from Wigan North Western to London Euston via Crewe. I would have chosen the Manchester route anytime, if just for the varied countryside and scenery.
Comments by tuttle, 19th May 2015
are the houses on the left junction terrace?
Comments by Platelayer, 19th May 2015
Yes that is Junction Terrace, this station opened as Lower Ince along with 6 other stations on the Wigan Joint Railway in 1884. The line had been the promoted by the Cheshire Lines Railway in 1874 as a branch from its main Liverpool to Manchester line at Glazebrook that would link it to the lucrative Lancashire Coalfields. Only the Manchester Sheffield and Lincolnshire constituent of the CLC remained interested in the concept and it was they who built the line which opened to goods services in 1879. When opened it connected to the main line at Glazebrook with an east to north curve which meant services could only easily go towards Manchester. In 1900 a west to north curve was put in to allow trains to head to and from Liverpool. The line became part of the GCR and in 1923 part of the LNER but it was operated as part of the CLC system. The station was situated on the south side of a road overbridge and had two platforms.

Initially passenger services ran from Manchester Central to a temporary terminus at Wigan which was replaced on the opening of Wigan Central in 1892. From 1900, when a west to north curve was put in at Glazebrook services ran to Warrington Central. Monday to Friday services in 1903 saw the GCR run 8 trains to Manchester and 6 to Warrington each day.

Services increased under the LNER especially during the war years. However after 1945 the line went into decline and the last service was the Wigan Central to Irlam or Manchester Central service. Latterly some of these services where operated by DMU's until the end came on 1.11.1964. The line lingered on for goods services until 1968.

Today the station site has been landscaped but a small section of wall and an even smaller section of glazed brick pillar still survives.
Comments by Alan, 19th May 2015
According to the disused stations website, Lower Ince station opened on the 1/04/1888, and closed completely on the 1st Nov 1964, but the line was still in use for goods services until 68. I wonder how you find out such detailed info like that especially specific dates; didn't think information like that on these things existed or were kept. What a lovely little station this must've been though. We really need to bring these stations back.
Comments by tuttle, 19th May 2015
many thanks
Comments by Albert., 20th May 2015
During the 2nd world war, many workmen boarded the train at this station, to go to Irlam Steelworks. I remember my uncle James did.
Comments by Lizziedownunder, 20th May 2015
Used to watch trains come into this station from my Grandparent's house in the Daisy Bank Cottages when I was a toddler....they lived at No. 22 Junction Terrace...thank you for the memories Ron...cheers!!!
Comments by Garry, 22nd May 2015
Alan sorry to say, but they never will bring um back.
Comments by DerekB, 22nd May 2015
Used to use this line when I started work at Risley in the mid 50s, by which time the complex had become a Royal Navy stores site. There was spur line connecting the main line to Risley's own railway station.
Comments by lesley frost (nee de Luce), 30th May 2015
The house in the background on Ince Green Lane was the station masters house.In the late 50's it was Mr Smith who was the station master.