| | | |
| --- | --- | --- |
| Wiend | | Views: 3160 |
| Wiend from Millgate | | Comments: 8 |
| Photo: RON HUNT Item #: 21358 | | |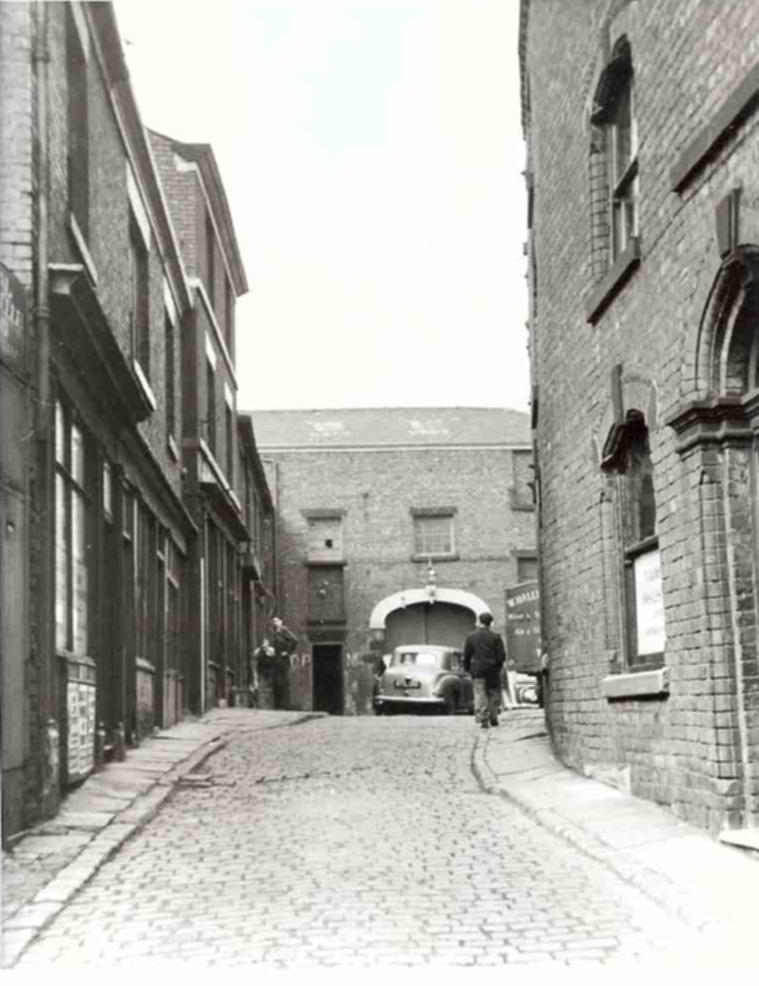 | | | |
| --- | --- | --- |
| | Image scaled down from 759px to 986px wide | Click here, or click the photo to view original |
| | | |
| --- | --- | --- |
| | View of the Wiend taken from Millgate. On the right is Naylors Foundry and on the left Ezra Sidebotham's printers. | |
Comments by derekb, 27th August 2012
The lorry which you can just see part of to the right of the Hillman Minx seems to be Wm.Halliwell's - Wine and Spirits Merchants. Didn't they used to have a shop in King St. opposite the Court Cinema? Anybody remember?
Comments by Al.C., 28th August 2012
I seem to recall Halliwell's having a cellar in King Street, would be opposite the Court, near where the Turnkey used to be.
Comments by Dave Marsh, 28th August 2012
He's a big lad stood down on the left.
Comments by Mick, 28th August 2012
Thanks for the reminder, Derek and Al.
I'd forgotten all about that, even though a great part of my working day/night was spent traipsing up and down King St!
Comments by RON HUNT, 28th August 2012
The entrance facing the camera, was I think? the Bus drivers and conductors canteen.
Comments by Rev David Long, 29th August 2012
After I passed my test in 1964 I used to be entrusted to rush the copy for the Parish Magazine for St Chad's, Kirkby to Ezra Sid-ee-bott-arms before the deadline for the next month. I went in the Vicar's mini - the Vicar being the Revd. John Lawton (later Archdeacon of Warrington), who had come to Wigan during WW2 as Curate to St Andrew's, and then was made Priest-in-Charge of the new St Anne's Beech Hill District. After building the new church there in the 1950s, he became the first Vicar of the newly-established Parish.
Comments by derekb, 29th August 2012
Rev David Long, as an old Beech Hiller I remember John (or Johnnie as we knew him) Lawton very well. I was one of the first to be confirmned in the summer of 1953 at what was then the new St. Annes church on Beech Hill Avenue. John Lawton lived in one of the bay windowed houses on the left hand side of Gidlow Lane going towards Park Rd.
Comments by Alan Baldwin, 30th August 2012
The arch door was the entrance to Wm Parks steel warehouse in the 40's, an item stocked and supplied from there was Horse Shoes. As to Naylors foundry It was in Stairgate which was on the opposite side of Millgate to the Wiend and ran down to Station Road