| | | |
| --- | --- | --- |
| Bamfurlong | | Views: 3660 |
| Bamfurlong Station | | Comments: 10 |
| Photo: charnock Item #: 14295 | | |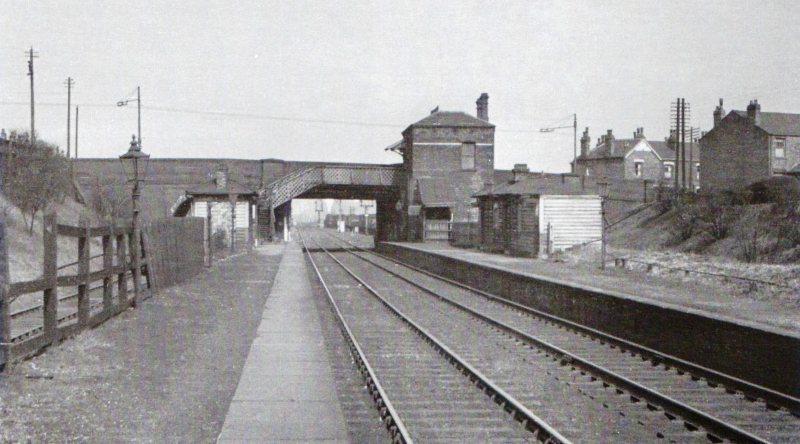 | | | |
| --- | --- | --- |
| | Image scaled down from 800px to 444px wide | Click here, or click the photo to view original |
Comments by W.P, 31st March 2010
The chimney pots on the extreme left of the photo belong to the houses of Cross St known locally as "long row" this is where I was born.
Comments by Liz Middlehurst, 1st April 2010
My mum live in Cross Street with her mum and brother, there name was Hurst, the house belonged to her uncle Sam Heslip who worked on the railway in Bamforlong, her was a linesman.
Comments by Eddie farrell, 21st December 2010
Liz Middlehurst If you are who I think you are Your mum and dad spent their honeymoon in my house in Keresley near Coventry where I was working at the time> Was your dad Bob Radcliffe? If so we used to keep the Platt-Bridge Legion and the Platt-Brige Inn going wityh our contributions.
Comments by Eddie Farrell, 23rd December 2010
I am sorry to contrdict wp but the chimney pots to which he refers were of houses on Lily Lane and a shop was on the corner that is visible. I had the chip shop at the opposite end of the row. Cross st ran parallel to the railway with the outside privies overlooking the railway
Comments by Eddie Farrell, 7th January 2011
Liz Middlehurst, It would appear that you are, in fact the daughter ofBob Ratcliffe and Molly (Elizabeth) Hurst Old and fondly remembered by me! I was actually working together underground when your dad was injured by a pit prop which flew out and hit him. It left a mark on his ear which he was told he would carry his whole life.I remember your uncle Sam very well especially when it was foggy which it was a lot at that time) and he used to put FROGS (fog signals to warn trains) and a few times if he had had a drink he would put two down to wake up the long row. Your dad Harry, ended his working life at a silk factory in golborne but I have forgotten the name. (Harbens I think) I lost touch with your mum and dad when I re-married and moved to Cleveleys where I have lived since 1979. I have nattached my email should you wish to cotact me. Best wishes.
Comments by Liz Middlehurst, 1st August 2011
Mr Farrell, Thank you for the comments, Bob and Molly Radcliffe are my mum and dad, dad passed away in 2001, mum still lives in Abram and remembers you very fondley. I have tryed to get your email but not had much luck, mine is phil_middlehurst@hotmail.co.uk should you like to get in touch. Thank you again. Kind Regards Liz
Comments by Wanner, 20th February 2012
Eddie.. If you enlarge the photo its quite clear that the chimney pots to the left of the photo are running parralell with train lines.
Comments by Sarah, 10th October 2012
Was this station ever called Bamfurlong junction?
Comments by William Davison, 12th November 2014
As a schoolboy I travelled daily into Wigan from Bamfurlong Station before the waiting rooms were demolished (on the left hand platform) and remember holidays in Blackpool in the late forties, starting from this platform. My Bamfurlong schoolmates were Eric Beasley, John Guery and Brian Wallace
Comments by Maureen Kenyon nee Jones, 29th January 2017
can any one remember the Bamfurlong hotel if so you may know my Dad Maurice Jones he spent a lot of time in there he was in the fishing club and was well known for always whistling and sometime singing c