| | | |
| --- | --- | --- |
| Gathurst | | Views: 4141 |
| Locks joining the Leeds and Liverpool Canal to the River Douglas at Gathurst. | | Comments: 10 |
| Photo: Ron Hunt Item #: 1140 | | |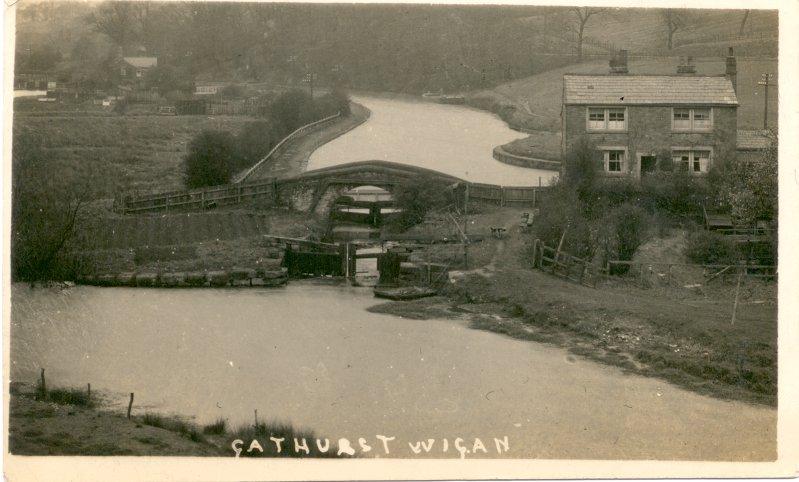 | | | |
| --- | --- | --- |
| | Image scaled down from 799px to 482px wide | Click here, or click the photo to view original |
| | | |
| --- | --- | --- |
| | Locks joining the Leeds and Liverpool Canal to the River Douglas at Gathurst. Scanned from an old postcard. | |
Comments by david, sheila and kathryn, 27th February 2008
can someone settle a family arguement - where exactly is this taken, from what aspect, please, thank you
Comments by tellboy, 6th May 2008
If you walk up to Dean Lock from Gathurst you are coming from the area in the back of the picture. The House (lockkeepers cottage) is still there but only one chimney remains. The bridge is demolished and the area to the front of the picture is a basin on the canal no longer the River Douglas which is now half a field away.
Comments by tellboy, 6th May 2008
A correction is needed. I should say walking from the Navigation Pub in Gathurst you would be heading towards Appley Bridge and come in from the right of the picture.
As you pass the gatekeeprs cottage on your left you turn left and around a canal basin the path is exactly over the original site of the bridge.
Comments by D. Woodcock, 28th January 2009
So the photo is taken from the back of the lockkeepers cottage, the 'new' set of 2 locks being obscured by the lockkeepers cottage. Nowdays where this photo was taken from is just a field?
Comments by Christopher Alex Darbyshire, 18th May 2009
O.S. map of 1930s, which I have, confirms the view as looking NW from the high sloping field south of the locks house. The house in the distance top left is part of Dean Cottages, long since demolished.
Comments by Chris Gaskell, 27th July 2009
Taken when my Great Grandad (Thomas Hargreaves)was Lock Keeper at the time. It's dated about 1920 - 1922.
The photographer's position (as it is today) is right up against the M6 carriageway fence northbound on the south side of the viaduct as the bridge metal span starts.
Comments by Mike Medcalf, 26th October 2010
I believe my Grand Father was the last Lock keeper Robert (Bob) Medcalf
Comments by Gracie, 13th March 2013
Dean Lock House on Gathurst Lane was Occupied in 1922 by the Tickle family. William Tickle's burial record shows his abode in feb 1922 was Lock House Gathurst
Comments by philipfishpond, 14th March 2013
is the house in top left corner the old lock house ,which now only the bridge remains.anybody know when the lock house was moved to its present site.
Comments by kathy mitchell, 3rd August 2014
Dean lock house is the original lock keepers cottage. The old locks to the side of the house became obsolete when the canal was extended and the river Douglas was diverted. They are buried in the garden. That is why the house faces towards the river so boats could be observed on the river.Also the third chimney to the lock room facing the canal has been rebuilt during recent renovations.