| | | |
| --- | --- | --- |
| DERBY TERRACE | | Views: 2008 |
| DERBY TERRACE | | Comments: 15 |
| Photo: Frank Orrell Item #: 29537 | | |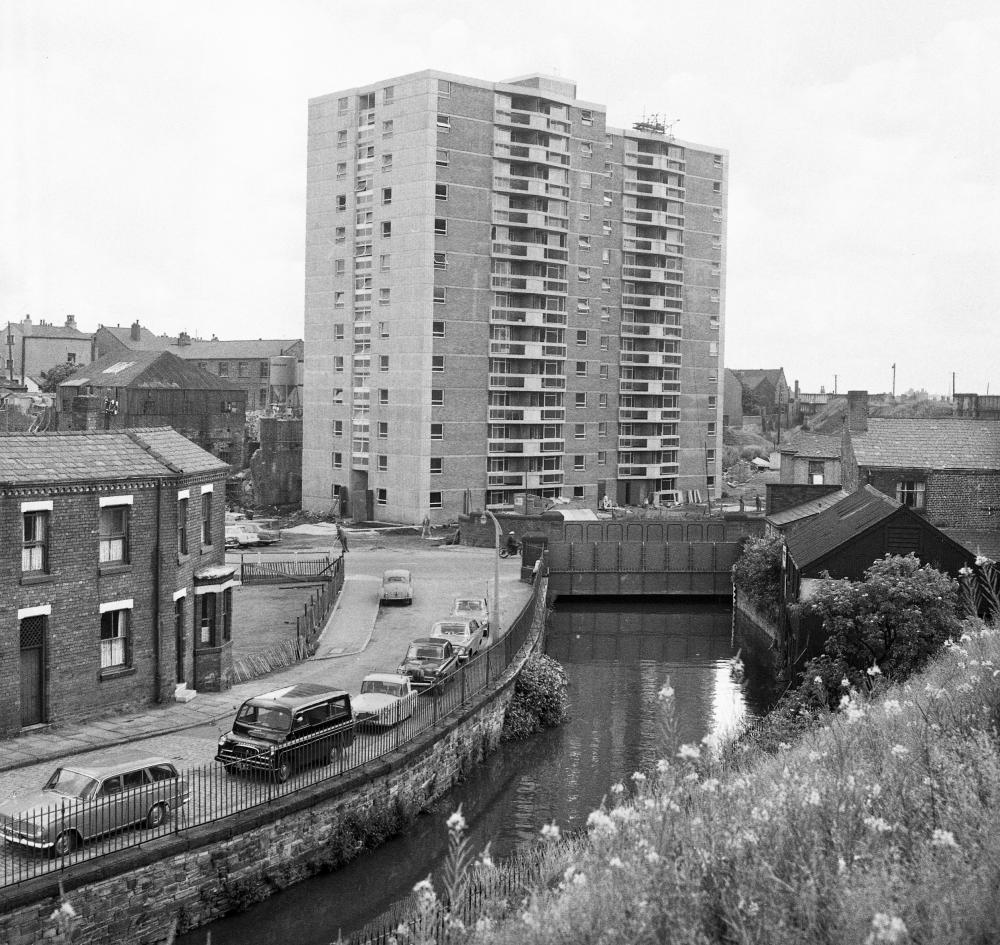 | | | |
| --- | --- | --- |
| | Image scaled down from 1000px to 945px wide | Click here, or click the photo to view original |
| | | |
| --- | --- | --- |
| | Looking over the River Douglas towards the newly built Woodcock House flats with cars parked in Derby Terrace in July 1966. | |
Comments by Garry, 8th July 2017
Just having a laugh at that Bond mini car, third from the left. You can see the railway bridges to the extreme right that carried the line to the Central railway station, then on Station road.
Comments by Ed, 8th July 2017
Name these cars you car poeple
Comments by Alan, 8th July 2017
Ed let's NOT bore people.
Comments by Richard Turpin, 8th July 2017
Hi Alan,Car makes just for you. 1.Vauxhall Victor Estate Car
2. Bedford CA Van. 3.Bond Minicar. 4Singer Gazelle. 5.Ford,
Zodiac or Zephyr 4,Not sure. 6 Not Clear Enough.7.Morris Minor,could be Minor 1000. In order to start the engine of
the very early Bond Minicar, you lifted the bonnet, and
kickstarted the engine,just like a motorcycle.
Comments by Veronica, 8th July 2017
Boredom is a reflection on yourself...have some tolerance for others who enjoy seeing the cars!!! That's what the photograph is for....isn't it?
Comments by irene roberts, 8th July 2017
Well said, Veronica! Peter busy tinkering with our old Hillman Minx as we speak but is looking forward to studying the pic later.
Comments by Garry, 8th July 2017
The engine in the Bond mini car were Villiers Two-stroke.
Comments by Howard P, 8th July 2017
I suspect the forth car could well be a Sunbeam Rapier.
Comments by Richard Turpin, 8th July 2017
Howard, Please read the script,I have said that car 4 is
a Singer Gazelle. The 4 that you refer to is part of the
name of the Ford...Zephyr 4.
Comments by Alan, 9th July 2017
5th car IS a Ford!! 4th cars a Sunbeam.
Comments by Richard Turpin, 9th July 2017
Alan, The 4th car is most certainly a Singer Gazelle.
The Sunbeam Rapier radiator grille was more of a square shape.
Comments by Veronica, 9th July 2017
Alan play nicely now! No arguing!
Comments by Alan, 10th July 2017
Dick you are Wrong!!!
Comments by John Morris, 11th July 2017
The 4th car is definitely a Singer Gazelle, I would say the 5th one is a Ford Zodiac (the chrome grille extends round the headlight. Nobody has mentioned the group of cars between the houses and the flats. The one nearest the houses I can't make out, then there is a Triumph Herald, an Austin Cambridge/ Morris Oxford, an Austin A35 van (I think) and in front of that a Ford Anglia.
Comments by Mr X, 22nd December 2017
The last car in Derby Terrace looks like an Austin A40.Five 13 storey blocks of flats were built in this style with balconies, Derby, Crompton, Mannion, Brook, and Woodcock House. Woodcock House was the first built and is mearing completion.Brook House had a pub on the ground floor called the Waterwheel. Similar styled flats can be found in Wakefield, Yorkshire with four blocks in different parts of the town. Douglas House was the first block of flats in Wigan built around 1963, then the 15 storey trio at Worsey Mesnes, Dryden, Thackeray and Masefield House, 1965, that only lasted 26 years before demolition in 1991. Then there is Boyswell House built about 1969/70.